The energy emanating from the Yelm High School football team during a recent practice was palpable, and for good reason.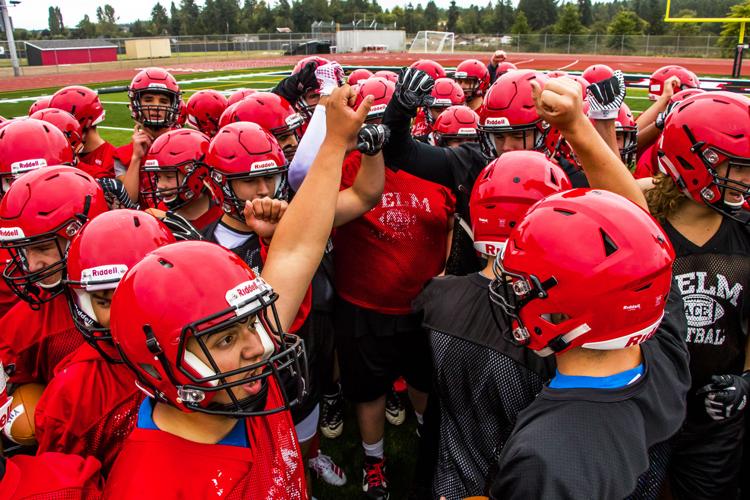 Clad in their signature red and black while donning helmets and pads, the Tornados wrapped up their first few days of practice last week on the high school's new synthetic turf field. The coaching staff says they are refreshed and ready for their first game of the season against Skyview on Sept. 6, a matchup that will unfold in Yelm.
Despite the loss of Yelm heavyweights such as Derrick Platt, Jacob Dimond, Kodee Gifford and Kyle Robinson — young men who helped the Tornados to their first state quarterfinal appearance in nearly 31 years — many connected to the program believe the current squad has the foundation to go even further in the postseason.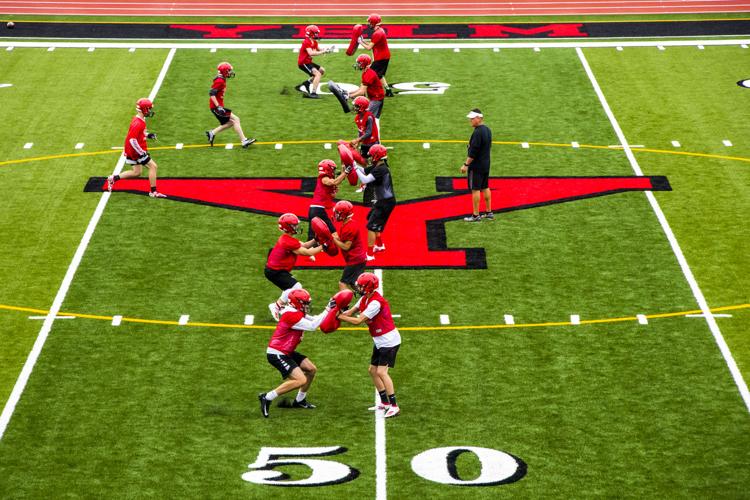 Head Coach Jason Ronquillo believes the way to be the best is to play the best. 
Not only will Yelm be taking on the likes of Skyview, but the Tornados will also line up against Tumater the following week. The two top-10 schools will provide a measuring stick for the status of the team, Ronquillo said. 
"There really is no better way to test your team than to play some of the best teams in the state," he said.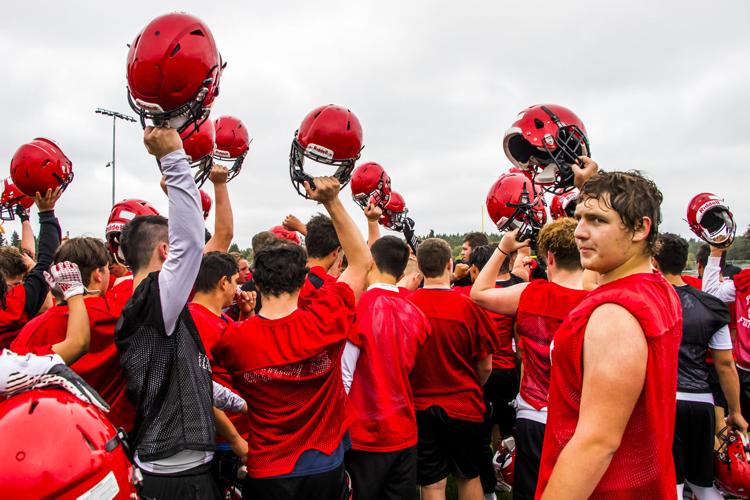 Last season, the Tornados went 5-2 in conference and held an overall record of 8-4. A slim 15-14 victory against Lakes in the first round of the 3A State Football Championships led them to the doorstep of the Bellevue Wolverines, a longtime powerhouse. 
The Tornados held the lead for most of the first half, but ultimately suffered a 37-20 loss in what was the team's first quarterfinal appearance in more than three decades.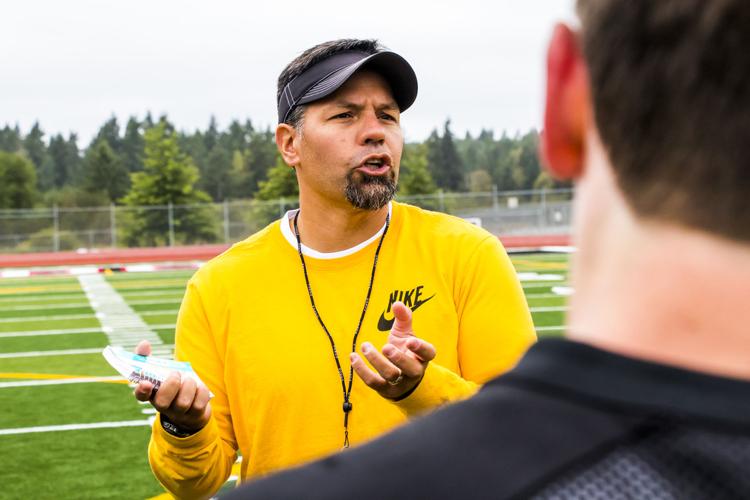 The team will return six starters on the offensive line and four on the defensive line, Ronquillo said. The Tornados graduated 20 seniors in all last year. 
"None of the games that we played last year are going to dictate how we play this year," Ronquillo said. "They have to understand that we have to build a foundation first before we can get to where we were in November last year … They're hungry, and rightfully so. They want to take another step as well, but our main step and our focus is game one. That's the only thing that matters." 
That noteworthy appearance at state meant a lot to both fans and players.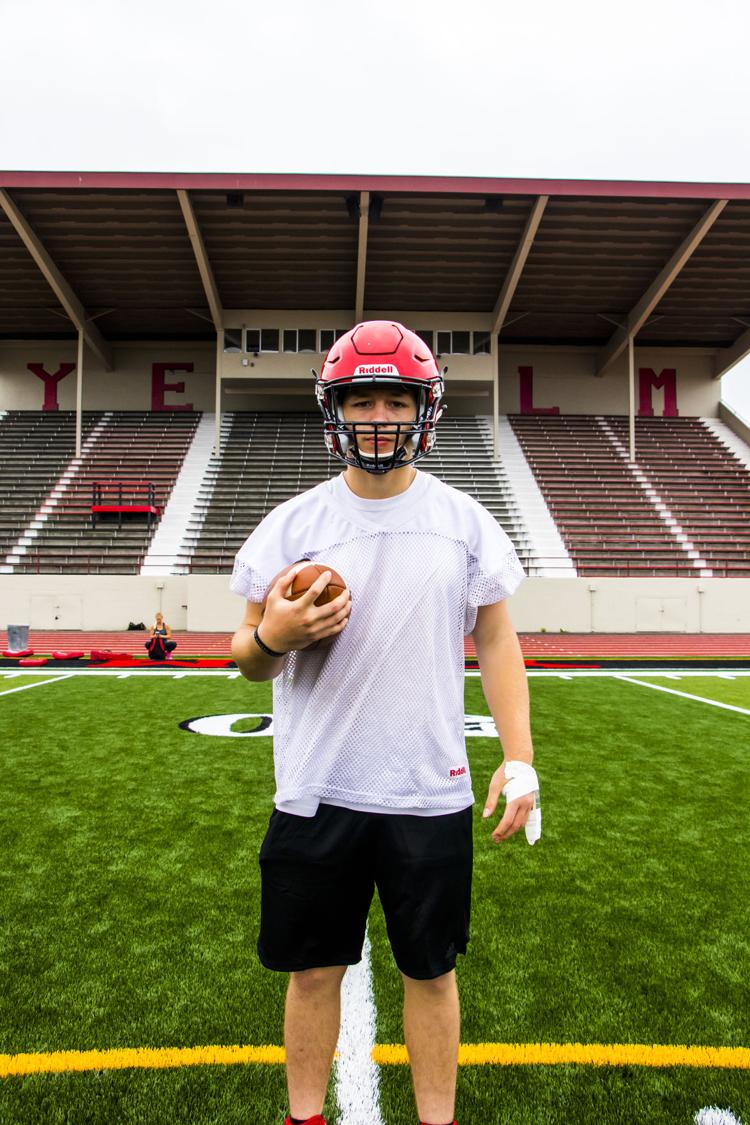 "They were a really good opponent, but I definitely think we should have gone farther. And I know we're hoping to go farther this year," said junior left tackle Dylan Jemtegaard. 
"Yeah, I think we just started to hang our heads when they came back and started scoring," said senior lineman Bradley McGannon.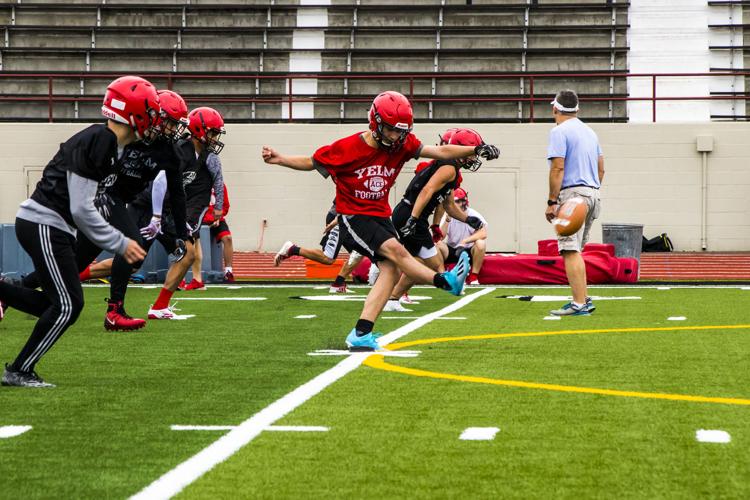 In addition to being three-sport athletes, both McGannon and Jemtegaard are seen as leaders on a roster of rather young players. Ronquillo said he's hoping to utilize their build and spread on the sides as a recipe for success. 
"Our line is very experienced, has great size, good athleticism — I think that's where it's all going to start for us," Ronquillo said.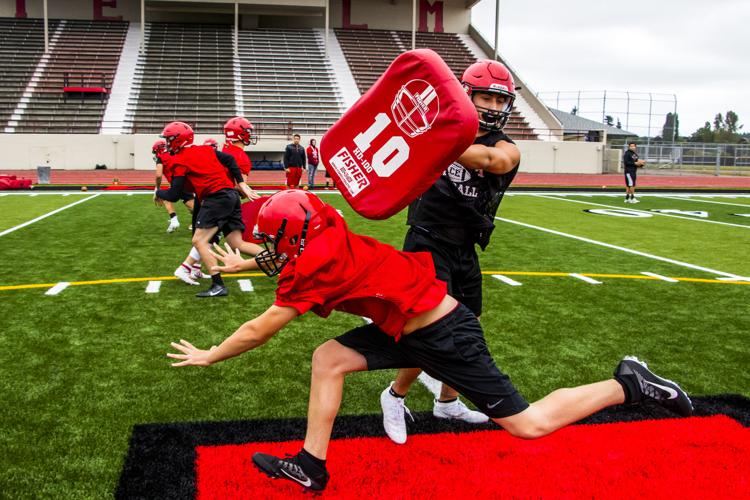 McGannon, at 6-foot-4 and 250 pounds, currently holds an offer from Simon Fraser University and said he's looking to step into a leadership role. McGannon holds a lot of respect for his team and said he's hoping to lead them through an often competitive conference. 
"We're very close as a group. We're all buddies and hang with each other," McGannon said. 
Jemtegaard, towering in at 6-foot-5 and 240 pounds, is moving over from right guard to left tackle this season in an effort to utilize this team's attacking power across the board. 
"It's been awesome. I've been loving it," he said of the switch. "I feel fantastic. I'm really excited for what our team is going to be able to do this year." 
Brian Foote, offensive line coach, said despite graduating a few guys who were huge on the left side, he doesn't feel they're any less better off than they were before.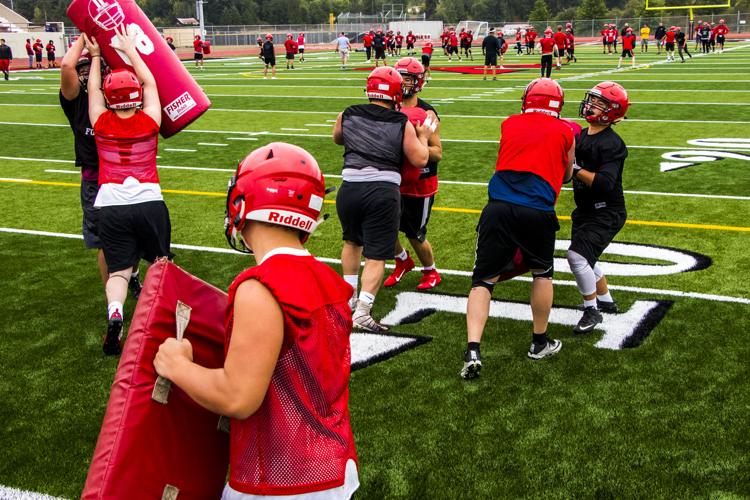 With Jemtegaard and McGannon on the sides, senior Hunter Mohl at center and juniors Slade Edwards and Josh Piland at the guard position, the Tornados should be prepared from every angle. 
"We're going to be universal this year, we can go left or right. And their attitude and commitment over the summer has been amazing — these kids have spent every day in the weight room, and they're grinding. They're pushing themselves every day," Foote said.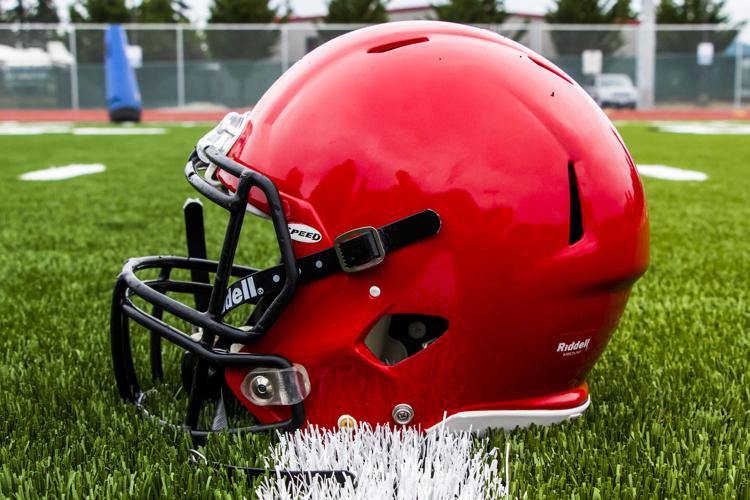 One of the team's major shifts this year will be bringing senior Ben Hoffmann, 5-foot-11 and 190 pounds, off the defensive line and onto offense full-time as the team's quarterback. 
While it was always expected that Hoffmann — who boasts four years of experience in the position — would be quarterback, he'll have some big shoes to fill due to the departure of Kyle Robinson.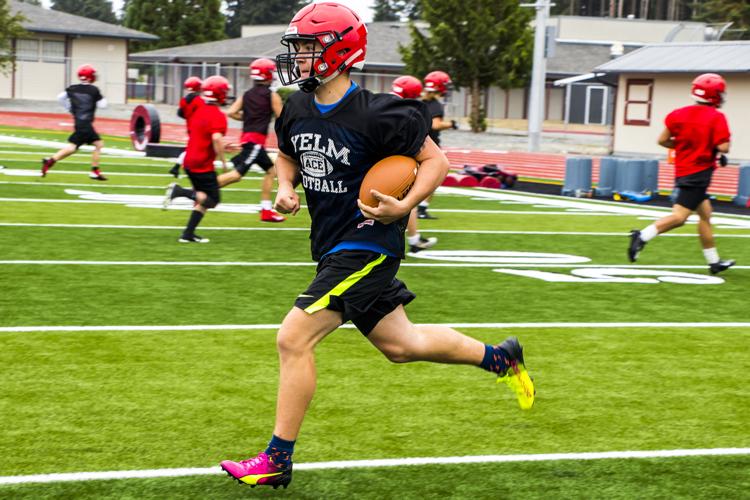 "He'll be solely focusing on offense, trying to master the schemes we have in and just working on technique," Ronquillo said. "He knows that mistakes will happen. He knows it's a process." 
Right-handed Hoffmann said making the transfer from outside linebacker to quarterback has given him a robust view of the playing field and how this team cooks under pressure.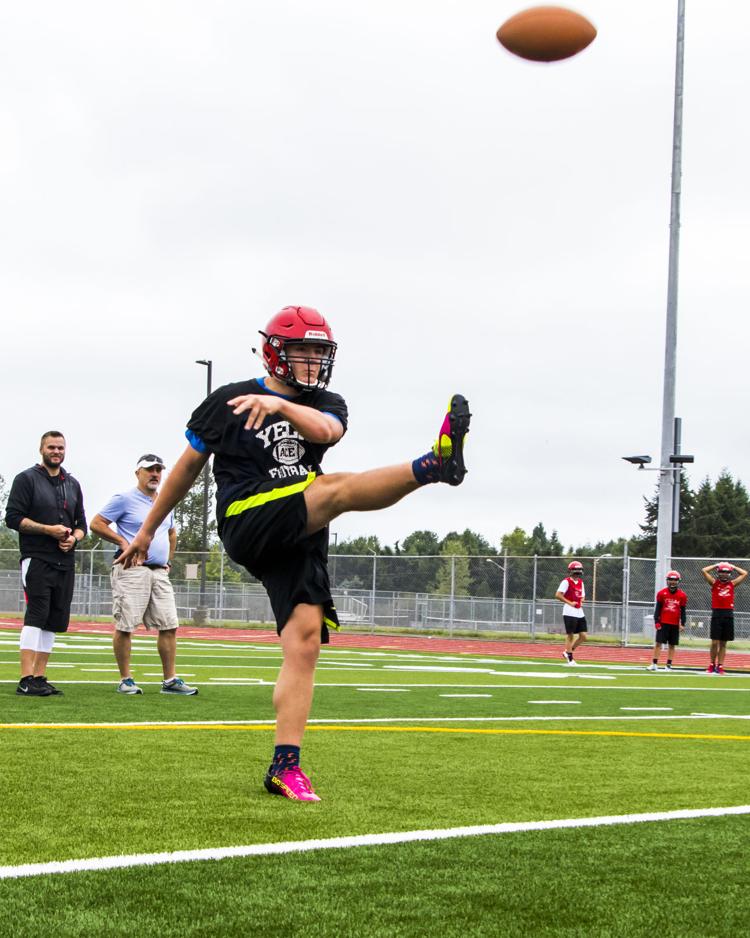 He said his big goal this year is to strengthen his read of the field, something he's admittedly neglected in year's past. But he said his team's drive and focus on details should help bolster his confidence. 
"Everything that's small really plays a factor, 'cause if you can't get the small things done then big things can't really come to pass," Hoffmann said. "It's not just about coming to practice and listening to the coaches. It's about everything outside of that. It's the little things we do, coming onto the field, coming off the field. We're all in tune, we're all in line, we're all doing our own thing. We're doing it different than how other schools are doing it, and we like doing it our way."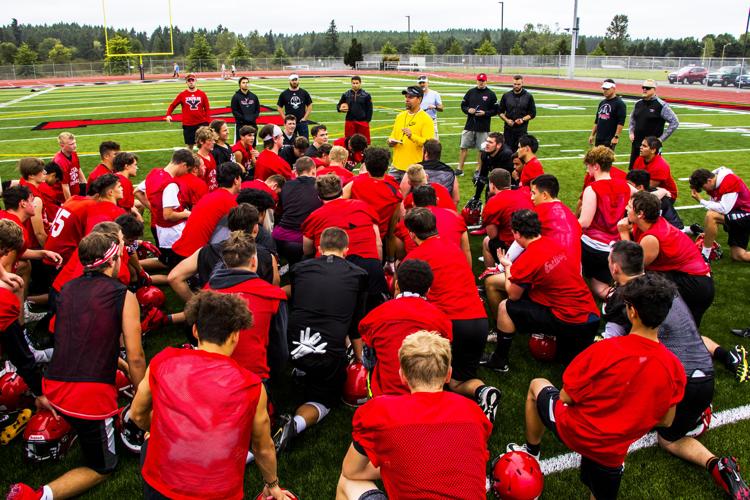 Junior Sean Rohwedder will step in to fill the shoes of Derrick Platt as a lineman, a position he received favorable playing time in as a sophomore. At 5-foot-10 and 180 pounds, Rohwedder is quick on his feet and is sure to make a favorable impression as he looks to leave a legacy of his own. 
"I don't want to be the guy behind Derrick Platt, I want to be the guy," Rohwedder said. "I was training behind them all last season and I'm ready to make my own legacy here." 
Rohwedder is one of many athletes with an opportunity to step up, and Ronquillo knows this.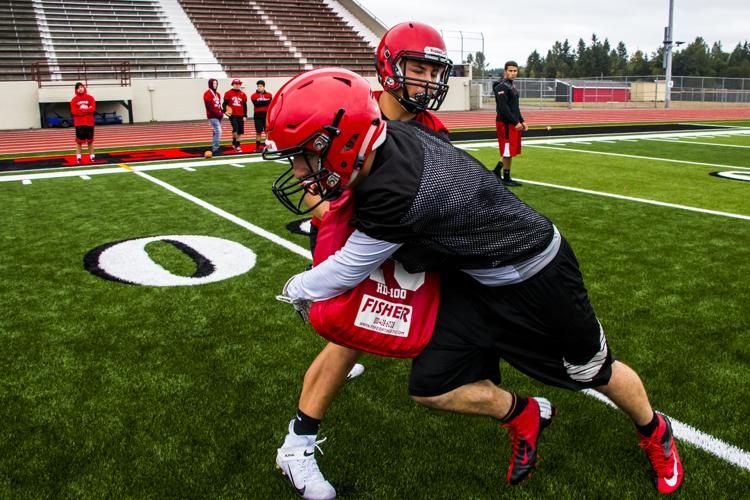 "They do have something in common: They've been waiting their turn," Ronquillo said. "They've been behind really good players." 
Ronquillo said the team's strategy is mostly about spreading out and bringing swift attacks to the opposing team. 
"We have a very attacking style of defense. We're not a methodical team. We love to take risks — we think that risks can pay off in the long run when it comes to high school football. It's a high risk, high reward kind of offense," he said.