Going into this season, runners on Yelm High School's boys cross country team considered the possibility of this being the best team in the school's history, and it's quite likely they just proved that prediction.
The Tornados traveled as a team to Pasco last weekend to run in the 3A State Cross Country Meet, and the resulting seventh-place finish has coaches feeling excited about this new generation of South Sound cross country runners. 
"I wouldn't say it was a standout performance as a team, but I don't want to downplay the point that this is the best finish in Yelm's history," said Head Coach Alex McIntire. 
The best the boys program has ever finished at state was 10th before this year, McIntire said. 
Junior Yelm runner Bryce Cerkowniak earned an impressive fifth-place finish individually, with a time of 15 minutes and 30.9 seconds on the state course. 
Cerkowniak, ranked at No. 3 going into this season, was gunning for the 3A state championship, but fell just short as runners from Kamiakin and Bishop Blanchet made some big moves in the last mile of the course at Sun Willows Golf Course. 
But Cerkowniak still pulled out all the stops. 
"It was all out. It was all the heart he had. It was tactical, he threw out big moves," McIntire said, describing the race. "At the state meet, any one of those guys could win on any given day … It was great to see him pour every ounce of heart and skill he had. It was just a phenomenal performance on his part." 
Ultimately, despite running extremely smart in what's often seen as the state's most difficult course, McIntire said there was some disappointment felt by Cerkowniak, himself and the team when he wasn't able to clinch the championship title. Many believed that this was the standout junior's year. 
But it wasn't long before he took the shortfall and turned it into a learning opportunity.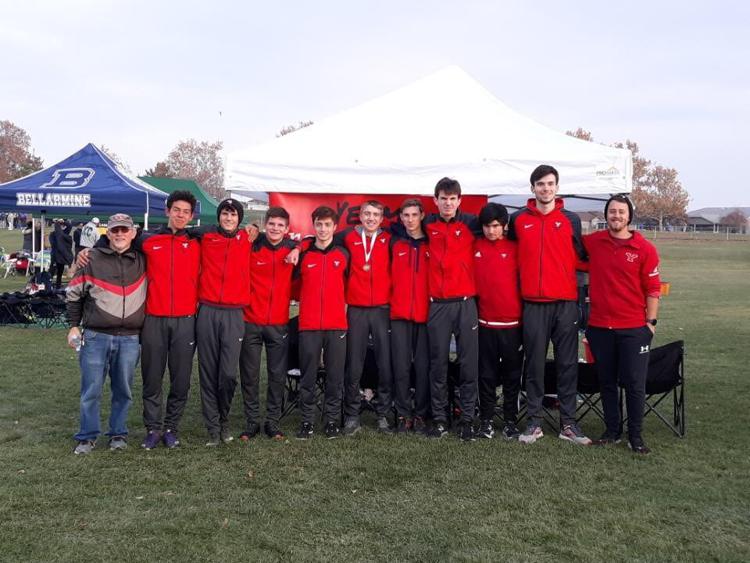 "It wasn't 10 minutes after that he was already expressing to me how he was going to win next time," McIntire said. "Bryce's words to me were, 'They've been my biggest competition this year and I can't help but like them because of all the suffering we've been through.'" 
This marks Cerkowniak's second year in a row finding a spot on the podium. It was a 15-second improvement over last year's race at state. 
McIntire said it has been impressive to see his team grow and compete in Washington's 3A classification, which is often seen as one of the most competitive cross country divisions in the nation thanks to well-established programs such as Kamiakin, North Central and Bishop Blanchet. 
McIntire said a seventh-place finish is a testament to this team's tenacity and grit. 
Junior Kelan Herness was able to run a fantastic race and bested his personal record time by 10 seconds, McIntire said. 
"He beat people he'd never beat before," McIntire said. "The way that he performed let us know that he will likely be a top runner in our district next year as a senior." 
Herness was ultimately the only Yelm runner on the Sun Willows Golf Course that brought in a personal record, which McIntire said is not uncommon. 
"The state meet is one of the most challenging courses we've run … When you look at the meet, there are very few racers that PR," he said. 
At the end of the meet, McIntire admits that his athletes were feeling uneasy about the race they had just completed, despite a historic result for the program. 
"Coach, if we're the best in Yelm history, why do we feel so uneasy about that race?" asked alternate Luke Martin. 
McIntire said he reassured them that the times and places weren't ultimately what's important. It was what you put into the course. He said the only difference between programs such as Yelm and Kamiakin, which consistently wins big every year, is the number of years and the established culture they've built through that time. 
"They're always trying to be better," McIntire said. "They're always hungry for more and I think that's what's going to define this team in the future." 
But will the future be bright? McIntire thinks things will continue to trend upward for both the boys and girls team. 
The boy Tornados will return four of their five top runners next year, if things go according to plan. 
Top runners from the girls program, such as junior Kya Ramirez, freshman Gabriella Willadsen, sophomore Kaylee Faber and junior Lenna Miskimens could make huge strides for their team next year. 
McIntire said he'd like to thank the parents and community that has helped support Yelm cross country. 
"I think because of these boys, people actually understand what cross country is," McIntire said. "That's why the boys do this. It's for the community and to give a face to Yelm cross country." 
3A Boys 5,000-Meter State Race Results — Yelm
5th — junior Bryce Cerkowniak (15:30.90)
44th — junior Kelan Herness (16:18.50, PR)
103rd — sophomore Ryan Lange (17:03.80)
122nd — sophomore Ethan Coon (17:15.80)
123rd — senior Jacob Barnert (17:18.20)
158th — sophomore Calum Thornhill (19:42.70)
159th — senior Logan Faber (19:43.30)