As I pedaled across the icy streets of Cheney, a warm nose prodded my fingers from the pocket of my winter coat.
It was February 2006 and, as a largely irresponsible college student, I was living up to sophomoric expectations. A close friend's dog had produced a litter of puppies, an unheavenly canine cocktail created by an intelligent chihuahua-Jack Russell mix named Polly Pocket and an affable chihuahua-miniature pinscher named Eddie.
Since the night of conception, which of course happened during a massive beer pong tournament, I had reserved one of the male offspring.
As decisions go, the one that led me to my journey across the frosted landscape of an Eastern Washington college town was typically foolish.
The dog, which I chose to name Barabbas after the Bible-era criminal released by the Romans in the place of Jesus, would take up residence inside a dumpy apartment building known somewhat ironically as the Reno Nugget.
He became the fourth roommate to a trio of Eastern Washington University students who were leading lives common for new adults basking in their first real dose of familial freedom. Days were filled with studying and working. Nights were rife with parties and revelry.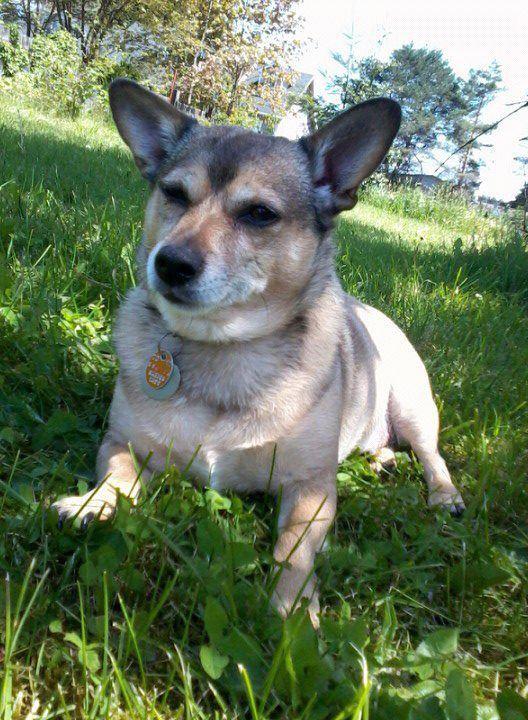 The struggles of puppyhood were felt from the start; smelly deposits on the living room carpet; late-night barking and bathroom breaks; playful bites that drew blood from passing ankles.
I was less than fully responsible for him.
My roommates, Brad and James, would often tend to him while I was tied up with work or class, with or without my requests to do so.
Over time, he grew from a rodent-sized puppy to a cat-sized dog, all the while existing as just another member of our college crew.
At The Easterner, the college newspaper where I'd eventually become editor, he'd sprint manically around the newsroom. Whether he was digging through a pile of old newspapers or chasing the foosball across the table as staffers competed against one another, he soon became a fixture.
That remained the case as I completed newspaper internships, first at The Chronicle and then at The Tri-City Herald in Kennewick.
During one such summer, he lived for months out of my car, as my seasonal rental agreement didn't allow for pets. Lunch breaks led to discoveries of chewed up wires beneath the steering wheel or suspiciously damp sections of carpet.
At night, our routine was comprised of long walks on the Centralia College campus. Then, as other members of the household fell asleep, I'd sneak Barabbas in through a bedroom window. As he did every night, he'd find a nook between my legs — always beneath the blankets — and sleep until sunrise when I would drop him out the window onto the lawn and then move briskly through the house to pick him up for a morning walk.
Such clandestine pet ownership would be required again and again through the years as he joined me on many adventures — and misadventures — that took us to jobs and pursuits throughout the Pacific Northwest.
He outlasted every relationship I had in my 20s, right up until I met my wife in 2012.
His brown muzzle turned white with time. His energy was reduced, but he'd always seem to perk up for a game of fetch, summoning strength and electric movements that would often result in impromptu figure-eights around the yard or living room.
Naps grew more common and longer in length.
As the decade went by, he seemed to evolve with me, growing from a wild-eyed juvenile with a lack of discipline and a penchant for a good time to a wiser and mature adult who simply carried out his daily business without much excitement.
Interestingly, I was quickly becoming his second-favorite person.
We didn't know what to expect when we brought a son into the world in November 2014. We were all but certain, though, that Barabbas would not be keen on the new addition.
Eventually, though, he warmed up to the diaper-clad invader of his personal space. Over the last few years, the two could often be found snuggled up on the same section of couch or dog bed. Bauer, my son, developed a sensitivity we didn't expect, always softly stroking Barrabas's fur while casting a smile and engaged eyes on his much older brother.
Barabbas would sneak into the bathroom when Bauer was in the tub. He'd peek over the edge, eliciting giggles and chuckles from our toddler, who would occasionally attempt to splash him with bathwater.
If you wanted to find Barabbas, it was easier to just look for Bauer, because the old dog would always be nearby, casting a protective gaze on his younger counterpart or sleeping just outside his bedroom door.
To say I was a different man when I first brought Barabbas home would be inaccurate. I wasn't a man at all. From the age of 20 to my mid-30s, he joined me on a journey from adolescence to adulthood that would have felt empty without him.
All of that came to an end on last week.
Time had taken its toll on Barabbas. He stopped eating. His muscle and fat evaporated, leaving behind only a husk of the canine I had come to adore and rely on over the last decade and a half. His breathing became labored, his movements slow and painful. When he could no longer keep food down, I made the decision that it was time to let him go.
As I held him in my arms when he took his final breath, my mind shot back to that winter day in 2006.
Carrying Barabbas in my coat pocket across Cheney, I of course never imagined what life had in store for us.
He became the dog that defined nearly half of my life. After every disappointment, every breakup, every shortfall, I could count on his ridiculous face meeting me at the front door of whatever home — or vehicle — I lived in.
His passing brought an embarrassing number of tears to my eyes. Every memory from the last 14 years plays out with him in my peripheral vision.
Life will of course go on. Dogs die. The journey continues.
For now, though, the ride feels colder without him.
Eric Schwartz is regional executive editor of Lafromboise Communications. He can be reached at eschwartz@yelmonline.com.