She was a loving wife, a beloved art teacher and someone who held a deep admiration for emergency responders.
Linda Azzarella was a larger-than-life figure. People who knew her, from former Rainier School District students to volunteers with the Bald Hills Fire Department, talk of how she held a deep dedication for student learning and brought a light into the room wherever she went, no matter how dark. 
Azzarella died of health complications related to lung cancer on Wednesday, Nov. 4. She was 69. 
John Moore, 76, of Yelm, her husband, said she was just months away from retirement. She taught art at Rainier School District. For the past four months, she was battling cancer. 
"She was a good person and she's going to be missed," said Moore, who spoke over the phone from their house in Clearwood. "She was a little Italian girl who could cook stuff you wouldn't believe." 
Azzarella also served as president of the Bald Hills Firefighters Association, and was serving as the vice president up until her death.
"She was very, very interested in the youth program we had there, and had sent us a number of kids from Rainier High School to join the program," said Ron Smith, a lieutenant with the Bald Hills Fire Department, adding that she was a supporter of the department's cadet program. "She was a real go-getter … She was going a mile a minute, all the time. Had passion with everything she did, and kids were a real passion for her. Not only the kids at Rainier, but the kids we had here."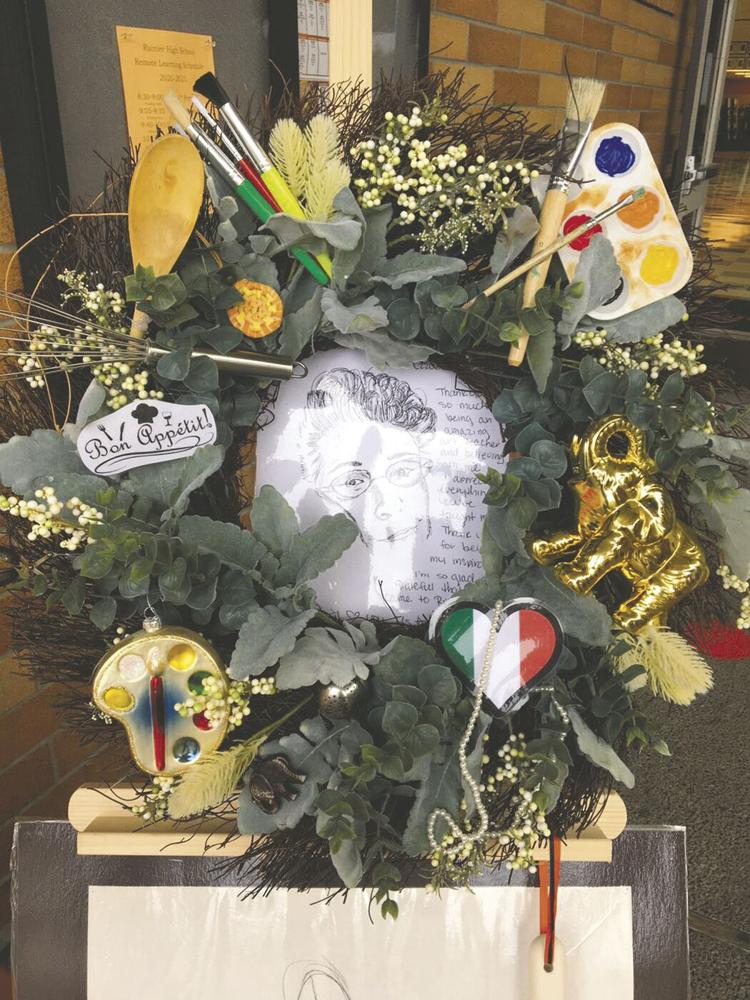 Smith remembers that Azzarella always enjoyed riding in the fire engine during the annual Christmas in the Park parade. 
Speaking with her earlier this year, Smith said he remembers that she was talking about how she was looking forward to riding the engine again once the COVID-19 pandemic was over (the parade this year was cancelled due to the ongoing health crisis). 
Deputy Fire Chief Steven Slater said she was a big help in the department's support team and always played a big role in the annual Santa Run. Her kids would often donate their crafted tree ornaments to the celebration. 
"It seems like anytime Linda was around, the energy level went up in whatever we were doing. It was never a dull moment when she was around," Slater said. "She got involved and helped make things better." 
She also held a deep admiration for the Thurston County Sheriff's Department's K9 program, Slater said, and knew the name of every German shepherd. 
Shortly after learning of her death, the Rainier School District staff got to work creating a memorial for Azzarella right outside of the Rainier High School entrance. Photos, art, wreaths and other memorial pieces were gathered in pictures posted on Facebook by Citizens for Rainier Schools. 
"When it came to working with children, Mrs. Azzarella was as passionate about her teaching as anyone. She routinely expressed her gratitude for the opportunity to pass along her love and appreciation for art and it showed in her classroom," Rainier High School and Rainier Middle School Principal John Beckman wrote in a letter to the community.
"While Mrs. A often presented as a 'tough Italian girl,' it did not take long for her students to realize that she had a gigantic heart and always had their best interests at hand. Mrs. A exposed her students to a variety of techniques and media, and opened the eyes of many to the world through the visual arts." 
One of those students who took a deep dive into Azzarella's world was 21-year-old Hailey McCann-Yost, who graduated from Rainier High School in 2017.
McCann-Yost told the Nisqually Valley News that the Rainier teacher of 10 years was always there for her students. McCann-Yost served as her third period teacher's assistant during her senior year, which for Azzarella's schedule was her lunchtime. 
She said they would talk often of politics and Azzarella's love for animals during lunchtime, usually over a cup of hearty Earl Grey tea. 
"Ms. A was really special. She was really a light in everyone's life," said McCann-Yost, who now lives in England with her husband who serves in the United States Air Force. "She was just so cheerful and she didn't have a bone in her body that wasn't generous. She always had her opinion and spoke to it really loud. She probably pushed everyone to a higher potential than anyone really thought they could go."
McCann-Yost, who's back in the area for her grandfather's funeral, said she found out just as they were touching down at Sea-Tac International Airport. 
Azzarella served as more than just a teacher to McCann-Yost, she said — they were genuine friends. 
Her former art teacher taught her a lot about life. 
"It's hard (to pinpoint her love of art) because although I had her as an art teacher, she wasn't an art teacher to me. She was more than that," she said, adding that she could turn up at her teacher's house at a moment's notice. "Mrs. A taught me more about life than I think she did about art." 
McCann-Yost said she originally had a plan to join the Air Force after graduation. Shortly before going through the process, though, McCann-Yost got a tattoo to the disapproval of her art teacher. 
"She told me how stupid I was," McCann-Yost said. "She was like 'that's so stupid. How could you do that?'"
She would eventually have to get it removed due to the military branch's strict body modification policies. It was a painful process. 
She ultimately never followed through with joining the branch, McCann-Yost said — but she did meet a charming young man. 
"She loves kids, and she's gone out of her way to help kids," Moore said, adding of the loss that he's "getting used to it, but I don't know if you can ever get used to it." 
Moore said he and Azzarella met in California in the early 1990s. Shortly before moving to Washington, she had worked at the Los Angeles Unified School District. 
The two eloped on Jan. 5, 2006, at the Heart of Reno Chapel, he said. 
Moore said Azzarella smoked cigarettes only for a brief period in her life; her death to lung cancer, he believes, is connected to her time working for Lockheed Martin as a spray painter. It was about four months ago that she was diagnosed, Moore said, noting that she was in pain toward the end of her life. 
She always had family — and her community — by her side, though.