Mike Hargrove compares his environmental stewardship to the story of the starfish — he might not be doing a whole lot, but his work is making a tangible difference in the world. 
"It's kind of like that with this," Hargrove said while on his hands and knees tugging at invasive Scotch broom bushes. "You can't clean up the whole damn world, but you can save a chunk of it." 
But Hargrove, 75, of Shelton, wasn't alone on this particular foggy Wednesday morning. On this day, he was among seven other volunteers and two staff members on the Nisqually Land Trust's Lackamas Flats property.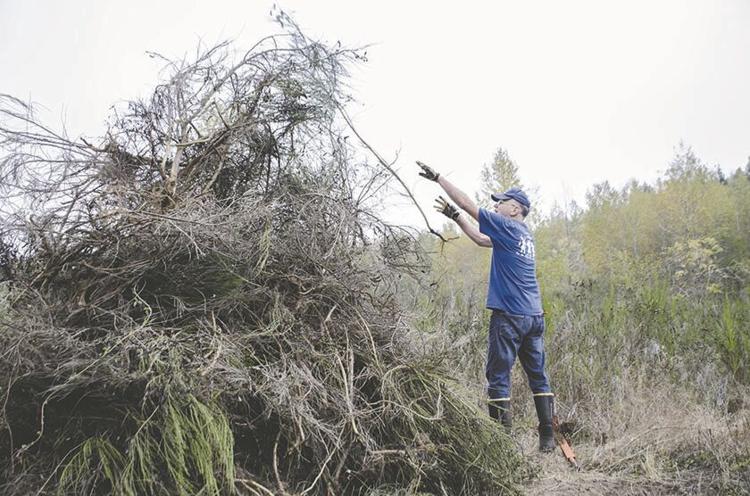 For the last two months, the organization and its volunteers have been pulling the invasive weed from the ground at a recently acquired parcel. That particular morning, workers — armed with weed root pullers — hiked out to the site through a half-mile trail located in the Bald Hills area. 
Hargrove is a veteran Land Trust volunteer who has also done work with the Capitol Land Trust and Washington CoastSavers. He said he's volunteered on at least 80 events with the Nisqually nonprofit, so getting down into the dirty work wasn't anything new to him. 
"The problem with the Scotch broom is that the seeds stay around for 100 years … You've just got to stay with it," he said as he leveraged his root puller under a bush. "It's kind of like dandelions in your yard … Eventually, you wear them out." 
Addie Schlussel, land steward with the Nisqually Land Trust, said the goal is to get this particular section of Lackamas Flats deweeded soon so that they can begin planting native shrubs and trees this winter. 
Invasive Scotch broom is noxious to the developing saplings the Land Trust plants in its sensitive ecological recovery areas. The bush also doesn't help develop habitat diversity, so removing them is a must. 
More than 26,000 native trees and shrubs have been installed at the Lackamas Flats site, which is more than 256 acres in size, according to the Land Trust's website. And there's still more tugging to be done. 
The Nisqually River is a mighty force and its flow is shifting in different paths, eating away at and exposing new lands. The hope is that by planting trees the Land Trust will be able to restore parts of the property and they'll become forested, which will protect the river from pollutants and help keep the water cool for fish that use the main channel. 
"If the river gets here, having an established forest would help with erosion and help dilute pollutants," Schlussel said, adding that the river is about 100 feet from the Land Trust's property boundary.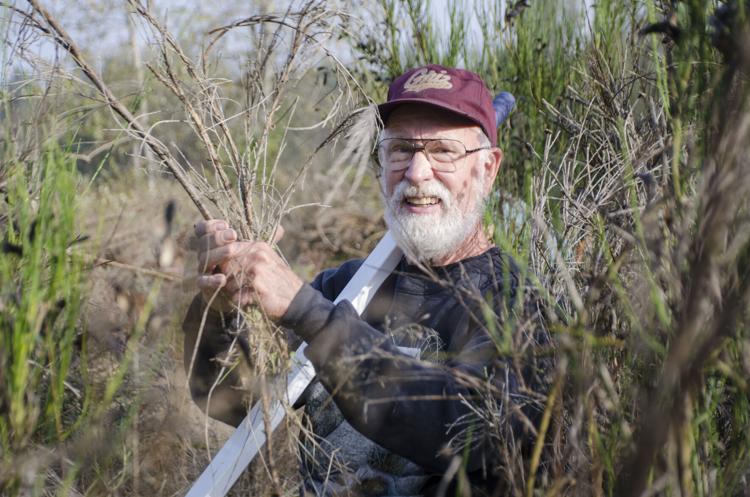 Having those trees planted by winter is fairly critical, Schlussel said, because the wet winters can play a huge factor in the rate of survival for saplings. 
Land Trust staff would normally have many busloads of students out on their property helping with work while learning about conservations during the October and November months. But due to the ongoing COVID-19 health crisis, that hasn't been feasible on a large scale for them.
Now, more than ever, the 30-year-old independent nonprofit is having to rely on its small but passionate group of volunteers — many of them in their retired years — to work these projects. 
"It's mostly us old folks because the young folks have to work for a living," Hargrove said with a grin.
Yelm Mayor JW Foster and wife Nicki Foster were volunteers for Wednesday's pull. 
The couple, who volunteer quite often for Land Trust work parties, estimates their team of regulars have weeded out 10 acres over the last two months. 
"This is a great opportunity for people to get their families involved in something in their own backyard," JW Foster said.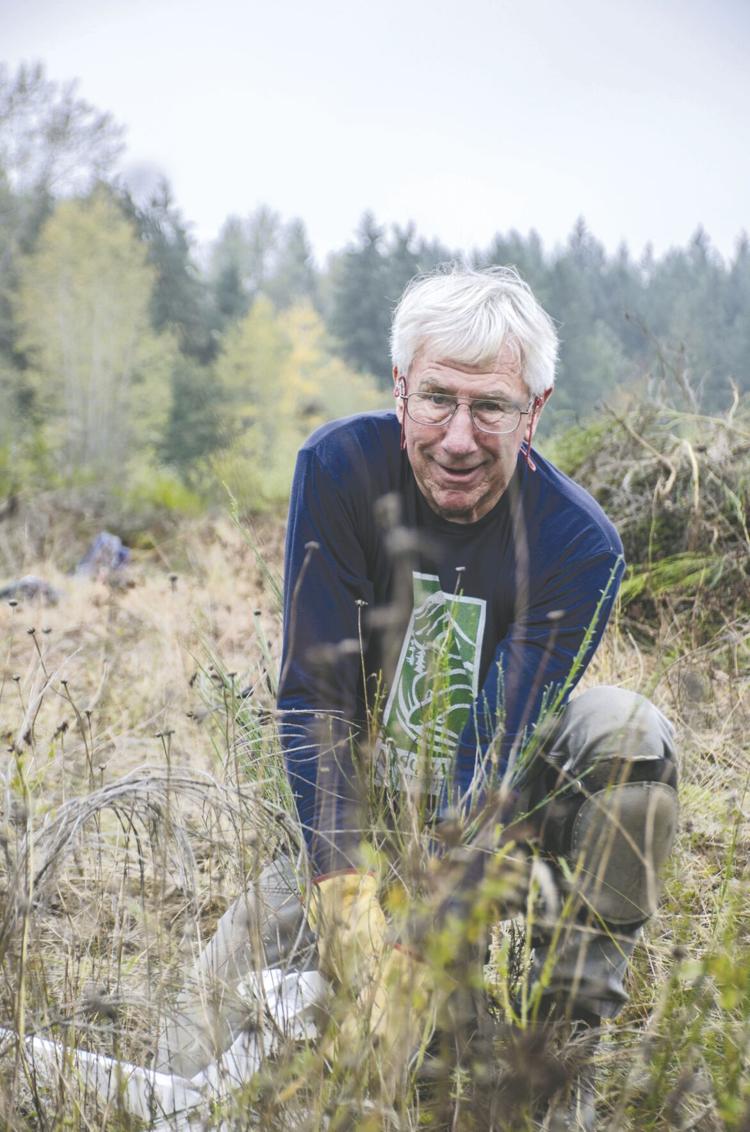 Back when their children were little, the Land Trust was just beginning to develop these work parties, Foster said. They quickly got involved, and the couple said they have fond memories of taking their kids out to plant trees at the Ohop Creek Valley property. 
"And now, some of those trees our kids planted 20 years ago are 30 feet tall," Foster said. 
Their kids are grown now, and even have kids of their own. Soon, Foster said, it'll be time to continue the tradition with the next generation.
Daniel Miszewski, 59, of Yelm, has been a volunteer for about four years now and is in between jobs due to the coronavirus health crisis. 
The Scotch broom pulls have been the most strenuous physical activity so far, he said. But it's been worth it.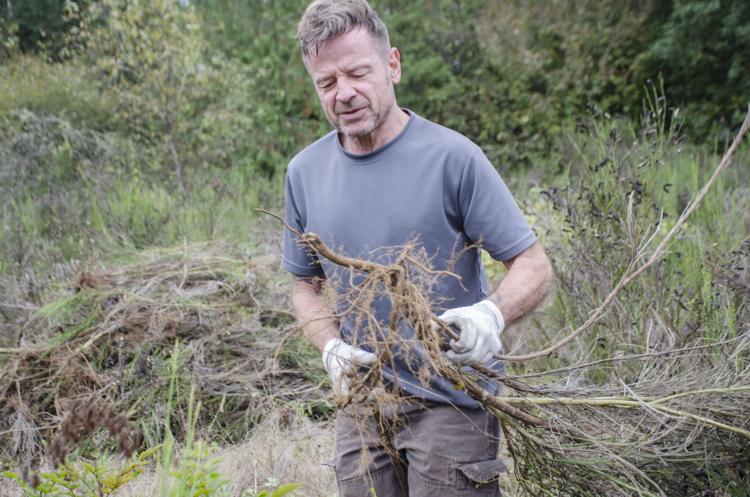 "It's about time humanity gave back to earth, and it's so good we're pulling these invasives," he said. 
Miszewski was working further away from the group, pulling Scotch from around a native Oregon grape bush, working on "giving it some air," he said. 
He also discovered something surprising not far from his beloved native bush — a large pile of tires had been stacked up in the form of a small embankment. At first glance, you wouldn't know they were there seeing as how the brush and Scotch broom covered the stacks of rubber. 
"That's a project I didn't know we had," Schlussel told Miszewski. 
The property the group was working on was formerly owned by Spooner Farms, which produces berries, Schlussel said. It's not known if this was the doing of the previous landowner, but there was one thing they knew: They'd need to be moved. If not now, perhaps in a month or two. 
Who: Nisqually Land Trust
What: Scotch broom removal
When: Wednesday, Oct. 14, or Saturday, Oct. 17, from 9 a.m. to noon
Why: To assist the Nisqually Land Trust in its mission of restoration and preservation efforts along the Nisqually River