Following the Thursday arrest of Eatonville murder suspect Hobert Clark in the Orting area, the Pierce County Sheriff's Office is now searching for his girlfriend Christina Kitchens for her involvement in the July 28 death of Paul Warner.
She's accused of taking the shotgun used in the murder and rendering criminal assistance.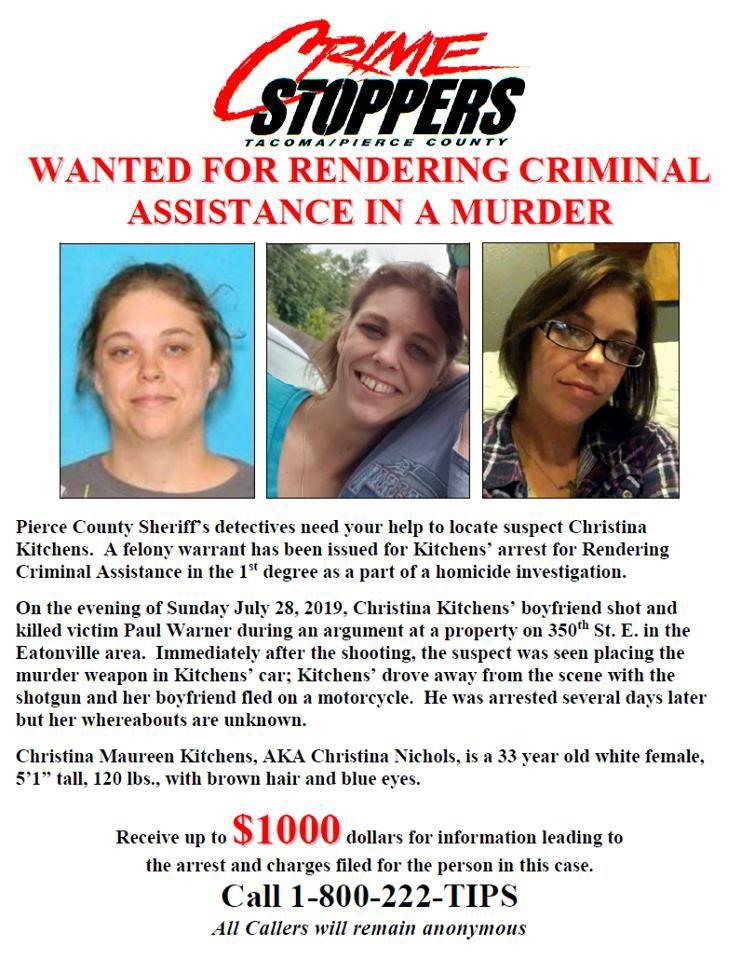 According to a press release, Hobert was arrested after a resident on Fisk Road reported seeing an unknown man laying face down in his garden at about 6:15 a.m. Thursday. That was after an earlier sighting at 4 a.m. in a truck near Pioneer Way and Patterson Road.
"A passerby called 911 and reported seeing a white pickup truck in a ditch at the intersection of Fisk Road and Orville Road," according to a press release. "Deputies responded to the location and found the unoccupied truck stuck in a ditch. Multiple deputies and detectives — including SWAT Team members — responded to secure the area and to search for the suspect."
That's when the call came in that Clark had been spotted in the garden on Fisk Road. He was arrested without incident.
After the arrest, detectives went to a residence in the 18000 block of Patterson Road East to serve a search warrant.
"Detectives had information that homicide suspect Hobert Clark had been staying at the residence with his girlfriend Christina Kitchens, who detectives had probable cause to arrest for Rendering Criminal Assistance to her boyfriend in the murder of Paul Warner," according to the press release. "Kitchens was not at the residence and her current whereabouts are unknown."
Through their investigation, detectives had determined that Kitchens was at the property when the homicide occurred. Immediately after the shooting, Clark was seen placing the murder weapon in Kitchens' car, according to the sheriff's office. Kitchens drove away from the scene with the shotgun, and her boyfriend fled on a motorcycle.
On Friday, a felony warrant was issued for Kitchens' arrest for first-degree rendering criminal assistance. Christina Maureen Kitchens, also known as Christina Nichols, is a 33-year-old white female standing 5-foot-1 and weighing 120 pounds. She has with brown hair and blue eyes.
Clark faces charges of first-degree murder, second-degree assault, first-degree assault and first-degree unlawful possession of a firearm after allegedly gunning down Paul Warner during an argument at a property on 35th Street East in the Eatonville area on Sunday, July 28.
"Clark reportedly demanded that the victim vacate the property where he was staying, then shot the victim at close range with a shotgun," according to the sheriff's office. "Clark pointed the shotgun at a witness and threatened him, and fired a shot toward another witness before fleeing the scene on a white sportbike motorcycle."
Hobert Wayne Clark is a 25-year-old white male standing 5-foot-10 and weighing about 200 pounds. He has brown hair and hazel eyes. He has extensive violent criminal history and is considered armed and dangerous, according to the sheriff's office.
Anonymous tips can be submitted by calling Crime Stoppers at 1-800-222-TIPS (8477). Anonymous texts can be sent using the P3 Tips app.