Roy resident Justin Smith has a menagerie on his hands, so it's fortunate he has a second home of sorts in Yelm to keep his gentle beasts satisfied.
It's called Yelm Farm and Pet.
Smith, 28, visits the all-purpose "one-stop shop for everything livestock, pet, and farm" about three times a week to buy feed and antibiotics for the horses, goats, cows and pigs that relish his 5-acre farm. And he regularly buys propane at the store, too.
"The customer service here is friendly, and I never have to wait for merchandise because it's always in stock," Smith said last week.
The store — though it's located in a metal quonset hut and not a wooden clapboard building — harkens back to general stores of yesteryear where customers could buy just about anything they needed and chat with each other while they perused.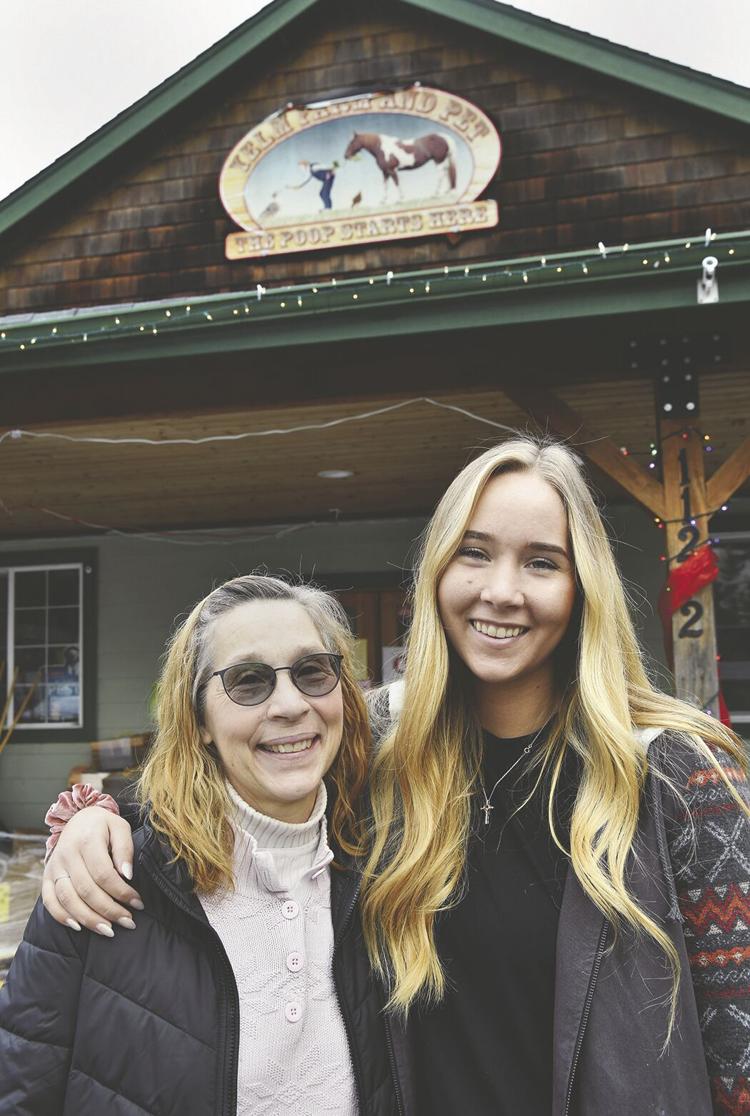 Take a quick tour of the facility, and you'll find dog and cat food and toys, livestock feed, animal supplements, bird and wildlife feed, propane, hay, fencing material, gardening supplies and even some home decor novelties. The store also sells Elite horse-and-cattle trailers and expects a new shipment of them in April. 
Yelm Farm and Pet, hidden a bit off of Bald Hill Road about 1 ½ miles or so from Yelm proper, opened in August 2008 on a 14-acre parcel of land. The store, itself — 3,500-square-feet  adjacent to an equally large warehouse — services approximately 115 customers per day.
Few of them are strangers.
"We have a good variety of customers who buy a lot of different types of products," said Beth Brueske, 23, who along with her mom Tammy, 60, and dad Dave, 67, own Yelm Farm and Pet. "We know most people's names and try to form relationships with our customers."
Added Tammy: "We carry a base of products, and we can special order and keep them in stock for our customers. This is not a sterile shopping experience. People come here because it's more like a warm, hometown outing."
You'll get no argument from rural Yelm customer Mary Jo Millsap, who visits the store a couple of times a month. Millsap, 73, buys supplies for her two cats and one dog, bundled kindling for her fireplace, pellets for her pellet stove ("I have a fireplace and a pellet stove," she said. "I cover all of my bases."), and whatever else strikes her fancy.
"I like that the store is locally owned," she said. "They meet all my needs, and they offer fabulous customer service."
The Brueskes are no strangers to the retail business profession. In addition to Yelm Farm and Pet, they own Valley Water Solutions in Yelm, which offers pump, well and irrigation supplies, filters and filtration systems.
The Brueskes — which include Beth's older brother and sister — have also designed and patented metal hose reels and holders over the years and manufactured fencing, too. And Tammy, who has a master's degree in speech pathology and maternal and child health, spends 20 hours a week as a speech pathologist for the Tenino School District.
So there's not much time for thumb twiddling in this household.
Tammy and Dave — who live on 40-acres in the Tumwater area alongside Beth — originally decided to buy the land and build Yelm Farm and Pet after meeting with a Purina animal-food company representative at a horse exposition in the early 2000s. The rep suggested Yelm would be the perfect place to open a feed store.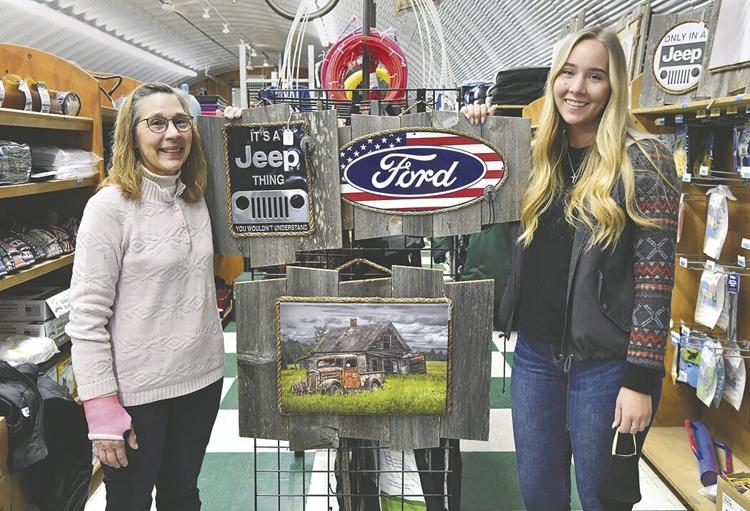 The family was already well involved in 4-H, high school rodeo and equestrian teams and other such activities, so opening the store — especially if they could find the ideal location — seemed destined.
Said Tammy: "We were already pretty entrenched in the rural lifestyle, so the feed store made a lot of sense," she said. "We had been looking for a location for a long time."
Beth, who graduated from Tumwater High School and earned a bachelor's degree in business administration, marketing and finance in 2018 from Saint Martin's University, pretty much runs Yelm Farm and Pet these days after 2 ½ years at the store. 
"Beth has taken over things at the store," Tammy said. "She's my eyes and ears, and I'm in the background."
For Beth, who oversees a staff of nine employees, customer interactions are her greatest joy.
"I enjoy talking to customers, because it keeps it interesting," she said. "Every day is different, and you meet new people and form relationships with them. You can't say that about every job."
The store's staff is exceptional, too, Tammy added.
"We are very fortunate to have the staff that we have," she said. "The relationship between the employees and customers is friendly, relaxed, and outgoing."
That said, however, the store's not challenge free — especially in the age of COVID-19 — though Tammy counts her blessings despite the upheaval.
"We are very fortunate to be an essential business during the COVID pandemic," she said. "Like any other small business out there we wouldn't have been able to stay open if we had had to close (due to COVID-19 business restrictions)."
And in what might be called a thin silver lining, the pandemic has rallied residents to economically embrace their neighbors, Beth said.
"I've heard from people that they're trying to support local businesses these days especially because of COVID-19."
And in response, Yelm Farm and Pet dutifully adheres to state Department of Health sanitation guidelines that help ensure its loyal customers can shop without trepidation.
Said Beth: "We do everything we can to protect ourselves, staff, and customers from the virus."
That includes mandating facemasks for everyone, erecting Plexiglas partitions at the cash registers, cleaning and sanitizing surfaces throughout the day, prohibiting employees from sharing computers or phones, and trying to keep staff and customers a safe distance away from each other.
But the pandemic has affected more than just the store's sanitation protocols. It's also made it more difficult for Beth to acquire some merchandise.
"Our vendors have been out of stock of some items," she said, noting in particular the difficulty obtaining some veterinary supplies, gun ammunition, and wire/fencing products.
"That makes it hard because customers think we are out of an item, and we don't want to send them away to buy it someplace else."
To help offset that dilemma, the store has an ace in the hole of sorts: It's called "Ship to Store," a collaboration with True Value Hardware. Through the alliance, store customers can order True Value items online and have them shipped to Yelm Farm and Pet.  
But all of that aside, perhaps the store's biggest challenge is simply price competition — David versus Goliath — local versus "big-box."
"For the most part, we are competitive with bigger stores, but we also have lower margins than they do," Tammy explained.
The store also tries to buy local merchandise as much as possible. Typical locally produced items include honey, homemade goat soap, grass hay, and home decor, such as themed wood signs.
And over the years, Yelm Farm and Pet has actively supported local organizations, too. 4-H, FFA, Dollars for Scholars, a Yelm High School student work program, and church and school raffles have all benefited from the store's generosity. 
"We offer a lot of support in the community," Tammy said. "We are committed to the Yelm area."
But through it all, the Brueskes manage to carve some personal space for themselves. Tammy spends much of her leisure time reading and exercise walking, though she's apt to be thinking about the business on those supposedly carefree walks.
"I like to learn about new products," she said. "There's always something new to learn in this job, and that's why it's so great."
Beth, on the other hand, rides horses — and quite well, evidently. She's been saddling up since age 2 and loves barrel racing. She favors two of the family's eight horses who call the Tumwater property home; they live alongside three dogs, a chicken, and a cow.
It's the Brueskes' personal menagerie. 
Yelm Farm and Pet is located at 11242 Bald Hill Road S.E. in Yelm. You can contact the store at 360-400-4141, or visit www.yelmfarmandpet.com.