As Yelm Homelessness Task Force member Suzie LeFurgey listed off her recommendations for additional services for the homeless at the group's monthly meeting Tuesday, there was something of a breaking point when disapproving attendees began to drown her out.
As shouts and murmurs of discontent rose from some of the 60 members of the audience, she stopped her presentation and called the public's comments "hateful" in a bid to regain her speaking time.
"I'm not finished and I have the floor, thank you very much. Y'all can be as hateful as you want, but this problem is not going to go away," LeFurgey said to the crowd. "You yelling at me is not going to make a problem go away. We must deal with it and we must deal with it expediently. We must deal with it with as least cost as possible for the taxpayers. No, I'm not done."
Yelm City Council member Joe DePinto, also on the task force, then pulled her aside for a few seconds. Council member Molly Carmody attempted to calm the crowd, which was growing unsettled due to the length of LeFurgey's presentation.
"I am not going too long. We have worked for a year on this," LeFurgey said as one citizen called for the next presenter.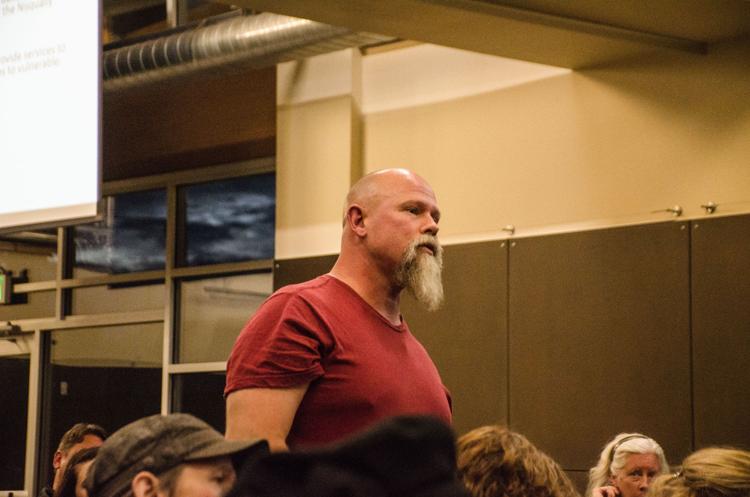 The scene, like prior meetings, was tense. Swaths of citizens whooped and hollered with disapproval as individual task force members voted to move forward with inexpensive options to address the city's minor homelessness problem.
In a majority-passes vote, the commission approved the advancement of recommendations to the city council to look into holding a monthly clinic at the Yelm Community Center for service providers, establishing a permanent homeless commission, increasing law enforcement, reviewing city ordinances and working with local nonprofits to provide services at minimal cost.
Those five recommendations will now be sent to the city where they'll be considered by the city council, then possibly put up for a vote.
"They're all very cost effective," Carmody said of the recommendations.
Carmody also said citizens will have another chance to voice their opinion at upcoming city council meetings.
In recent Yelm Homelessness Task Force meetings, many citizens have voiced approval of giving more power to the city's police department and creating ordinances that crack down on busking, panhandling and camping out in public places.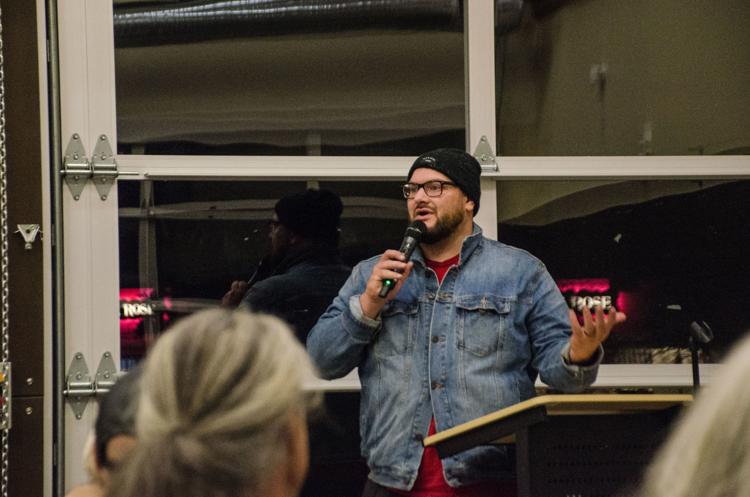 But even as the task force decided recently to move forward with those recommendations, citizens are still uneasy with the homelessness task force's process.
Ron Daniel, 55, a resident of Yelm, was one of many frustrated citizens at the task force meeting. During LeFurgey's presentation, which lasted more than 10 minutes, Daniel stood up in disapproval of her recommendations.
"I would just like to see our city go a different direction instead of doing something that's failed," he later told the Nisqually Valley News, adding that he believes these proposed solutions will only increase issues of drug addiction and homelessness.
During a public comment period, Daniel also said he would like to see the city take a backseat approach and let police officers "do their jobs."
LeFurgey later told the Nisqually Valley News that she thinks the police department does a great job making contact with homeless individuals. She said she believes additional ordinances would only complicate the matter.
"For us to want them to do more, well they know what they're doing. They know what the laws are. They know what the ordinances are. They do deal with issues all over the city," she said. "We can't say the Yelm Police Department aren't doing a good job. They are doing a good job."
Since she began working with the homeless in 2017, LeFurgey said the goal has always been to focus on being proactive against homelessness and not reactive.
She also said she believes the five recommendations are a step in the right direction, but said she would have liked to see the task force recommend a weekly clinic instead of a monthly clinic.
"Time treats people on the street differently than it treats us," LeFurgey said.
According to information from the task force's presentation, the monthly clinic would be hosted once a month at the Yelm Community Center and play host to social services such as the state Department of Social and Health Services, the Thurston County Office of Housing and Homeless Prevention, addiction and mental health counselors and some medical and dental professionals. This plan could be of little to no cost for the city, task force members said.
The establishment of a permanent homelessness commission would function as a liaison between service providers and city services while providing periodic recommendations to council.
The proposed recommendation to increase law enforcement's resources would build on partnerships with the Thurston County Sheriff's Office and the Nisqually Tribe police to increase narcotics enforcement.
The task force is also recommending the city review ordinances and continue to work with local nonprofits and organizations.
Two items that were a split vote by the task force — temporarily opening the community center as a shelter during hazardous weather and creating a jobs program — will also be put forward to the council with notification that the task force didn't fully agree.
It's estimated that there are at least 32 homeless individuals living in the Yelm area, according to this year's Homeless Point in Time Count. Yelm individuals accounted for about 7 percent of respondents in Thurston County.
The Yelm Homelessness Task Force was created about a year ago by the city council to identify resources in the community, gaps and overlaps in services, and to submit suggestions for homelessness services to the council.
Last week, Keylee Marineau, housing prevention and affordable housing coordinator with Thurston County's Public Health and Social Services Department, presented to the Yelm Homeless Task Force about services for those facing homelessness in the county and how the county is addressing issues of housing.
"Our landscape, economically, has changed dramatically over the last decade as far as housing affordability, rental prices and vacancy rates," Marineau said to one attendee. "So, are they working for our current landscape? No. We gotta get real creative and think differently, absolutely."