(Editor's Note: Oregon Trail Days is July 26-28 in Tenino. The Nisqually Valley News will highlight different aspects of the festival between now and July 25, when a special section focused on Oregon Trail Days will be published in the NVN.)
When Marilyn Ritter learned she had been selected as this year's Oregon Trail Days parade grand marshal, she felt both excited and humbled by the decision. 
A resident of Tenino for more than 85 years, Ritter said she loves the rural Thurston County town and is excited to lead the festivities. 
"I just like small town living. I've travelled all over the world to 48 countries and six continents," she said. "I'm always so glad to get home."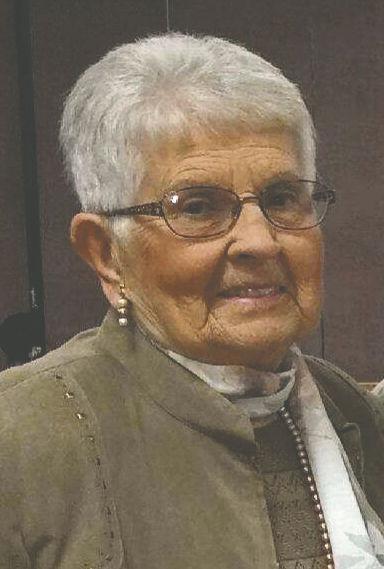 And Ritter, 92, just might be one of the oldest grand marshals in Oregon Trail Days history, said Tyler Whitworth, president of the Tenino Area Chamber of Commerce. 
"We're really excited to be able to honor her," he said. 
More than anything, Ritter said she's looking forward to seeing faces — both familiar and new — at this year's parade, which begins at 10:45 a.m. Saturday, July 27.  
"I've gotten lots of calls and it's just really exciting to see a lot of people. At 92, it's important to see your friends," she said.  
Ritter has always been an active member of her community. She served alongside the Tenino Fire Department Women's Auxiliary. Her late husband, Verl Ritter, played an instrumental role in establishing rural fire districts in southeast Thurston County, according to her daughter Sherry Bachmann. 
She was also a founding member of the Associated Study Club and held an active role for 50 years.
A church organist of 50 years for St. Peter's Parish in Tenino, Ritter has also been a strong leader in her faith community. 
Through and through, what Ritter says she loves most about Tenino is that it's so close to everything, such as the ocean and big cities, and yet it's still the same community she's grown up with and loved, decade after decade. 
"It's still a small town with no stoplight," she said.
Tenino will play host to around 60 individual parade entries, beginning with the T90 Motorcycle Drill Team. 
The parade will include a big float from the Washington State Lions Club, the Black Powder Shooters will have a cannon that shoots candy and there will be a plethora of classic cars, along with an equestrian drill team. 
"It's something for everybody. And outside of Halloween, I don't know of another place you can get as much candy," Whitworth said. "Nearly every family in Tenino is on that street … It keeps you coming back."
Whitworth said Thurston County's very own 2019 Miss Rodeo Washington winner Hannah Leib will also be in attendance. 
She will be honored as the community's Citizen of the Year.