Editor's Note: Freelance journalist Wendy Tinker begins a two-part series on area animal sanctuaries with this look at Wolf Haven just outside Tenino. Look for part two in an upcoming edition of the Nisqually Valley News. 
One definition of the word sanctuary is "a place of refuge and protection." 
I recently visited two local sanctuaries. Though they share a common goal, each strives to achieve it in very different ways. Wolf Haven International offers refuge to wild animals, while Black Dawg Sanctuary cares for domestic farm animals.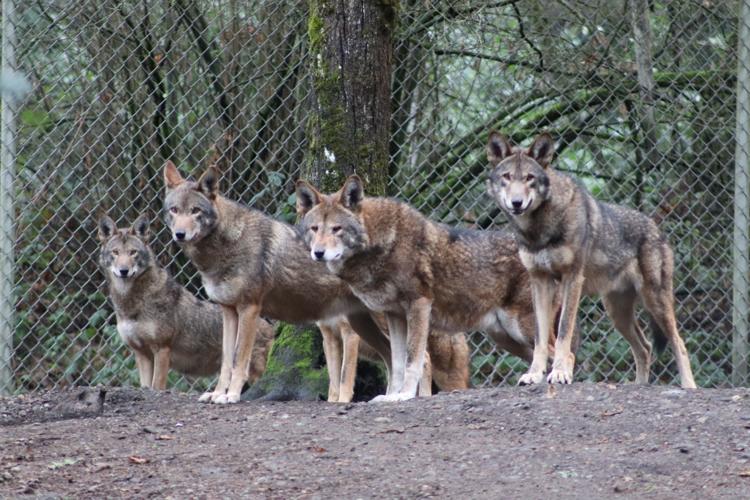 My first stop was Wolf Haven, located on 82 unique acres just outside Tenino. Not only is this a sanctuary for several types of wolves, but it contains 32 acres of rare Mima Mound prairie that draws a wide range of wild creatures. Ravens and hawks soar overhead, black outlines against a blue sky. Colorful butterflies and small birds swoop through the brush and squirrels chatter in search for food. A wide variety of trees and vegetation offers comfort and protection to animals and humans alike.
Wolf Haven received non-profit status in 1982. Its mission is "to conserve and protect wolves and their habitat," and it has been doing just that ever since. Wolf Haven provides sanctuary for captive-born and displaced wolves, offers a variety of educational programs about wolves and wildlife, promotes wolf restoration in historical ranges and works to protect wild wolves in their natural habitat.
I had the pleasure of receiving a private tour by Director of Communications Kim Young, and I learned that while there are currently 56 resident animals, only 10 to 12 are visible to the public. In fact, no one but the animal support staff sees most of wolf population.  
"We want them to live as naturally as they can given their captive environment, and with as little human interference as possible," Young said. "Of course, we monitor some of the animals with cameras and the animal care staff check on each wolf regularly." 
Wolf Haven houses 12 gray wolves, 11 wolf-dog hybrids, 18 red wolves, 12 Mexican wolves, and two coyotes. The wolves that the public are allowed to view are downright breathtaking.
The gray wolves are majestic and wary. They bask in the sunshine or sit among the trees, watching. They are kept in compatible pairs and have very little human interaction. Watching a wolf is seeing a part of nature that we rarely view. These wild animals are intelligent and have been living the law of tooth and fang since they evolved in the early Pleistocene era. They are worthy of our protection and stewardship. 
Almost all of the gray wolves and wolf-dog hybrids at Wolf Haven were taken from people who thought they would enjoy having a wolf pup that was born in captivity but realized, as the animals reach sexual maturity, they are difficult to train and are not at all suitable as pets. They often end up being dumped at shelters, given away or sold.
Wolf Haven was selected in 1994 to participate in the Mexican Wolf Species Survival Plan (SSP) which is "a cooperative animal program designed to oversee the population management of a select species in captivity and enhance their conservation in the wild."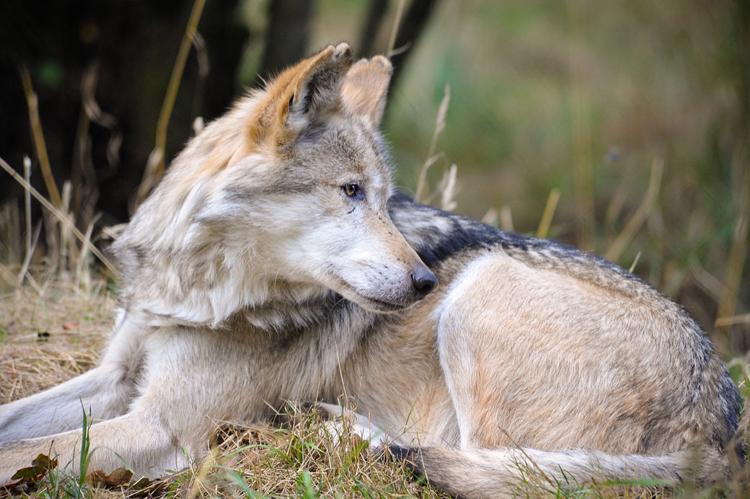 Mexican wolves used to be common from Colorado to Mexico, but now there are only 145 free-ranging Mexican wolves left. Wolf Haven is one of the 52 facilities in the U.S. and Mexico dedicated to a captive breeding program. Nine litters of Mexican wolf pups have been born at Wolf Haven between 1996 and 2017. 
Wolf Haven also participates in a red wolf captive breeding program, following very strict rules and guidelines for their care and maintenance. I watched a pair of these beauties trotting on their paths throughout their enclosure. They are lithe and alert with large ears and expressive eyes. 
During our tour, I was fortunate to meet the Sanctuary Manager and Mexican Wolf SSP Liaison Pamela Cabanas as she tossed big chunks of frozen meat into the enclosures. Her beaming smile was evidence of her love for her job. 
I asked Cabanas to share a funny story about the animals and she recounted an incident involving a male grey wolf-dog cross, Caedus, who had been digging a hole. Wolves dig deep dens as well as shallow holes in the dirt to stay cool. Evidently, Caedus dug the hole so deep he could barely be seen when he was standing in it. He eventually tired of the project and abandoned it. A while later, when Pamela tossed him a meatball (used to deliver medications and supplements), it flew over his head, and while he jumped up to catch it, he landed on the edge of his discarded project and fell in. The embarrassed look on his face was replaced by an indignant, "I did that on purpose!" glare of faux-confidence as he scampered out of the hole.
"Unlike the myth that wolves are bloodthirsty creatures, we know that they would much prefer to stay away from humans," Young said. "Some are braver than others. They're unique individuals with their own quirks, likes and dislikes. Every wolf here has its own story and a personality to match."
At the end of 2018, Washington Department of Fish and Wildlife reported a count of only 126 wild wolves in Washington state. These once plentiful animals now live in Eastern Washington in a total of 27 packs containing 15 breeding pairs. More about our wild wolf population is explained during educational tours.
Since its beginning, Wolf Haven has rescued and provided lifetime sanctuary for more than 300 animals. They are accredited by the American Sanctuary Association and are the only wolf sanctuary in the Global Federation of Animal Sanctuaries. They are currently on the Washington Department of Fish & Wildlife Washington Advisory Group, and they actively participate with the Pacific Wolf Coalition.
Wolf Haven relies on support from visitors and donors. Children and groups are welcome to register for visits. You can also volunteer your time or "adopt" an animal or donate money. Learn more at www.wolfhaven.org or call 360-264-4695 to schedule a visit.