Those were the last words Rory Sagner ever heard her mother speak.
"Congratulations," Julie Siegel meant to convey, using the Jewish phrase that literally means "good luck," but is more commonly used to applaud achievement for a happy or significant event.
Siegel's words — humorous, impeccably timed and well intentioned — penetrated the octogenarian's otherwise grim circumstances. 
Sagner, a Rainier-based 24-hour caregiver and award-winning photographer, had been painstakingly caring for Siegel, her 83-year-old mother, during the 13 months of her home hospice in Portland, and on this particular morning two days before she died was feeding her sips of a smoothie drink another caregiver had made. Her mother was barely conscious.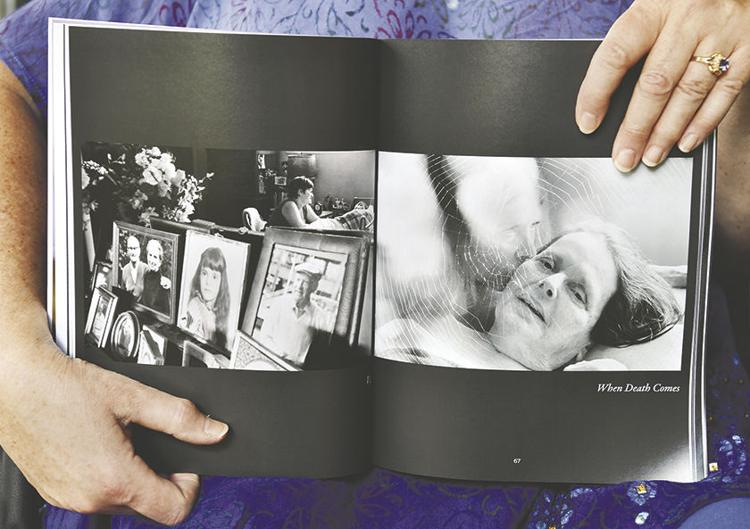 Sagner said: "Boy, Amanda makes smoothies really ..." and began to say the word "good," but quickly halted and changed the word to "well." 
Sagner recalls her mom immediately awakening and softly saying the words "mazel tov," or "congratulations."
One last quip from a genuinely humorous, but gravely ill, confidant: If she'd had the strength, her mother might have added, "you finally got it right."
Siegel, a published writer and stickler for correct grammar, had counseled her daughter over the years when to use "good" and when to use "well," and when Sagner corrected herself at her mom's deathbed, the moment was priceless.
"It was very funny that those were her last words to me," she said recently. 
It was about this time that Sagner made the final photograph of her mother. That black-and-white image plus five others would end up accompanying an interview about Sagner in Craft & Vision magazine. The series, called "Saying Goodbye," chronicled her mother's final weeks in hospice. Images from the series had previously appeared on the website LensCulture.
In a sense, "Saying Goodbye" grew out of a simple three-ringed binder. Since about age 20 Sagner had been photographing immediate family members, photographs that her mom hung in what became known as "the hallway gallery." 
As Siegel's dementia and short-term memory loss emerged many years later, Sagner made new prints of the older hallway images and placed them along with recent photographs of caregivers, friends, other family members and hospice staff into that three-ringed binder. She added poems and quotations, too, and then gave the album to her mom for her 82nd birthday present, calling it the "portable hallway gallery."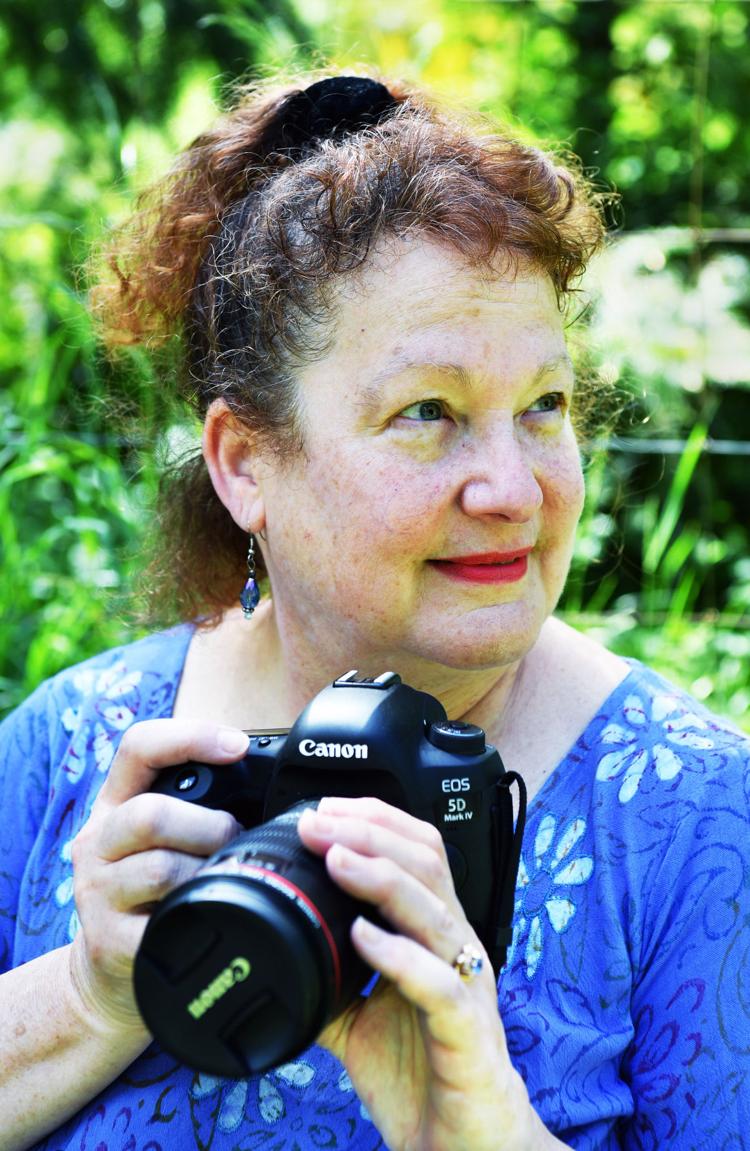 "She never failed to delight in those photographs," said Sagner, 65. "She looked through them every day. In part, my motivation for taking many of those photographs was to help her recognize the people in her daily life."
Sagner brought her mom home for good in February 2014. By then, Siegel was suffering from advanced colorectal cancer, chronic heart failure and other health issues. Doctors gave her three-to-six months to live: She lasted 13 — much to the devotion, Sagner believes, of the "amazing love and help of both extraordinary hospice staff and caregivers."
As Siegel's final months slowly began ebbing away, Sagner did what came naturally: She picked up her camera and began shooting. Hundreds of images later, she would finally cull the portfolio down to her best 12, six of which would eventually be published in Craft & Vision magazine.
Cynthia Haynes, executive editor and production manager for the Craft & Vision photography website and former senior editor of Craft & Vision magazine, experienced much the same emotions as did Sagner when in May 2019 Haynes cared for her terminally ill father. Because of their shared grief, Sagner's photographs personally affected Haynes in ways they might not have otherwise.
"Because I was emotionally invested in the inevitable loss of my dad, her (Sagner) photographs absolutely touched me," Haynes wrote via email. "I sobbed when I first saw them. It made me realize how powerful a photograph can be …" 
Sagner's images, though emotionally powerful in their totality, are subtle at first, but offer just a hint of what's to come. The opening photograph of the magazine's layout, for instance, is a poignant portrait of a handsome woman resting her head on her hand, titled "A Wit That Shined." This first image of Sagner's mom leads the viewer to anticipate — in an almost subconscious way — that this is indeed the beginning of a story that may lead to a sad, but compassionate ending.
Ensuing photographs show Siegel as her health declines. The final image — titled "Almost Home" — was taken two days before she died. Sagner's immersion in her art helped her cope with the emotional pain that seemed to follow her like a cloying black cape.
"I was kind of just surviving then," Sagner said. "When I was photographing Mom it helped to ease my being with her. I went into a certain state of consciousness when photographing. I was not really thinking and not worrying."
Sagner's devoted dedication to her mother clearly showed in her photographs, Haynes wrote.
"Outside of the support of home health care, Rory was carrying that entire load on her tiny shoulders. She did it all with such grace and compassion, which shows in her photographs. There's power in being a visual storyteller, especially when it's close to home."
Without that visual power, Sagner's ordeal could be shocking and raw.
"When I allowed myself to become aware of how I was feeling there was a lot of grief, and I felt totally helpless," she explained. "It was horrifying and a constant struggle to keep her out of pain."
Siegel died at 2 p.m. on Feb. 24, 2015. She was 84. 
Though Sagner knew the dreadful day was near, her mother's final breath rocked her to the core. And to Sagner's dismay, she couldn't immediately sit with her mother's body because there was so much to take care of, a visit to a local credit union among her immediate responsibilities. When she finally got back to her mom's home that night, Sagner finally broke down.
"I went into the bedroom where my mom's body was and cried my eyes out for a good couple of hours," she said. "A few years of grief came crashing out. It was heart wrenching and intense." 
Sagner would not return to her own home in Rainier for another six months, her financial duties surrounding her mom's death and its ramifications a complicated web.
"I was exhausted and a basket case when I finally got home," Sagner said. "It took about a year for me to get back to normal."
Now, half a decade after her mother's death, Sagner's enjoying her nearly ninth year in Rainer after initially moving to the Yelm area in 1998. A longtime student of Ramtha's School of Enlightenment, Sagner credits the "spiritual practices and knowledge" she gained from Ramtha for helping sustain her through a difficult time.
"I feel extremely blessed in my life … for a multitude of reasons," she said. "I love where I live, am blessed with an incredibly wonderful mate, am relatively healthy, and have work that is meaningful to me. I feel that I have been given many gifts."
Photographic talent is certainly among them — though these days Sagner's in a bit of a funk. She particularly laments the demise of the original National Geographic Your Shot website, to which she regularly contributed her images — and through which she was published five times in Your Shot stories. The National Geographic image gallery is now published via Instagram, which doesn't interest Sagner.
Though she's coming to grips with her creative lull, the journey can be fraught with anxiety.
"I struggled with this for a while, but finally decided to stop judging, accept how I felt and know that 'this, too, shall pass,'" she said. "Artists of every kind go through these phases periodically, and while they are not much fun, I've come to view them as the preparation for new growth and new adventures."
But given her certainty that "God will show her the way" to express her creative passions — "especially in ways that will make the world a better place" — Sagner will undoubtedly rev up again.
And when that burst of inspiration hits her, we'll all know what to say ...
Editor's note: Craft & Vision magazine was part of "Making The Image," an online course offered by photographer and founder of Craft & Vision, David duChemin. Specifically designed for and about the participants in the course, the magazine was a limited run for the one-year course, which concluded in May.