A bit more than a year ago — a mere blip in time — Yelm High School student Cassandra Hyder had just finished showing her Texel cross breed lamb at the August 2019 Thurston County Fair.
The competition — one of many the Yelm Future Farmers of America standout had entered since she began her FFA career in 2013 while at Yelm Middle School — occurred about two months after she graduated from YHS.
It was about this time that two simultaneously momentous events converged in the 19-year-old's  life: she found out she'd received the FFA's highest honor, the American degree — and she joined the United States Air Force.
First, about the degree ...
According to the National FFA Organization, the American FFA degree is the "gold standard" for FFA members — the organization's highest achievable degree.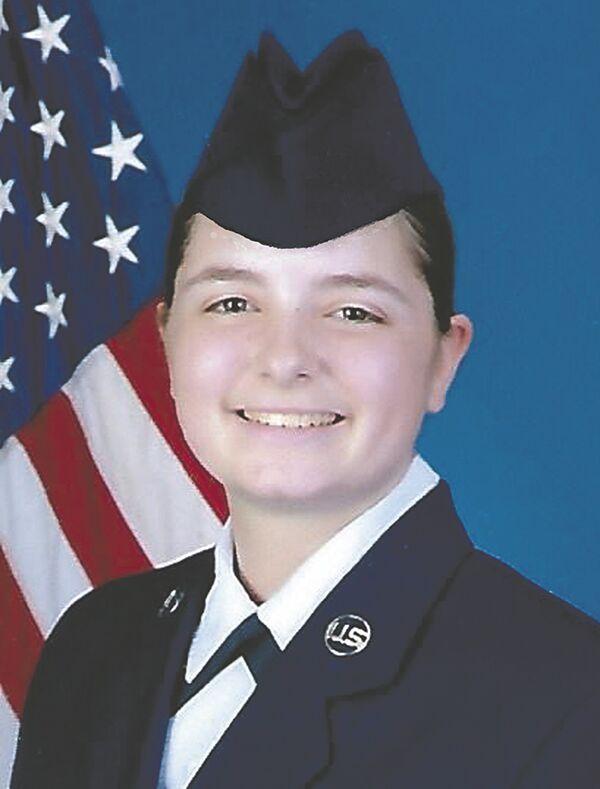 Hyder will join six of her Yelm FFA buddies — all recent YHS graduates — when they receive their American FFA degrees during the virtual National FFA Convention Oct. 27-29. The other Yelm FFA recipients are: Isabela Burke, Abbie Dorhauer, Kelsey Hinton, Ty Hummel, Jacob Sneddon, and Addyson Wilson-Heid.
Receiving the American degree illuminates the overall character of the women and men who receive it, the national organization noted. 
"The American FFA Degree show's an FFA member's dedication to his or her chapter and state FFA association," the organization's statement reads. "It demonstrates the effort FFA members apply toward their supervised agricultural experience and the outstanding leadership abilities and community involvement they exhibited through their FFA career."
Now the Air Force: Hyder enlisted in the military just weeks after showing her lamb at the fair. After excelling in basic training at Lackland Air Force Base in Texas, she transferred to several other Air Force bases in Texas and Florida before finally landing at Hill Air Force Base in Clearfield, Utah, where she has worked the past seven months.
The Airman 1st Class dirties her hands these days as a mechanic helping fix F-35 fighter jets while refining her skills with help from more experienced mechanics.
"I still have to have people with me to make sure I'm not breaking anything instead of fixing it," Hyder said with a chuckle by phone last week. "We are always doing more training and tasks, and you get checked off on your procedures and progress up your skill levels."
Hyder initially enlisted in the Air Force for six years but plans on staying for 20 to allow her to access retirement benefits. After that, she plans on pursuing a veterinarian or veterinary-tech career.
"I'm not sure at this point if I'll end up doing 20 years because five years from now things might be different in my life, but that's my plan, and I would like to see it happen," she said.
Hyder had been contemplating joining the Air Force and was juggling that option against the opportunity to immediately attend college. She ultimately decided that military service would better suit her at this time in her life. Plus it has some distinct benefits schooling probably wouldn't have.
"For me it was the opportunity to travel, and this way I get paid to do it," she said. "And if I did decide to take college courses while in the Air Force, the tuition assistance would mean I wouldn't have to worry about how I would pay for it."
Dusti Nash, a Yelm FFA advisor and Yelm High School agriculture teacher, paints a bright future for Hyder in whatever field she chooses.
"She (Hyder) was a very involved FFA member who participated in a variety of committees and worked on many activities during high school," Nash wrote by email last week. "She completed many of her community service hours through educational booths at local feed stores informing the public about livestock. No matter what Cassie does in the future, she will be successful because she knows how to set goals and work hard to achieve them."
And she knows how to transition between diverse fields. 
Within weeks after graduating from YHS in June 2019 — while still caring for FFA lambs, goats, rabbits and other critters — she leaped into Air Force basic training with her sights on becoming a fighter jet mechanic.
And though some people might have been anxious wrecks with their lives about to turn upside down, Hyder seemed to take the metamorphosis in stride. Her Air Force eight and a half week basic training at Lackland AFB in San Antonio, Texas, would prove to be a valuable bonding in ways Hyder didn't necessarily anticipate.
"I was nervous at first, but I felt like I got lucky because the people I went through it with all got along really well," she recalled. "I actually had a fun experience, and not everyone can say the same."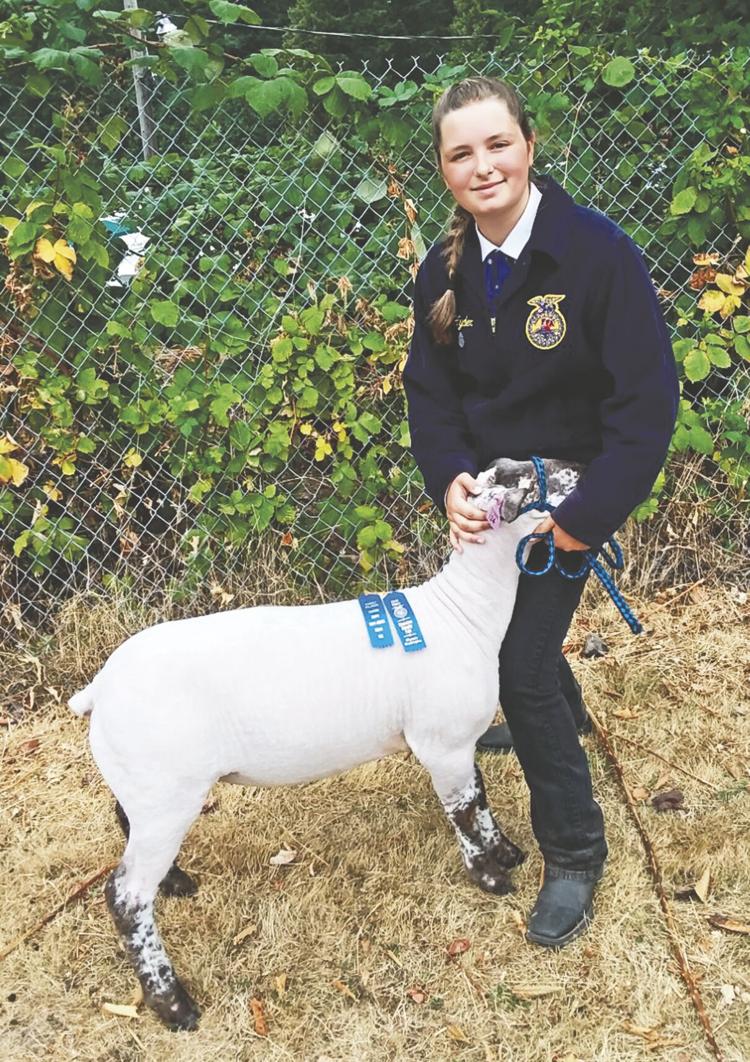 She added: "It was like a little vacation from everything, and it was strange because we didn't have cellphones or other technology and that helped us connect with each other and build better bonds."
By the time she graduated from basic training, she knew her next stop would be about three and a half hours away at Sheppard Air Force Base near Wichita Falls, Texas, where she would spend a month learning about the fighter jets she would soon help repair.  
"Once I made it through Sheppard and passed the course there, it was set in stone that I would be a jet mechanic," she said.
Hyder would make one more stop at Eglin Air Force Base in western Florida for another five months honing her knowledge about jet mechanics before proceeding to her final destination in Utah where she expects to remain for the rest of her six-year tour of duty.
"It's the military," she said, "so they can randomly one day say 'you're going to Alaska now' or something like that."
But whether she ends up in the frozen north at Eielson Air Force Base near Fairbanks or at sultry Andersen Air Force Base in Guam, she'll have the memories of her Yelm FFA experience to embrace.
Hyder, who has two sisters — one older, one younger — was born in Olympia but spent her life in Yelm. A Yelm Middle School teacher introduced her to FFA when Hyder was 13, and it wasn't long before the animal-loving teen bought a few goats and began showing them through FFA, 4-H, and county fairs. 
"My favorite thing about FFA was the show environment," she said. "There were a few of us in FFA who started in it together and grew together over the five years and became good friends through it."
Through her Yelm FFA career, Hyder became adept at showing goats, pigs, rabbits, lambs and chickens, though she made her mark mostly through her FFA Supervised Agricultural Experience (SAE) project in which she bred rabbits. 
The SAE is part of a three-pronged high school agricultural program composed of classroom instruction, participation in FFA, and SAE. 
Hyder's SAE project, which lasted the full five years she was in Yelm FFA, centered around her attempt "to create a good quality show animal that I could be proud of."
To accomplish this, Hyder started off in her first year with a few "random" rabbits whose body structures she could study, and over time became more and more knowledgeable about what competition judges sought in championship-caliber animals.
This led her to begin mating male rabbits with short loin muscles — which sit on either side of the animals' spines — to females with long loins, thus resulting in offspring with medium-sized loins preferable for show rabbits.
She was eventually able to sell one of her mated female rabbits for $100 because the animal had often taken top prizes at competitions.
Hyder, who was already in the Air Force when she discovered she would receive the FFA American degree, believes the honor will help her when she transitions out of the military into a veterinary career. 
"Having the degree will show all my past experience," she said. "That includes record keeping, money management, and how much dedication I put into my FFA career."
But right about now, her mind's undoubtedly not on rabbit loins, because she's probably helping change an expensive tire on an F-35 fighter jet, a frequent task of hers lately.
And she's perfectly fine with that as she continues to learn increasingly complex mechanical skills. Besides, she's never aspired to be a hot-shot jet pilot.
"Pilot jobs are for officers, and it's just never really appealed to me," Hyder said. "I just never really liked the idea of actually flying the plane. I prefer working on things and fixing them, instead."