But not the COVID-19 kind that relates to human immunity from infectious disease. No, this is another kind of herd immunity — elk herd, to be exact. And a whole bunch of 'em — called Roosevelt elk — live right here in rural Yelm. 
And to what exactly are these 600-pound creatures immune?
Well, among other things, they don't particularly care about flashing red lights, protruding stop signs, school buses full of kids, or bus drivers just trying to safely and punctually deliver their human herd to school.
"We stop for elk all the time out there in rural Yelm. They're all over the place."
That's Kathy Roark. Ensconced in the driver's seat of her yellow school buses, the Rainier resident's been toting Yelm Community Schools' students to and from their district destinations for the past 35 years. And over that time, she and her longtime bus assistant Theresa Champion — who's been with YCS for 32 years — have, as Champion puts it, "run into a lot of weird things out there."
Hulking elk among them, who, incidentally, don't seem to have much sense of time — or urgency.
"They walk across the road single file, one at a time, until the whole herd crosses," Roark said. 
One… by one ... by one … meandering, enjoying the camaraderie, the scenery, and probably not even noticing all the kids staring at them. One… by one … by one ... 
"For the biggest herd we've seen, we had to wait for 30 minutes once before they all crossed, though it's usually about 10 minutes," Roark said.
Roark, 61, Yelm and Rainier born and bred, and Champion, 53, a Yelm resident born in Lakewood, have worked together as a team for the past 10 years. The duo navigate two routes throughout the five-day week: one transporting four Yelm boys aged 12 to 14 to and from the Olympic Academy behavioral school in Chehalis and a second midday route delivering 7 pre-schoolers to Fort Stevens Elementary School. 
They work about 38 hours a week these days as more and more students begin filing into schools for in-person instruction. Both were sidelined from March through June as Gov. Jay Inslee closed schools statewide to help offset the spread of COVID-19, an illness caused by the coronavirus. 
The announcement came about two weeks before the governor announced his "Stay Home, Stay Healthy" plan that shuttered restaurants, health clubs and other facilities. Fortunately, Roark and Champion were able to find other work during the shut down: Roark at the YCS Grounds and Maintenance Department, and Champion at a YCS/YMCA-sponsored daycare facility. 
And during the first part of the pandemic, the pair helped deliver lunches to out-of-school YCS students and also helped deep clean the district's school busses.
So, yeah, they've spent some time together, and they have become indispensable to each other as the years flew by.
As Roark says: "Theresa's my right brain, and I'm her left brain."
As a bus assistant, Champion buckles preschoolers into their safety restraint seats, fastens safety harnesses, hooks up wheelchairs and basically performs any duties Roark needs her for. She is also the school bus's in-house therapist of sorts — chatting with students if they're having a bad day or just being a comforting presence students can rely on.
"We have learned over the years that we're not just driver and assistant, but also counselors," Champion said. "We can make or break the students' day depending on how we approach them, so we have to be sensitive about how the kids are feeling."
Champion has nothing but praise for her longtime colleague Roark, whose official title is school bus driver.
"Kathy is amazing," said Champion, who has been married for 33 years to husband Robert, 57. 
"She's easy to talk to and approachable for all the kids. Things don't fluster her, she's solid with the students, traffic, everything we're responsible for. Kathy's one of the best that Yelm Community Schools has."
The praise is echoed by Roark's supervisor, YCS Transportation Director Dawn Avery, who has worked with Roark for six years and particularly relishes her veteran driver's attention to detail.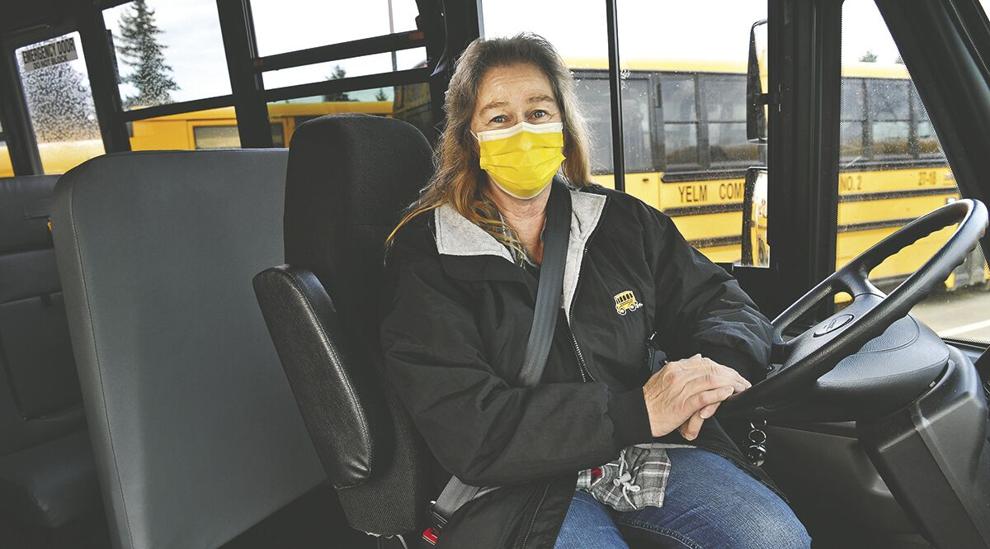 "Kathy performs all safety checks of buses with the utmost care, and she is always aware of her surroundings and road conditions," Avery wrote via email. "She uses caution at any time she is behind the wheel of a school district vehicle, and uses the training she has been provided to make sure her vehicle is not involved in an accident."
Though Avery conceded the COVID-19 pandemic and resulting school closures have been tough on the district's drivers, she's grateful YCS lost only a few employees in the fallout — fewer, she said, than other districts in the state.
"And that's because we are a family at YCS Transportation," she said.
The district is currently busing from 340 to 370 students a day with a staff of 46 bus drivers and seven assistants, Avery said. That total initially included special needs students who began in-person instruction in the fall, followed by students who didn't have internet connections.
In early January, small groups of students began in-person instruction at the elementary schools, then in late January kindergarten through second-grade elementary school students began hybrid learning. Avery expects to transport third-grade through fifth-grade students for hybrid instruction on Feb. 18. 
She added that under normal circumstances — i.e., no pandemic — 49 bus drivers, nine sub drivers and nine assistants would routinely transport 5,900 total YCS students.
"Yes, the numbers are vastly different (when schools are operating normally)," Avery said.
But despite the relatively low numbers of students currently needing bus transportation — which fluctuates according to state Department of Health school guidelines that reflect the ebb and flow of county COVID-19 cases — Roark and Champion stay plenty busy. They work about 7 ½ hours a day five days a week keeping each other in good spirits on good days and bad.
Roark, who attended Yelm High School but graduated from a high school in Montana after moving there for five years with her then husband, has two children — daughter Robi, 43, and son Charlie, 41 — and a grown granddaughter, who all live in Rainier.
So, she has plenty to think about. But when she's driving, she's driving, and she doesn't allow her mind to wander afield.
Besides, she digs her job — all 35 years' worth and counting.
"The most enjoyable aspect of bus driving are the kids," Roark said. "When they ride with us they're talkative, and it's a relaxing environment for them where they're not judged and they can just be themselves.
"The teachers aren't there, so they're not stressed out, the parents aren't there, so they're not stressed out, and we just try to make it fun for the kids. We don't make them sit there like little soldiers and not say anything. Every day is a new adventure for all of us."
And Champion? Well, she's Roark's secret ingredient — an enchanting teammate with a soft touch.  
"Theresa makes everything so much easier," Roark said. "There are a lot of times when kids are having a bad day, and they just need someone to talk to and she is like their guru, their counselor and everything. She has a really good rapport with the kids, and they respond to her positively."
Which is a darn good thing, because bus driving isn't always a pleasant Sunday excursion. In fact, traffic nightmares are the only challenges Roark could pinpoint that supremely bug her.
"People are crazy," Roark said. "They pass us on the highway when we're going the speed limit and act as though we're crazy for going so slowly. The people in town don't want to be behind a bus of any kind, and they have no patience."
Patience and fortitude have been virtues for Roark since that day in 1986 when she decided she wanted to pursue a profession; she'd labored the previous five years at a nursery and at a chicken farm and was ready for a new challenge. 
But before she could get behind the wheel of a passenger bus she had to qualify for the privilege. The qualifications initially included acquiring a Class B Commercial Driver's License with a passenger endorsement and obtaining her CPR certification. Once on the job, school bus drivers must then pass annual physical exams through the state Department of Transportation, undergo random drug testing, and maintain a near-perfect driving record.   
Roark's patience behind the wheel pays off at home, too. Her free-time pursuits require plenty of it. For one, she enjoys quilting, often offering her finished pieces to family members or donating them to Yelm's Dollars for Scholars annual auction.
She also paints — applying pigment to canvas, wood and household objects for 30 years. Roark figures she has about 30 paintings — primarily of scenery or flowers — hanging on the walls of her Rainier home.
And when she's not quilting or painting, you'll probably find her in the yard planting a springtime vegetable garden on the quarter of an acre that surrounds her house.
But it's painting that seems to most energetically spin her wheels — and just maybe her next visual masterpiece could answer the age-old question: Why did the elk cross the road?
Answer: To mosey along to the other side, of course.