Rainier resident Carl Sindlinger fidgets. 
The 69-year-old's hands seem to have a mind of their own, and they're always looking for something to do.
And that was no doubt the case in October 2019 when he visited his sister Joyce Fillmore for a week in Clovis, California. One morning, Sindlinger noticed Fillmore sitting on the couch doing something intriguing with her hands — perhaps she was fidgety, too, who knows.
Turns out she was using a small, round loom to knit caps for sick kids being treated in a local hospital. Sindlinger watched for a while before finally asking Fillmore to show him the process, and within minutes he was knitting away — slowly, that is, but with enthusiastic abandon.
And by the end of his visit he was hooked, so to speak.
"I ended up making two caps while I was there visiting her," Sindlinger recalled last week.
When he got home, he bought a package of three round plastic looms at a local crafts store — one to fit babies, one for normal adults and one for gigantor heads. Most looms, it turns out, run from about 5 to 11 inches in diameter. 
By January, Sindlinger — who retired in 2015 after 25 years as a finisher with a Tacoma custom office-furniture maker — was making unisex knit caps as the inspiration hit him, intending just to give them to friends and family. But his wife of 29 years, Connie Smith, 79, had different ideas.
"Connie suggested I keep making the caps and give them to people at the senior center in Rainier," Sindlinger recalled.
So the affable fidgeter revved up his fingers and put his cap knitting into full throttle. And in mid-October or so, he hand delivered a bag of about 50 knit caps to the Senior Center of Rainer, showed up again in early November with another bundle of caps, and to top it off a few days later Smith dropped off yet more caps.
"Once the seniors found out the caps were free and somebody had knitted them personally, they were gone over two of our lunches at the center," said Rainer resident George Johnson, a Rainier city council member and vice-chair of the senior center board of directors. "It's pretty amazing, actually — and then we had requests for more." 
Johnson estimated that by last week the center's seniors had gobbled up about 70 caps.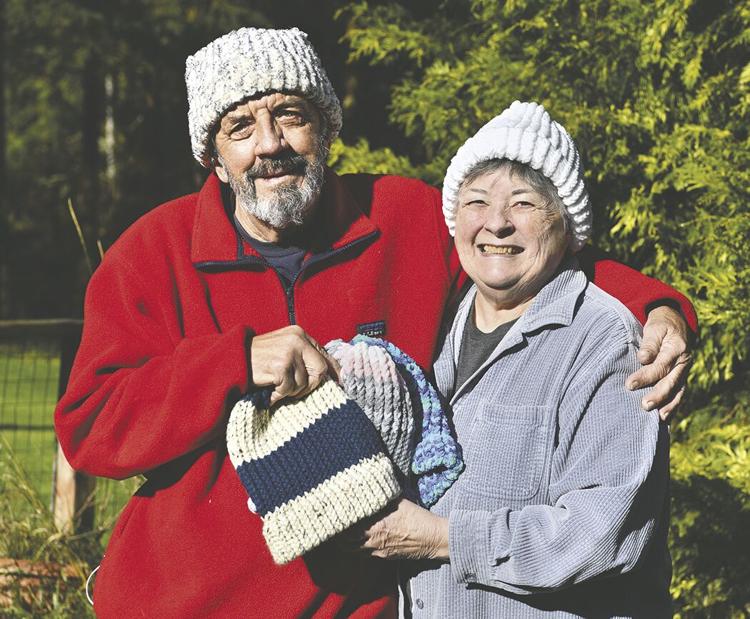 "The caps will make a big difference in the seniors' lives," he said. "They are wearing them already in the center, and they are a very welcome addition to their lives."
Born and raised in Orange Cove, California — about 38 miles from Clovis where his sister initiated his knit cap journey — Sindlinger figures he's knitted about 120 caps since he first began, each cap taking about two hours to make, he said. 
That's down from about four hours per cap when his fingers first touched a loom. He usually knits while watching television at night because the knitting itself doesn't take an inordinate amount of close concentration.
"It's a real simple process to do, and it's easy to follow the instructions that come with the looms," he said.
Sindlinger knits most of his caps from acrylic yarn, though he's also made a few from wool.
"I prefer acrylic because it's much softer, and a lot of people are allergic to wool," he explained.
But somehow, the ever-present shadow of COVID-19 has affected even this quaintest of endeavors. Be it acrylic or wool, the pandemic wasn't kind to the knitters of the world as they scrambled to find the raw material they needed.
Sindlinger, himself, was having the darndest time finding any yarn as the virus ravaged the economy.
"The virus made it a lot harder to find and buy yarn, because the stores were closed for a while," he said. "Now I buy whatever I can get my hands on, and I especially like some because of the multi-color material. At first I made all of the caps in the same color, but then I began experimenting with putting other colors together."
A typical skein of yarn costs about $10, Sindlinger said — enough to make three hats; he's purchased 40 skeins since January.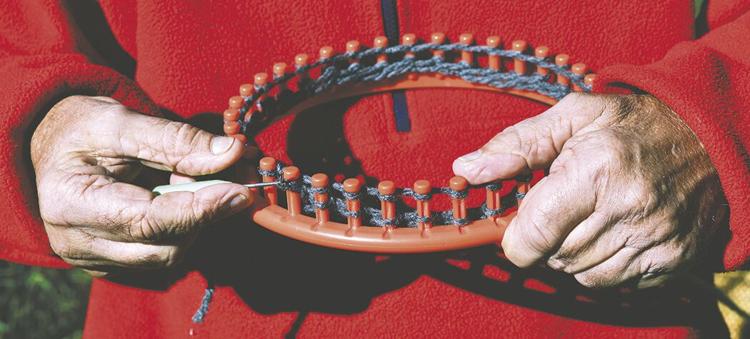 Given the price of knit caps these days — from about $6 to $30 or more based on online sales prices — Sindlinger could probably make a killing if he wanted to emerge from retirement part time.
But so far he's resisted any temptation.
"I don't think I'd make any profit off selling hats," he said. 
And besides, that's not his purpose.
"I'd rather just give them to seniors and others rather than sell them," he added.
His altruistic endeavors have not gone unnoticed. Thanks and accolades on Facebook have come his way, and they have warmed his heart.
"I've gotten a lot of comments on Facebook We Love Rainer about me being a good person and thanking me," he said. "That makes me feel good."
Sindlinger and Smith are about to embark on a two-month trip to California to visit relatives, but upon their return, Sindlinger has been encouraged to teach a class on cap knitting to both kids and adults.
"I'll probably just keep doing it," he said of his new hobby.
Provided it doesn't interfere with his duties at home.
Sindlinger stays busy around his 1,500-square-foot house he and Connie had built in 1994 on 2 1/2-acres of property.
"There's a lot to do taking care of the yardwork and keeping the trees pruned," he said. 
The couple also stay active in the summer, taking their camper out for a spin several times a month on tranquil, relaxing trips.
Then there's Sindlinger's trike — a 1979 Volkswagen three-wheeled motorcycle he built from a kit, then sold in 1981 — and now wants back.
Turns out the friend to whom he sold it wrecked the trike about 10 years ago, and the friend's son was supposed to rebuild it, but never has. After years of cajoling, Sindlinger was finally able to convince the son to give the trike back so he could rebuild it himself.
While he and Smith are in California, Sindlinger intends to disassemble the trike, stash it in the camper, and bring it back to Rainier.
Call it an Easy Rider homecoming of sorts.
Sindlinger figures it will take him six months to a year to reassemble and refurbish the trike, but in the end he will have joyfully reunited with a token of his youth. 
And because the couple won't return from California until late January when our Pacific Northwest weather's usually at its ghastliest, he'll no doubt wear one of his cozy knit caps as he pieces the cycle back together — fidgeting and keeping his hands busy all along the way.