Anticipation and excitement was high Monday afternoon as about 80 third-graders from Rainier Elementary gathered in a study room to receive a free copy of the latest edition of "A Student's Dictionary and Gazetteer," courtesy of the We Love Rainier, Washington advocacy group. 
The modern dictionaries have been donated to the third grade class for more than 25 years, but this year a different group took over the annual tradition. 
We Love Rainier presented the dictionaries Monday in the place of the Rainier Lions Club, which disbanded last year.
Students sat on the floor as Rainier councilmember and We Love Rainier member George Johnson explained the versatility of the multi-use dictionary and gazetteer. 
Many — but not all — were listening to Johnson's words. Some were more distracted by using the dictionary as a hat or juggling it like a hot potato. 
"I'm just happy I can do this. It's an honor and a privilege," Johnson told the Nisqually Valley News. "It's kind of a rite of passage." 
He said the dictionary is important because, in addition to being an intriguing book filled with more than just words and definitions, it's also a tool that will help the students well into their middle school and high school years. 
"They're so excited," said Terri Rendahl, a former member of the Rainier Lions Club and current member of the We Love Rainier, Washington group. "For a lot of kids, it's their first book."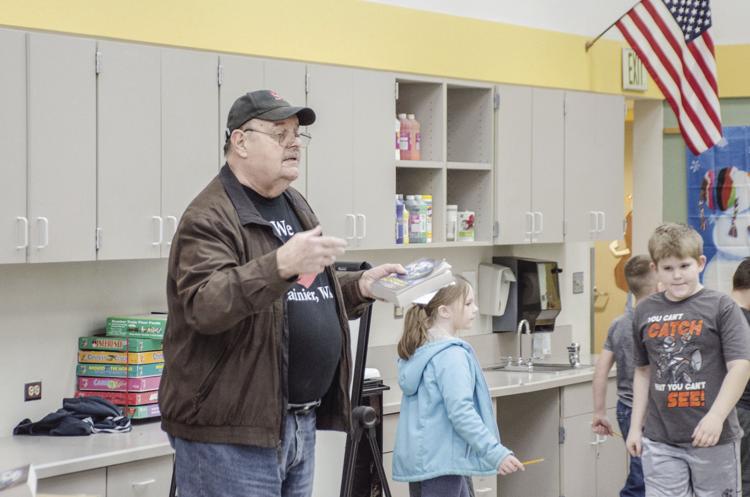 Rendahl also added that the occasion of handing out dictionaries marks an important change in the students' education. Leading up to the third grade, students would learn to read. Now, Rendahl said, they read to learn. 
We Love Rainier, Washington handed out approximately 84 dictionaries, Johnson said. The group has about 17 left, and they plan on donating them to Eagle View Christian School. 
In addition to being a dictionary, the 1.5-inch thick book also includes civic, geographical and scientific information. There are sections included on the U.S. presidents, a map of the U.S., the water cycle, the periodic table, the U.S. Constitution and, of course, the current longest recorded word in the English language, which is a 1,909-letter word for a protein. 
Dani Bellows, one of the four third-grade teachers whose class received dictionaries, said she appreciated the We Love Rainier, Washington group picking up where the Lions Club left off. 
"I would just like to say thank you to the We Love Rainier group for investing in tools to make our children successful in life," she said. "For many, this is their first tool for higher learning." 
Bellows has taught at Rainier Elementary School for around 22 years, and this is her first year teaching third grade. She made the transition from teaching fourth-and-fifth-grade classes for a majority of her tenure. 
Students in her former classes would always reference these books, and they used them on a regular basis. 
"I know the kids really appreciate them … They'll have them all dog-eared," she said. 
Teachers Rose Shepherd, Kayla Mounts and Joy McNealley also received dictionaries. 
We Love Rainier plans on taking over many of the community services and sales that the Rainier Lions Club once put on.  More information can be found on the group's Facebook page.