Thurston County Public Health and Social Services reported 452 cases of COVID-19, the respiratory infection caused by novel coronavirus, during the week of Jan. 4-10, making it the highest number of weekly cases recorded in about a month. 
Last week's caseload was also the second highest since the pandemic started in March of last year. 
The county health department reported just two deaths that week, both males each in their 70s and 80s. As of Tuesday morning's press deadline, the death toll was at 58 in the county. 
Transmission of the virus remains high in Thurston County. According to the state Department of Health, the county has reported a total 239.7 cases per 100,000 people over the last 14 days.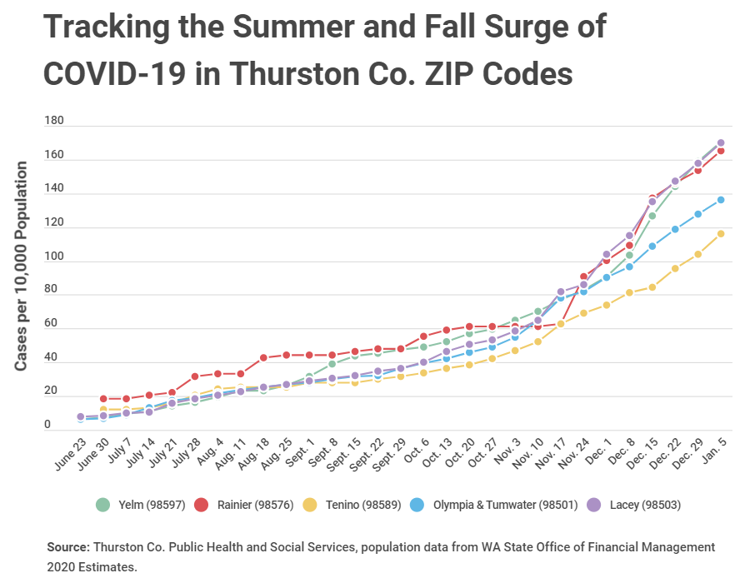 Here are some additional numbers related to the coronavirus situation, both regionally and nationally, that were reported as of Tuesday morning:
• Tacoma-Pierce County Health Department reported 296 new cases and four new deaths. The death toll from the virus stands at 334 Pierce County residents. According to the Department of Health, Pierce County is reporting a "high" transmission rate of 364.6 cases per 100,000 people over the last 14 days; that rate is on the decline. The total number of cases reported in the county so far stands at 28,583.
• The state Department of Health on Monday afternoon reported 2,214 new cases. Since the start of the pandemic, the state has reported 265,312 confirmed cases, 3,699 deaths and 15,978 hospitalizations due to COVID-19. According to DoH, up to 1,150 cases are expected to be duplicates due to incomplete negative test results.
• The total number of deaths accumulated in the United States due to COVID-19 stands at 373,167, according to the Centers for Disease Control and Prevention. A total 22,322,956 cases have been confirmed thus far, with 1,722,460 of those reported in the last seven days.