Sandstone Distillery in Tenino has temporarily stopped making liquor and is instead distilling the alcohol to make hand sanitizer in an effort to help get supplies to those who need them during the shortage caused by the COVID-19 outbreak.
"The demand is so high that if we had 1,000 gallons on hand it would probably be gone by next week," said distiller Justin Bourdon.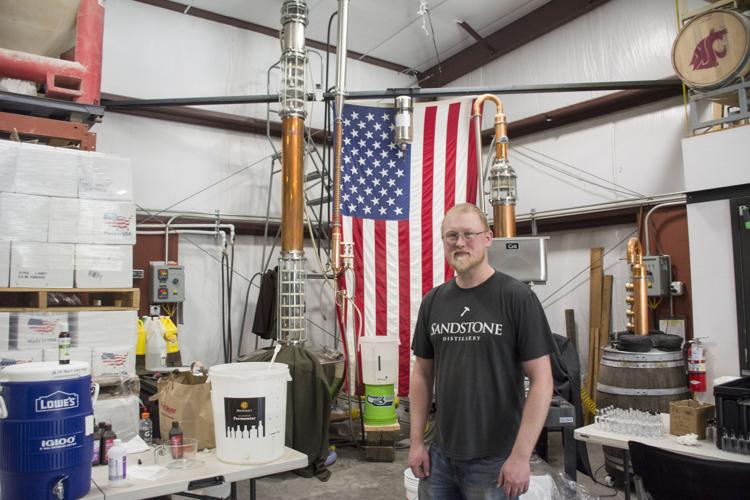 Sandstone Distillery started refining the ethyl alcohol for the hand sanitizer on Monday, March 16, and by Friday they had been giving out 100 to 120 bottles a day with a one-per-person limit, Bourdon said. They have supplied the sanitizer to the Lacey Fire Department and various police departments and home-care facilities.
"It's been really, really cool to see how the community pulls together quickly. Once we heard about the hand sanitizer shortage and realized there was something we could do about it we went into full-scale production," said Bourdon.
Sandstone Distillery is family-owned and opened in November 2014. Bourdon's parents, John and Jenny, are the owners of the distillery and they have stopped production of all other products and have started solely distilling for hand sanitizer. Bourdon said they distill through the night and his father has been sleeping in the distillery room to be able to check on it periodically.
The ethyl alcohol batch finished on Friday afternoon was distilled from dry Riesling wine that was donated by Fish Brewing Company in Olympia. Bourdon said that they distill up to 191 proof alcohol and once it is combined with the other ingredients it is about 184 proof. 
The formula they are using has been approved by the World Health Organization (WHO) and it is composed of 93.6 percent ethyl alcohol, 4.7 percent hydrogen peroxide, and 1.7 percent glycerol.
The ingredient that they are having trouble getting enough of is the vegetable-based glycerin. Bourdon said that if anyone has access to vegetable glycerin to bring to the distillery or let them know where to get some.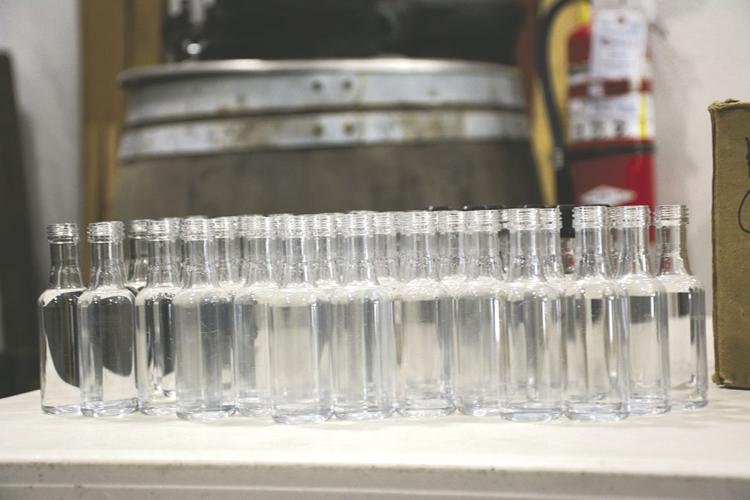 "It ends up being over 90 percent alcohol and the minimum is 80 percent so it's above and beyond what you can get from Purell. The nice thing is that a little bit of this goes a long way," said Bourdon.
Bourdon said that they have 1,100 two-ounce spray-top bottles ordered and on the way that they plan to fill and then send up to Panorama — a retirement community in Lacey with an at-risk population.
"(Panorama) isn't considered a medical facility so they are not in one of the priority tiers for medical supplies. They wanted to order a pallet load of (hand sanitizer) from us but we can only make so much and we are trying to play catch up right now," said Bourdon.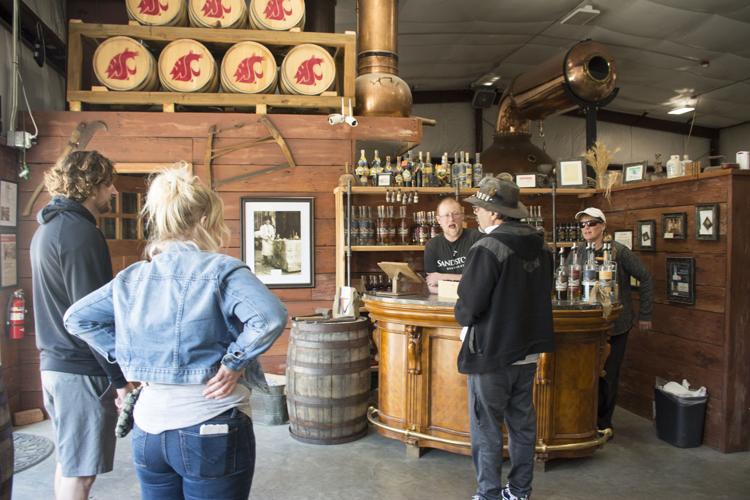 The alcohol needed for the sanitizer can be distilled from any form of drinking alcohol. It must be at least 190 proof before mixing with the other ingredients or it will not be strong enough to kill germs, said Bourdon.
"Most hand sanitizers that are out on the market are isopropyl alcohols and we are producing ethyl alcohol. The formulation is just slightly different. The isopropyl alcohol is easier to distill to a high purity but we are able to distill the ethyl alcohol to a purity that exceeds the WHO recommendations," Bourdon said.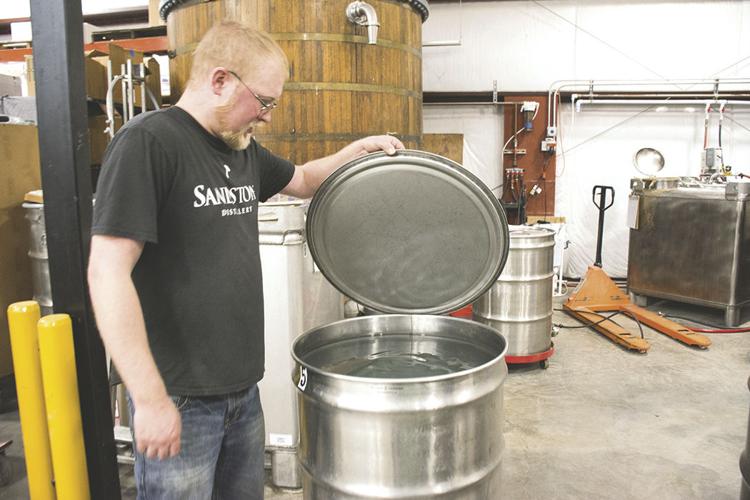 The sanitizer is kept in 5-gallon containers. Bourdon said that people have been coming in and refilling hand sanitizer bottles, soap bottles and mason jars. He said that at around noon on Friday, the parking lot was full and there was a line of cars down the driveway.
Sandstone Distillery is located at 842 Wright Road SE in Tenino.
Contact the business at 360-264-1901 or see more information at sandstonedistillery.com.