TENINO — Cheryl Pearce and her daughter, Sandra Pearce, had been looking to buy a restaurant for a couple years by the time they found Biscuits & Stuff on Sussex Avenue West in Tenino. It checked all the boxes they were looking for: an up-and-running cafe in Thurston County that was within their budget. 
The mother-daughter duo both have a long history in restaurants, with Cheryl managing Hawk's Prairie Inn Restaurant in Olympia, which was torn down back in February, for 18 years. Sandra had close to 10 years experience working in restaurants at that point. 
So they pulled the trigger and bought 2,000 square-foot Biscuits & Stuff and went to work. The first thing that did was change the name to The Sandstone Cafe, honoring Tenino's history of sandstone quarries, which was the town's major industry for 30 years and turned the tiny Stone City into a bustling town in the early 1900s.
They kept the menu similar to Biscuits & Stuff for a few months, which is typical American breakfast-lunch fare. Once they got a read on what the locals wanted, then they started to tweak the menu items.
"As we got to know the community and kind of settled into it, then we started adding our own original specialty items to (the menu)," Cheryl said.
The Pearces got creative and it paid off.
One of those new dishes is George's Special ($9.89), which was Cheryl's father's favorite breakfast. It consists of one biscuit with a sausage patty and gravy with hashbrowns and eggs. It's become one of the cafe's best-selling breakfast dishes. The Pearces also added a breakfast salad. One typically doesn't associate salad with breakfast, but the dish, which is wilted spinach with sautéed vegetables, eggs, feta cheese and basil, has become a local hit.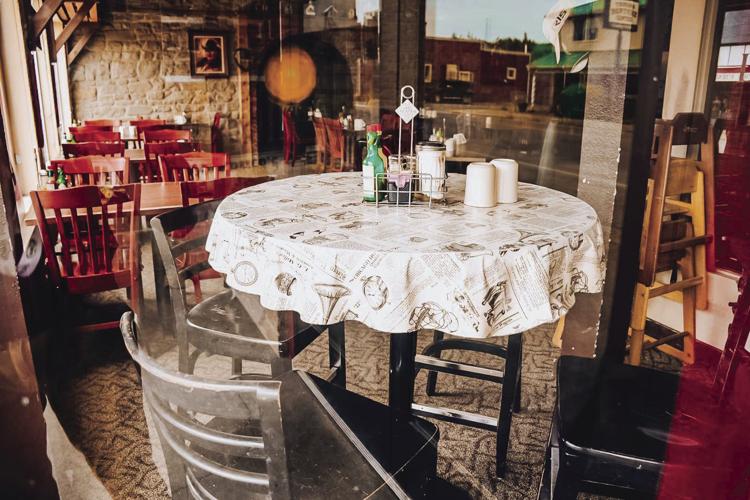 "Everybody thought I was crazy and we sell the heck out of them," Cheryl said. "They're super popular. We don't know of anybody in the area that's doing something like that. It's a healthier, low-carb breakfast."
The novel coronavirus has taken its toll on The Sandstone Cafe the past six weeks, however. When the Pearces first found out there would be in-house dining restrictions placed on Washington restaurants, they debated whether they would remain open at all. They wondered if just closing down for the time being until the restrictions were lifted would be the best bet.
The Sandstone Cafe is only a breakfast and lunch diner, and they felt they wouldn't sell enough breakfasts to stay profitable with the cost of labor being too high. The Pearces were closed the first week the restrictions went into effect anyways because they were doing renovations on the property.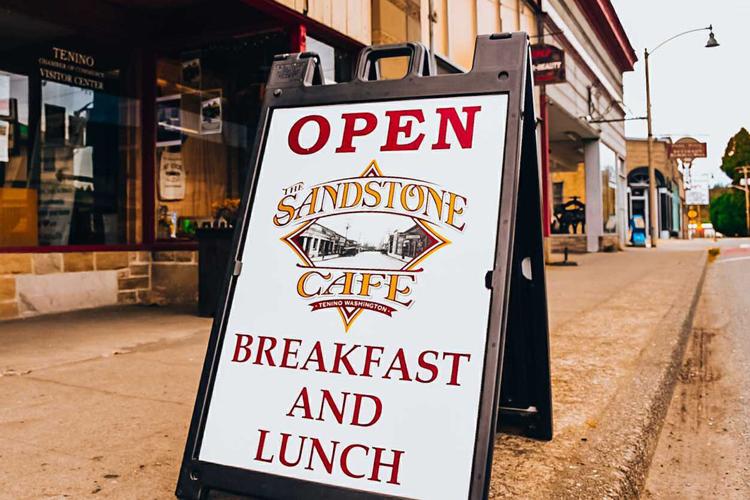 They decided to open the following weekend to see if they could move the product they had on hand. It was busier than they anticipated, so they decided to stay open six days a week and modify the hours. She's had to lay off six employees. Other than one part-time cook, it's been Cheryl and Sandra running the entire restaurant.
"It has been all over the place," Cheryl said. 
The cafe has been able to reduce their costs enough to pay the monthly bills they have and keep the doors open. Sales are down about 80 percent as of now, Cheryl estimates, an improvement from a 90 percent reduction the first couple weeks.
"What we found is people started to venture out more and weren't quite as fearful," Cheryl said. "As they gained some confidence in going out into the public, we improved. I'm not going to lie, it's, obviously, not where I'd want it to be."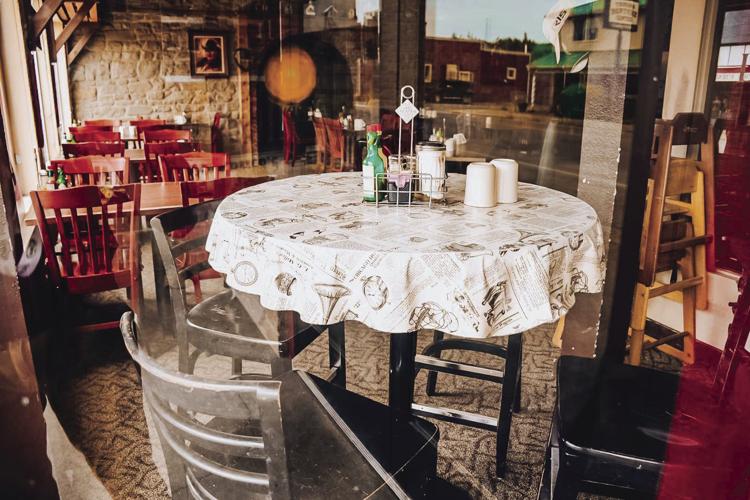 Right now the cafe is operating primarily on curbside pickup for people who pay over the phone, and also through a pickup and pay-station located in its hallway.
The most popular menu items have changed recently from what they've typically been, with customers buying more comfort dishes than usual. All their biscuit and gravy items are selling, as well as breakfast scrambles, such as the BS Scramble ($10.99), which is ham, bacon and sausage scrambled in with three eggs, peppers, onions and cheddar cheese. Their chicken fried steak and eggs ($12.99) has also seen a big uptick in sales.
"Our chicken fried steak has been through the roof," Cheryl said. "We've always sold a lot, but I think we're selling as many now, even with the reduced business, as when we were full on. I'm not sure what the reason is behind that."
On the lunch side, the Scatter Creek Melt, a burger on sourdough bread with provolone, parmesan and mushrooms, has also been selling well. All their burgers are hand-pressed with fresh ground meat.
Even with just three people currently running the restaurant, The Sandstone Cafe is still using all fresh ingredients, makes its own homemade gravy and slices all its meats (turkey, roast beef and ham). 
The restaurant is closed only on Wednesdays, so that the Pearces can get caught up on shopping for produce and ingredients. The Sandstone Cafe is open from 8 a.m. to 1:30 p.m., Monday, Tuesday, Thursday, Friday; and from 8 a.m. to 2 p.m., Saturday and Sunday.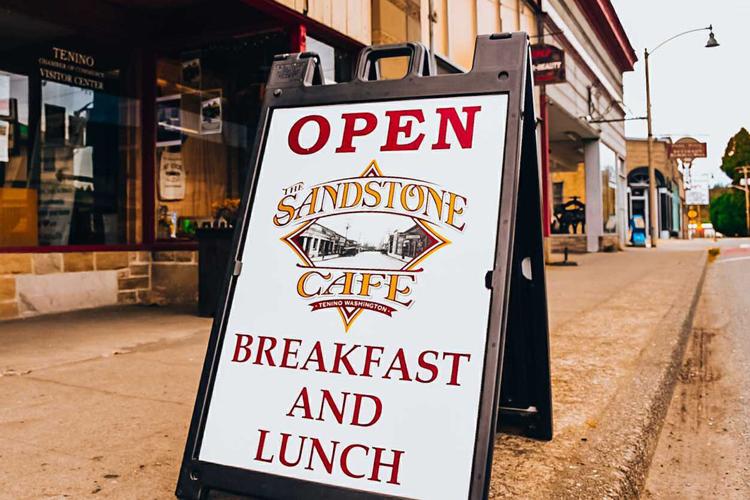 Cheryl is hoping Thurston County moves to Phase 2 of the state's reopening plan, which allows restaurants to operate at less than 50 percent in-dining capacity with table sizes no larger than five people. Currently five counties, Columbia, Garfield, Lincoln, Ferry and Pend Oreille, have been approved to move to Phase 2. The current stay-at-home order is in effect until May 31.
"Hopefully we're seeing the end," Cheryl said. "We're shooting for June 1. We're hoping there's not going to be a change in that and that we'll be able to open at a 50 percent capacity. We're gearing toward that."