As the Tenino girls soccer team headed to the sidelines for a quick breather during practice on Tuesday, coach Kevin Schultz stood at midfield on this cold, November day and began speaking.
Schultz had received a Facebook memory notification that a year ago Monday was the team's final game of the 2019 season. Though it was a loss to eventual state champion Seattle Academy, the season didn't end in total anguish.
See, the Beavers fell in the 1A state quarterfinals, just one game after they had won their first state playoff match in school history. Schultz' reminder was less about the painful loss and end of the season, and more about how the Stone City program has reached unprecedented heights.
The Beavers took the 1A Evergreen Conference by storm last season, capturing the conference title and then their first district title in school history last fall. They followed that up with a 2-1 win over South Whidbey in the state opener, their first state victory ever.
Tenino finished its season 18-1-1 overall, including a 17-game win streak that stretched for 24 days. The Beavers outscored opponents 84-6 during that span.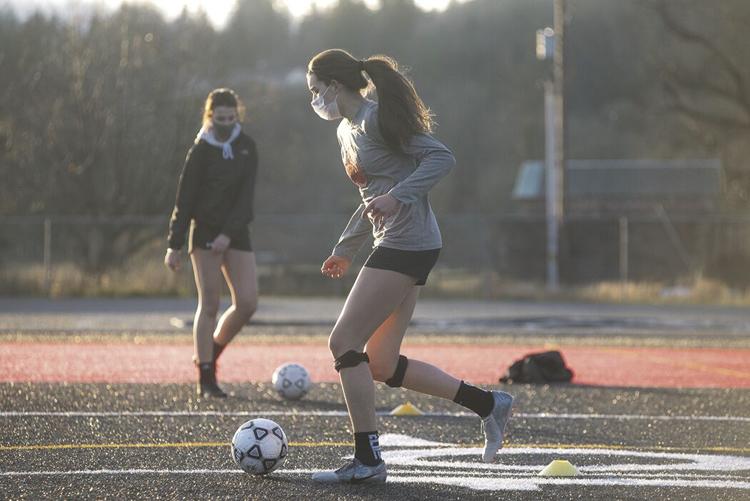 Schultz' reminder was also a nod to the girls' work ethic. Had the COVID-19 pandemic not arrived, the Beavers could very well likely be competing for a state trophy right now. Instead, the team is relegated to practicing Tuesdays and Thursdays for a season that was pushed back to spring 2021 and may never end up happening at all.
The WIAA pushed back all sports on Wednesday for the second time this academic year. Each sport season was also shortened to seven weeks. Girls soccer is tentatively scheduled to begin on March 15 and end April 25. 
Soccer is considered a moderate-risk sport, which means that in order for teams to be eligible to play, they must be in a county with 25-75 cases per 100,000 people over a two-week period, along with a less than 5 percent positivity rate. Even more, in order for a season to take place, 50 percent of schools in a region must be eligible to participate.
It's created an uphill battle for all prep teams as COVID-19 cases continue to rise statewide. Washington state was at 231.8 cases per 100,000 over a two-week period with a 7.4 percent positivity rate over the last week, as of Friday morning.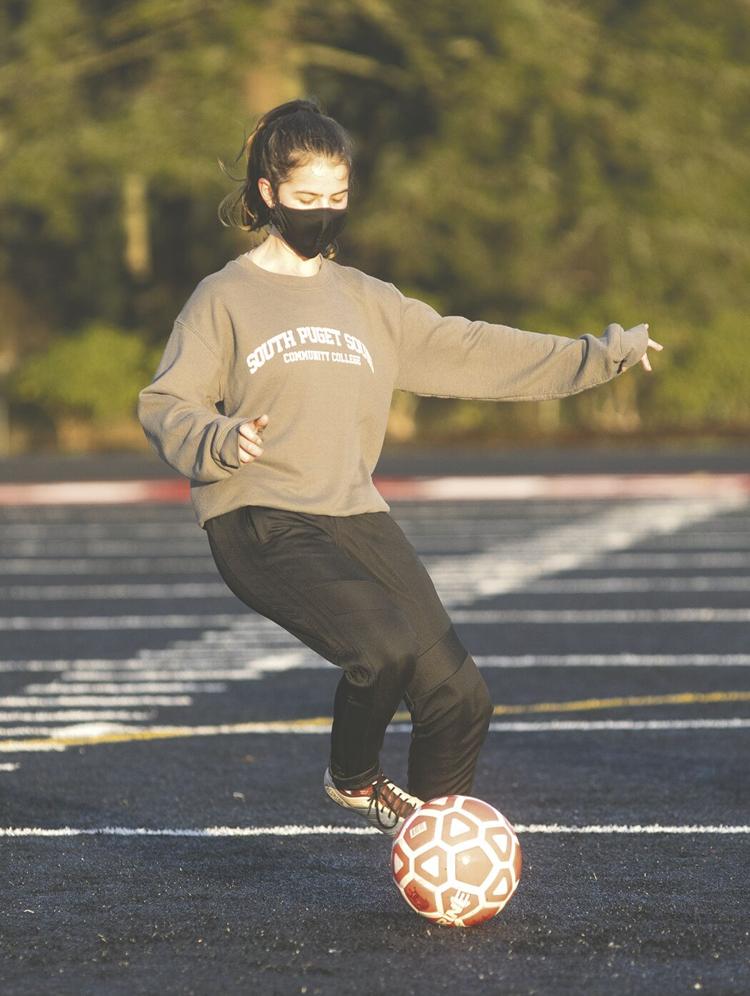 "We have had a continuous message to the girls that we are going to prepare like we expect to have a season," Schultz said. "We realize we have very little control over if we will have a season this year, but what we can control is our own preparation and how we grow our game. We are confident that when we get a season we will be ready to compete and improve on our past success."
Schultz has every reason to be confident if his team does get the chance to compete. The Beavers lost just one senior,     Kathryn Fittinger, and return all 11 postseason starters from last year.
Headlining that group is two-time, all-state senior forward Brieanna Dell, who is a prolific scorer. The reigning 1A EvCo MVP was recently named to the national All-American girls soccer watchlist after erupting for a school-record 42 goals last season. That came after she broke the previous school record with 25 goals as a sophomore in 2018. She has 88 total goals in three years.
Dell, donning a facemask and working in a pod of five at practice Tuesday, was keeping her hopes high, even with all the health restrictions and cold weather.
"All of us are really stressed out with everything going on, but we all come together and play, even with everything going on," said Dell, who committed to Edmonds College on Nov. 3. "Why not come out here and work hard, even if it's 6 feet apart?"
Dell is just one of the Beavers' eight starters who are also playing club soccer right now. One of the others is junior midfielder/defender Iris Campesino, who recently signed to play with Lower Columbia College. Both Dell and Campesino play on the Blackhills FC club team based out of Olympia.
Campesino was grateful just to be able to have practices right now, especially when many prep teams in the area had to shut down once indoor practices were restricted.
"Anything counts," Campesino said. "Getting the opportunity and experience in, despite what we're going through, I think it's great we're able to have this opportunity. Especially for how far we've gone in the past, it really shows how important it is to these girls to keep working and striving."
And Schultz wants to take full advantage of the time he has with his team now in case any further restrictions get put into effect. He sees his team going far. All they need is a chance.
"We don't want to be content with the success of the past, and I've been impressed with the players' commitment to improve, even through tough circumstances, so we can get even further this next season," Schultz said.