The Mountaineers (7-4) extended their four-game winning streak to five on Friday, Jan. 3, with a 44-40 win against the Toledo Indians in both teams' first 2B Central League matchup. 
Toledo, now 4-7 overall, was looking to leverage a fresh roster to find some momentum heading into their first game against the Mountaineers. While both teams held their own and showed flashes of hot streaks, Rainier was able to hold on for the victory in the end.  
Sophomore guard Ian Sprouffske and sophomore forward Jake Jeske took the lead for Rainier, both scoring 19 points.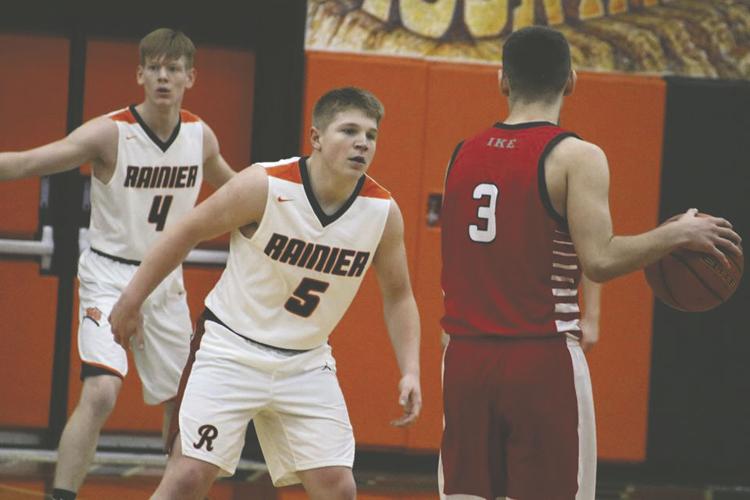 Jeske scored 9 of the team's 15 points in that quarter. After a lackluster third quarter, Sprouffske revved up the firing power and scored 7 points in the second half. 
"I'm excited for everybody," Rainier head coach Jeremy Landram said shortly after the game. "It's a good job for these kids to beat a good program like Toledo. We need to learn to finish, but these kids showed some heart coming back after giving up the second quarter … For us to rebound and have a quality second half is really good." 
Junior Toledo guard Carlo Arceo-Hansen led in scoring with 20 points.
Rainier, hosting Toledo, started strong from the tipoff. Sophomore wing Curtis Keller, Jeske and sophomore forward Logan Bowers, standing at 6-foot-4, leveraged early scoring opportunities to take the lead for the Mountaineers. 
Jeske was consistent from mid-range and started the game off with a 3-pointer. 
A turnover-heavy first quarter would find Rainier in the lead 15-7. 
The Mountaineers went stagnant in the second quarter with the only scoring coming from another 3-pointer from Jeske.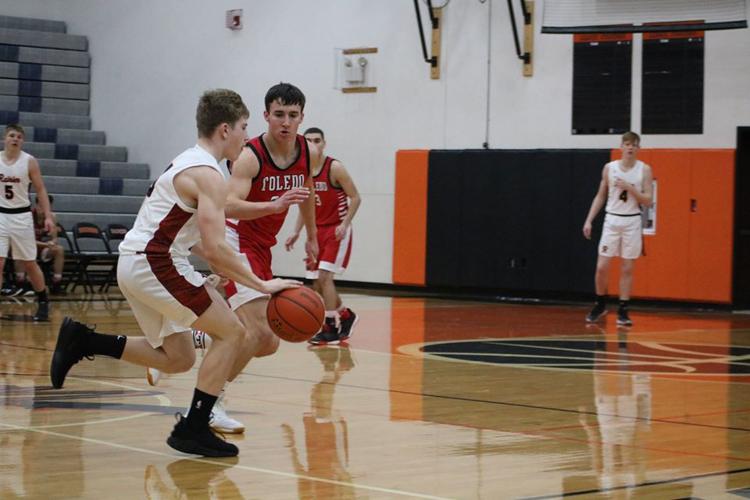 Arceo-Hansen and the Indians scored 15 points in the second quarter. Going into halftime, Toledo led Rainier, 22-18. But Rainier would respond.  
The Mountaineers came back in the third quarter, thanks to Jeske and Sprouffske, and outscored the Indians 14-9 to take a narrow lead going into the final stretch. 
Sprouffske kept scoring, and led his team to a 44-40 win. 
Landram said he was proud of the effort his boys put on the court and noted, again, the youthfulness of his team. But they're likely not the only ones feeling growing pains. 
Toledo graduated 10 seniors on its varsity team last spring. That team also brought the Indians a fourth place finish at the state 2B boys tournament. 
Both young teams now must face off against what will likely be a competitive 2B bracket. 
Rainier will host Napavine (8-1) on Friday, Jan. 10, in what will be a tough matchup from the Mountaineers. 
Results from Wednesday's game against Adna were not available by the Nisqually Valley News' print deadline.