During one of the largest coaching turnovers in a single season, the Yelm track and field program is also experiencing one of its largest teams ever. 
Around 148 athletes have turned out this year, and many of them are juniors and sophomores, said co-head coach Chris Stoval during a recent sunny afternoon on the high school's new synthetic turf field. 
"I'm excited. I just want to build on what (coaches) Strand, Strong and McMillan built upon. We've had a tradition of having a pretty strong track program," said Stoval, who brings coaching experience from Ridgeline Middle School to his new role. "I'll be really shocked if we don't get four to five of these kids through to state. And that's not talking relays."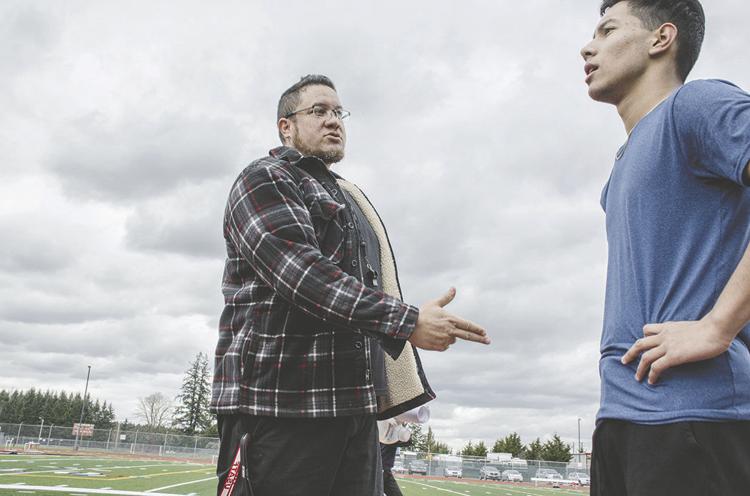 Last year, Yelm took 11 athletes to state and placed in six events. 
Four of Yelm's coaches will not be returning this year, for varying reasons. Those include throwing coach Gaylord Strand, junior varsity coach Jason Ronquillo, head coach Joel McMillan and coach Mike Strong. Fans can expect to see some of them on the sidelines at meets, though.  
New this year are Stoval, throwing coach Cami Krise and jumps and relays coach Richard Houghton. Boys cross country coach Alex McIntire will step up to help fill a co-head coach role, Stoval said.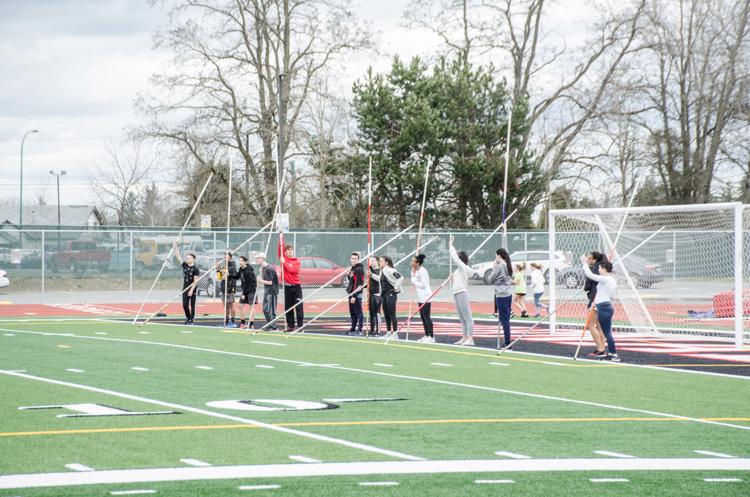 This season, the Tornados will return a strong core of jumpers, throwers, long distance runners and relay teams. 
Sophomore high jump phenom Abigail Carlson returns to the track this year. As a freshman last year, Carlson took second at the state meet at Mount Tahoma, clinching a personal best of 5-foot-5. 
This year, she'll be looking to hit that 6-foot mark. 
"I just have to get my form good so I don't hit (the pole) on the way down," she said. "Mentality is a huge part of high jump, and it took me a while to get over it." 
Last season was her first attempt at the event, and since then she said she's been working hard at surpassing the 5-foot-6 mark. She's attempted it during Yelm's track and field club meets.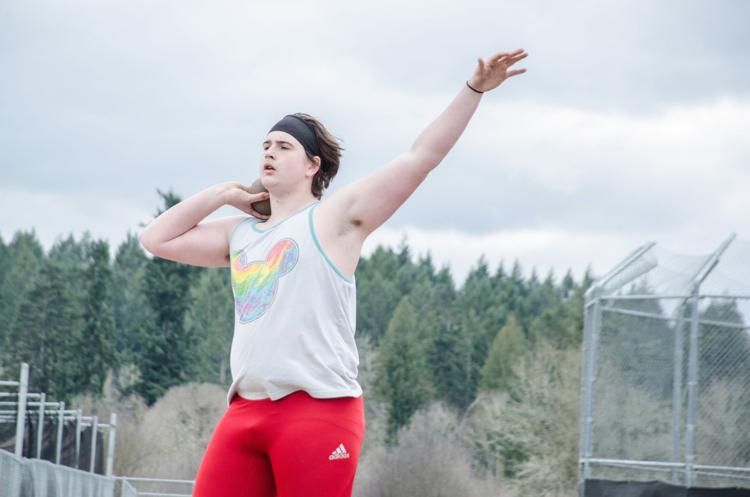 "I wouldn't trade it for any other event. It feels like I know what I'm doing," Carlson said. 
Coaches are also expecting big things out of junior Olyvia Hoskinson, who helped lead her 4-by-200-meter relay team to the state finals. They'll be looking to improve on a 14th place finish. 
"She'll be a force to be reckoned with," said Krise. "She's the most determined kid I've helped coach." 
This year, Hoskinson will be focusing on the 4-by-200, hurdles, long jump, discus and the 200-meter, she said. 
"I really like running and jumping. Feels like I'm flying and it's a good stress reliever," Hoskinson said. 
Ultimately, the goal this year is to get medals, she said. This season, she's nervous about hurdles but said discus, one of the newer events for her, is coming along just fine. 
"Swing and fling. I came up with that yesterday," she said. 
Junior Dylan Jemtegaard, standing at 6-foot-4, is looking for improvement in discus and shotput after an unsatisfying end to his season last year. 
"I've seen a big improvement, as much as 10 feet off my standing throws," he said. 
Coming into his third year on track, Jemtegaard said the turnover in coaches is largely a positive experience. Events are looking more organized and the positive culture previous coaches built should be in good hands. 
Jemtegaard said he already has a positive relationship with one of his coaches. Back in middle school, Stoval was the one who told Jemtegaard he should pick up a shotput. 
"I already liked him. And from there, it was just a bond," he said. 
Jemtegaard and junior Anthony Chipres, a sprinter in the 100 and 200 events, both said competition at the league level and especially districts should look fierce this year, based on what they experienced last season. 
Coach Dan Baker, who'll be retiring in about three years, said this year's team is the largest he's seen in his 23 years of coaching track and field. It's also the highest coach turnover he's seen in a single season. 
"I really like the numbers. We might be at the problem where we're wondering if we can get a third bus," he said. 
On the long-distance side, Yelm is likely poised to have another notable year. 
Junior Kya Ramirez, freshman Gabriella Willadsen, junior Bryce Cerkowniak, junior Kelan Herness, sophomore Ryan Lange, senior Jacob Barnert, sophomore Ethan Coon and sophomore Calum Thornhill will likely tear it up on the track for Yelm. 
McIntire said he's looking forward to stepping into a leadership role this year and bringing the kind of culture he's built on Yelm's cross country team over to this spring sport. 
"I'm just really excited to focus on culture. The talent is there, the hard work is there," he said. "I'm trying to bring a team sport to a sport that isn't perceived as a team sport."