Opportunity was about to show its face this fall for Idaho State sophomore Jacob Dimond. But, like all good things this year, it got pushed back due to that pesky pandemic. 
Looking to a shortened schedule in the Big Sky Conference this spring, Dimond — a Yelm High School graduate currently serving as a left tackle for the Bengals' second team — is hungry to hopefully make his debut next year after playing his first year on the scout team.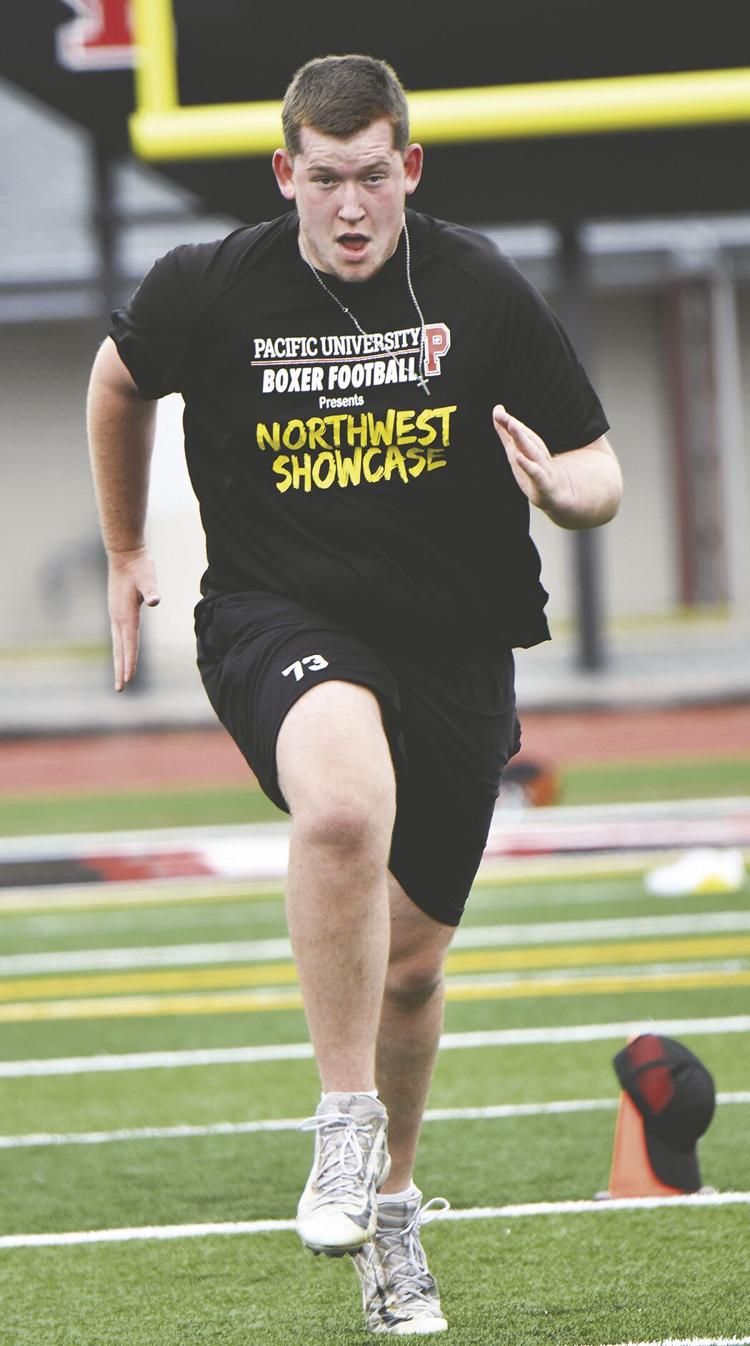 "Whether it's on special teams or the O-line, I'm just gonna be grateful to see the field," said Dimond, 19, who graduated from Yelm in 2019.
To Tornado fans, the 6-foot-7, 295-pound graduate is likely a familiar face. During his time with Yelm, Dimond was a central cog in Yelm's improvement that led the team to 3A success. His senior year, he helped his team to the state quarterfinals against Bellevue with help from the likes of quarterback Kyle Robinson and running back Derrick Platt. 
These days, while the hunger to compete is still as palpable as ever, things seem to have been stirred and more complex than the halcyon days of high school — with a large part of that being due to the current health crisis. 
The day before his birthday in lte March this year, Dimond and his friends got word from the university that their upcoming spring break would be extended due to the virus. 
"We kind of knew what was coming, but nothing was set in stone," he said.
Dimond said that in August, shortly after the beginning of fall practice, they got word from the university's Athletic Director Pauline Thiros that their season would be postponed due to COVID-19. 
When gathered, the Bengals were able to get a pep talk from retired naval officer Jocko Willink, who hosts a motivational podcast called "The Jocko Podcast." 
"Having him there in person really changed our mindset," Dimond said, noting that Willink's words urging the team to take advantage of the "extended offseason" really affected them. "I'd say we're really hungry and excited to compete … We've really made the most out of (the time off)." 
The Big Sky has provided a difficult go for the Bengals in recent years. Although he wasn't on the field, during Dimond's first year on the roster his team went 2-6 in the conference and were winless on the road. 
But the past is just that — the past, according to Dimond. 
"I feel like we've been slept on, but we're going to open some eyes," the young sophomore said. 
In recent weeks, practice has mostly resembled the classrooms — they've been going over concepts and formations, with some strength training here and there. Dimond said the Bengals held their first practice of the year on Wednesday, Oct. 21. 
"Other than that, we've been lifting four days a week, doing different position drills and what not, and just trying to keep ourselves active and keep our minds in a football state of mind," he said. 
Informal summer training, which for him started last June, consisted of working in small pods of about 10 people, he said. 
But while masks are required in classrooms, at restaurants and when training indoors, Dimond says life in Pocatello, Idaho, has been pretty similar to days pre-COVID. 
"My parents were out here and that's what they said. They were surprised … Said it's completely different," Dimond said. 
The Division I Football Championship Subdivision Big Sky Conference in November is expected to release a shortened six-game spring football schedule, according to reports in The Spokesman-Review, with several of the conference's 13 teams already heading back to practice. 
"(Fired) up as our @BigSkyConf Committee and our AD's are working on a six game conference only schedule with 12 teams participating," the Big Sky Commissioner Tom Wistrcill tweeted on Oct. 16.