Rainier volleyball head coach Jill Coleman wouldn't characterize Thursday night's home matchup against Napavine as a representation of how her team has done overall this year, or even what they can do.
In many ways, the 3-1 loss to the Tigers (2-5, 6-5) was the Mountaineers' (2-4, 6-5) dark horse performance of the year, marked thoroughly with fraught passes, loss of communication and missed serves.
Coleman said she believed the better team didn't win that night. But even the better teams have their faults. And Rainier, while nowhere near the top, just seems to be looking for their moment.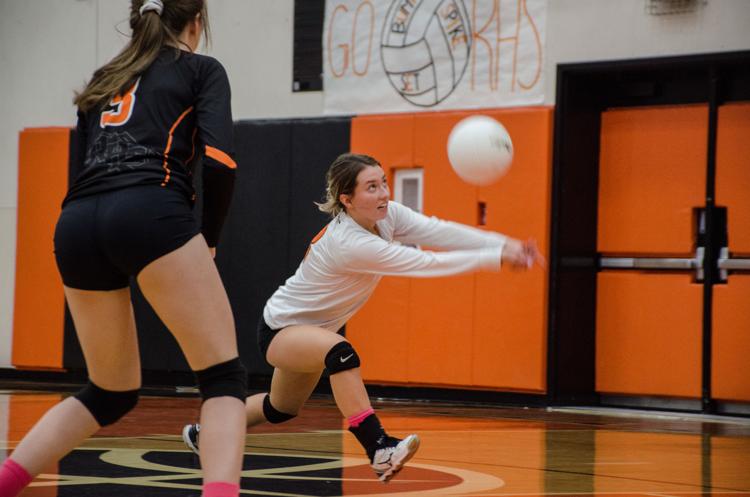 "This should have been a win for us. We're a better team than we played tonight. We unfortunately lost all four, the games were all close," Coleman said.
But regardless of the loss, the Mountaineers say they're looking to come back stronger in the upcoming week as they compete for a spot in the top eight and a seat at districts.
"I know the girls have the ability in them. They have the skills, they have the systems, they play well together and like each other. It's just making sure they trust in themselves and believe in themselves to come out playing," said the first-year head coach, who is in her third year coaching with the program.
Coleman said the work she and her team have done over the last few years is being reflected in her girls and their ability to compete with tough teams.
But even though there have been major strides made this year, Coleman said there are still a few variables that have held this team back from keeping consistently on the court, game after game.
"It's been a year of contingencies, between illnesses and injuries. It's been just a constant, fluid lineup every week. It's been tough 'cause we've had to put different people in different places ... We haven't been able to just get on cruise control. It's been a constant jockeying of what our lineup looks like," Coleman said.
Last season, the Mountaineers went 2-8 in the Central 2B, narrowly clinching a spot at districts. But when it came to a faceoff against Central 2B champs Kalama in the first round, Rainier couldn't take the heat.
This year, Coleman said her team is looking to make a run at districts, secure wins and eventually, hopefully, clinch a spot at state.
"I really want to see these girls succeed and I know they can do it," Coleman said.
Aside from the practice regimen Rainier undergoes, Coleman said they've been hosting programs and summer camps to really try and make their school a volleyball school.
On the court, Rainier's senior leadership is vocal and aggressive. Senior defensive specialist Vanessa Champlin, offensive hitter Theresa Geray and right front Tanna Spivey all bring thorough coverage to the court.
Geray, one of Rainier's dominant hitters and the current kill leader, led her team with 10 kills against Napavine on Thursday night. From the back, Geray is also a consistent server.
Sophomore Kaeley Schultz also had a great night, working six kills.
"She's battled some injuries this season, so we kind of lost her mid season. She's only come back here in the last week, so it's been nice to have her back in the lineup," Coleman said of the left-handed hitter.
Throughout the season, Junior setter Amanda Knutz has stepped up for the Mountaineers. Last year, Coleman said she played more of a supporting role and now is the team's best server, which can come with a lot of pressure.
"She's a quiet personality, but she just runs the court," Coleman said. "She busts her butt, night after night."
Coming up, Rainier still has some stiff competition to work against.
The Mountaineers will face No. 4 Toutle Lake this Tuesday at home. Next Thursday, the Mountaineers will take to the road and face off against No. 2 Kalama.
"If we can get out of here, we can get on to districts," Coleman said.
Game 1: 25-21 Napavine, 1-0
Game 2: 25-16 Rainier, 1-1
Game 3: 25-23 Napavine, 2-1
Game 4: 25-20 Napavine, 3-1