Two Yelm High School seniors signed letters of intent Tuesday, Jan. 7., to play fastpitch at Pierce College.
Tornados Cydney Jarvis, an outfielder and pitcher, and Hailey Brown, who pitches and plays first base, signed the letters among the company of YHS Athletics staff, Pierce County Head Coach Mike Nelson and family and friends in the library shortly after class on Tuesday.
Both girls said they've had their eyes on Pierce College — a great program with fun coaches that isn't far from Yelm.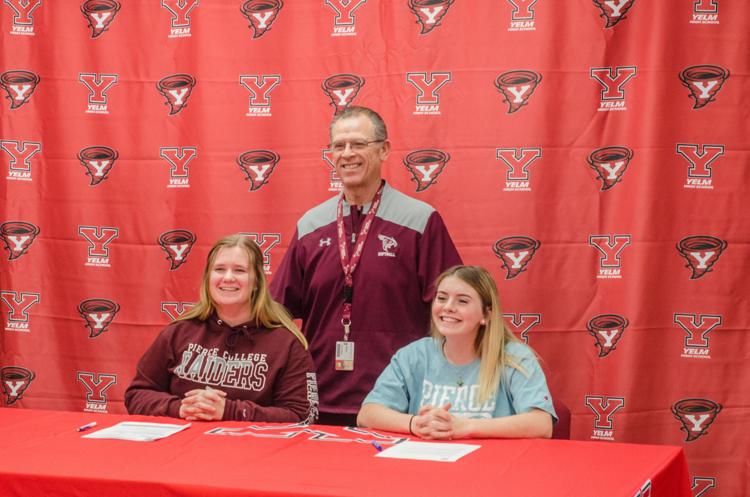 Brown said she's looking forward to continuing her fastpitch career in college and furthering her education while staying closer to home.
"I've been looking at Pierce for a while now," the left-handed pitcher said. "I'm appreciative of the coaches and of the program."
Both athletes were instrumental in helping the Tornados reach the state championship game against Garfield last season and ultimately placing second in the 3A classification.
Alongside 2019 graduate Tayelyn Cutler, Brown helped lead the charge both defensively on the rubber and offensively at bat.
She was also named to last year's South Sound Conference first team and was named to the all-league's second team the year prior. She's also been named to the all state team.
The Pierce College program was also on Jarvis' shortlist. The opportunity to continue to play closer to home after high school means she'll have time to decide on what program she'd like to study and if she's interested in pursuing a four-year degree.
"I'm hoping to pitch a lot more, become stronger and make more relationships on the team," Jarvis said.
This upcoming season, which is due to begin in a couple months, Jarvis said she's nervous for her last year and graduation, but added that she's excited for the opportunity to move forward.
Pierce College's fastpitch program plays in the Northwest Athletic Conference.
Head Coach Mike Nelson said the addition of Jarvis and Brown is a net benefit for his program. When looking to recruit talent, he's looking for players who are all-around good students and even better people. Jarvis' and Brown's characters reflect both those things, Nelson said.
"It definitely gives us more options because both players are quite versatile," he said. "I've followed both athletes for the last few years. They actually played club ball for a friend of mine and I've had the opportunity to see them play before … They're really quality people."