When the Washington Department of Fish and Wildlife touted historic clam population numbers back in August, following final stock assessment surveys that showed the highest number of clams in 40 years, it was enough to get even the casual digger excited.
Since clam season opened up on Sept. 16 with 39 razor clam digs tentatively scheduled, the numbers have lived up to the expectations.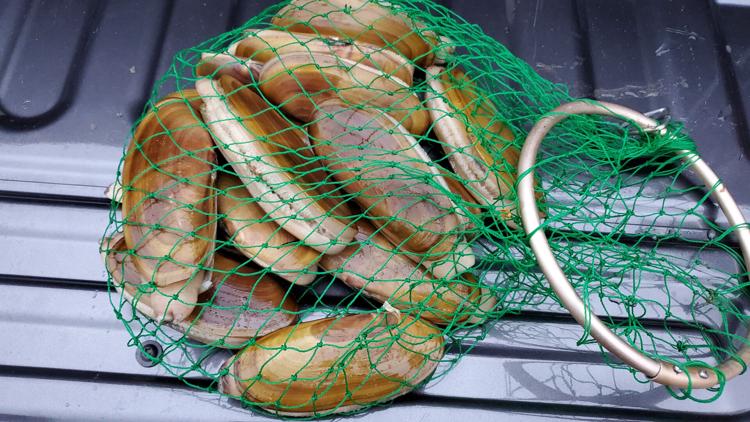 "We had numbers that were pretty large," said Bryce Blumenthal, a razor clam technician for the Washington Department of Fish and Wildlife (WDFW). 
Clam population numbers are up on all beaches and the estimated total of harvestable clams coastwide is predicted to be double that of last year, among the highest in decades. The preliminary number is 26 million harvestable clams coastwide for the 2020-21 season. Last year was 13 million clams, which was the highest number in 25 years
"People who can dig clams can get a limit pretty easily," Blumenthal said. "We're estimating 15 clams per digger."
Blumenthal said the higher clam numbers this year is due to the big springtime morning digs being shut down due to travel restrictions during the onset of the COVID-19 pandemic. That caused a lot less pressure on the populations and left more clams in the sand for this fall. Ocean conditions also helped create a favorable spawn set, he said.
"We were able to avoid the hordes of diggers on the beach this spring," Blumenthal said.
This fall, there are more diggers than ever trying their luck at digging the tasty bivalve. The first dig of the season on Sept. 16 saw 15,000 people across the five harvest areas, including 6,000 diggers alone along the 28-mile Long Beach Peninsula.
The most recent set of digs was from Oct. 16 to 21, all night tides. On Oct. 16, Long Beach saw 5,500 diggers while Twin Harbors had 3,000. On Oct. 17, Long Beach had 9,500 diggers and Twin Harbors saw 5,500. On Oct. 18, a Sunday night dig with a looming work week, Long Beach had 3,000 diggers and Twin Harbors had 1,750.
"This last tide series we definitely noticed a surprising number of people," Blumenthal said. "We thought there'd be a good crowd, but most of us were like, 'Oh, man, this is more people than we thought.' A lot of the more tenured people were comparing it to one of those morning spring tides where a lot of people show up."
It isn't all good news. Increasing levels of marine toxin levels forced the WDFW to cancel the final day of the most recent clam dig on all beaches on Oct. 21. Domoic acid, a natural toxin produced by certain types of marine algae, can be harmful or even fatal if consumed in sufficient quantities.
 The next tentative dig is slated for this Saturday on Halloween night, and the department said it will make an announcement sometime this week if that dig and the additional three digs (Nov. 1-3) of this upcoming set will be approved.
"State shellfish managers will consider openings tentatively scheduled to start October 31, depending on the results of upcoming marine toxin tests and public health officials' ongoing monitoring of COVID-19 trends," said Larry Phillips, WDFW's coastal region director, in a press release Oct. 21.
The next tentative razor clam digs, along with low tides and beaches, are:
Oct. 31, Saturday, 7:26 p.m., 0.0; Long Beach, Twin Harbors, Mocrocks
Nov. 1, Sunday, 6:59 p.m., -0.1; Long Beach, Twin Harbors, Mocrocks
Nov. 2, Monday, 7:33 p.m., -0.1; Long Beach, Twin Harbors, Copalis
Nov. 3, Tuesday, 8:08 p.m., -0.1; Long Beach, Twin Harbors, Mocrocks
No digging is allowed before noon during digs when low tide occurs in the afternoon or evening. All diggers age 15 or older must have an applicable fishing license to harvest razor clams on any beach. 
"Diggers want to be sure to come prepared with good lighting devices and always keep an eye on the surf, particularly at this time of year when low tides come at dusk and after dark," WDFW shellfish manager Dan Ayres said.
The five harvest areas are:
Long Beach from the Columbia River north to the mouth of the Willapa Bay.
Twin Harbors from Willapa Bay north to the south jetty at the mouth of Grays Harbor.
Copalis Beach from the north jetty at the mouth of Grays Harbor to the Copalis River.
Mocrocks from the Copalis River to the south boundary of the Quinault Indian Reservation.
Kalaloch from the South Beach campground north to Olympic National Park Beach Trail.
Licenses, ranging from a three-day razor clam license (starting at $9.70) to an annual combination fishing license, are available on WDFW's website at fishhunt.dfw.wa.gov and from some 600 license vendors around the state. WDFW recommends buying your license before visiting coastal beach communities for this razor clam season.
Under state law, diggers at open beaches can take 15 razor clams per day and are required to keep the first 15 they dig. Each digger's clams must be kept in a separate container.