Dozens of volunteers were up early Saturday, paddles and trash buckets in hand, for the second annual Nisqually River Cleanup. Organizers and volunteers combed water-access sites and paddled 17 miles of the river to collect trash. 
This year's cleanup was organized in a collaborative effort by the Washington Kayak Club, Washington Recreational River Runners, Paddle Trail Canoe Club, the Nisqually River Council and about a dozen other community partners. 
Participants focused on two sections of the Nisqually River this year. The first section was a 9-mile stretch from McKenna Park to the Yelm Hydro Plant, and the second section spanned eight miles from the Yelm Power House to the 6th Avenue Fishing Pier. 
Greg Provenzano, event coordinator, said around 84 people registered for the event. Emily McCartan, Nisqually River Council Program Coordinator, said around 15 people helped pick up trash around McKenna Park and Cub Scouts Pack 307 helped clean the 6th Avenue WDFW access site. 
The goal Saturday was to break last year's goal of collecting 2,000 pounds worth of trash. Last year, volunteers found a number of large items around the river.
At around 10:30 a.m., on the shores of McKenna Park, 35-year-old Jared Cook was busy prepping his small three-person raft. Sunshine came through the spring foliage under which his raft lay. He said that today was as good a day as any to show his two family friends, Dave and Nancy Bowdy, how to raft a river. 
"They're basically second parents," he said. "Known them since I was a kid." 
And Cook isn't new to river cleanups. Last yea, he participated in the inaugural Nisqually River Cleanup. He said he expected the trash levels to be consistent with what he saw last year, which wasn't much.
"There's always something. People tend to throw things out into the river and pretend like no one will ever find it," he said. 
Along the 9-mile stretch of the Nisqually, from McKenna Park to the Yelm Power House, rafters and kayakers faced around 13 rapids, half a dozen sharp turns and a low river run, which made trash collecting, even for the most experienced river cleaners, difficult at times.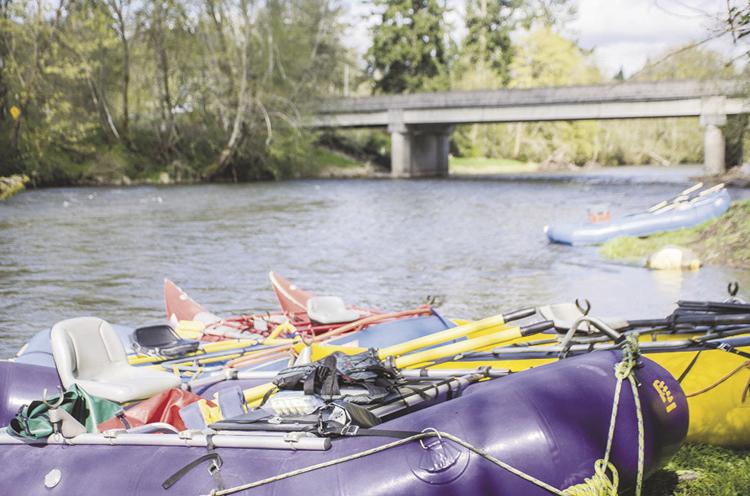 Before taking off, organizers reminded volunteers not to expose themselves to the river's water for prolonged periods. With fresh glacial runoff, such as the Nisqually, hypothermia can set in within minutes. 
Provenzano said that while the Nisqually River is accessible for the average kayaker, most of its dangers can lie within its fridged, fast waters.  
"Actually, the river is pretty nice," he said. "But those waters can get pretty cold."
At 11 a.m., a few hours before volunteers were expected to arrive at the powerhouse, a group of nine experienced kayakers and rafters gathered before heading out to clean the last 8 miles of sectioned river. 
"Apparently there's a big tarp right around the bend here that they weren't able to get last year," Provenzano told the group. 
Clad in swimwear and helmets, they headed off in their kayaks, canoes and a large blue raft. 
Four hours and 8 miles later, vessels from the party floated around the bend and onto the shores of the 6th Avenue. 
Lance Bailey, a volunteer with the Washington Recreational River Runners, said the trek down went pretty smoothly. Collecting some of the trash, such as a large canvas tarp, was difficult with the low waters. 
"They knew some of the things that were there… I was pleasantly surprised at how little small garbage there was," Bailey said. "These kinds of events bring an awareness. As a river runner, it felt good."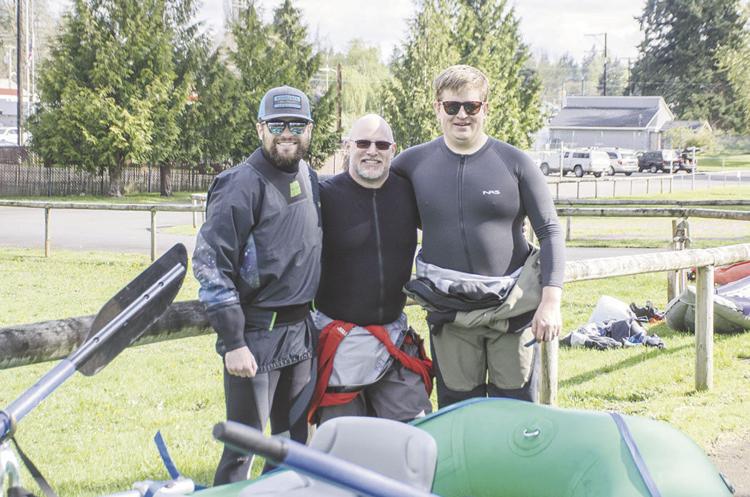 Volunteer Sue Danver said it was an elegant, picturesque float down. Also a birder, she detailed her sighting of mayflies and violet-green swallows as the ecosystems around them past by. 
"It was nice to just be out on the water," Danver said. "I was impressed by the number of people… just the devotion to the river is delightful." 
One of the largest hauls, tied to the inflatable raft owned by Bailey, included a plastic canoe, a tarp and a small campfire stove. 
In all, the clean-up yielded a combined 1,160 pounds of trash.
"We're hoping it's going to be an annual thing," McCartan said. "It's a great way to kickoff the season."