The Yelm boys cross country team brought home gold at the 3A South Sound Conference Championships Thursday afternoon at Fort Steilacoom, securing a team spot at districts. 
Three individual runners advanced on the girls team.
Yelm's Bryce Cerkowniak, a talented runner who's helped lead his team from a seventh-place finish last year to the first-place spot, bested 69 other league racers to finish first, which was of little surprise to his coaches who have helped the junior make considerable strides.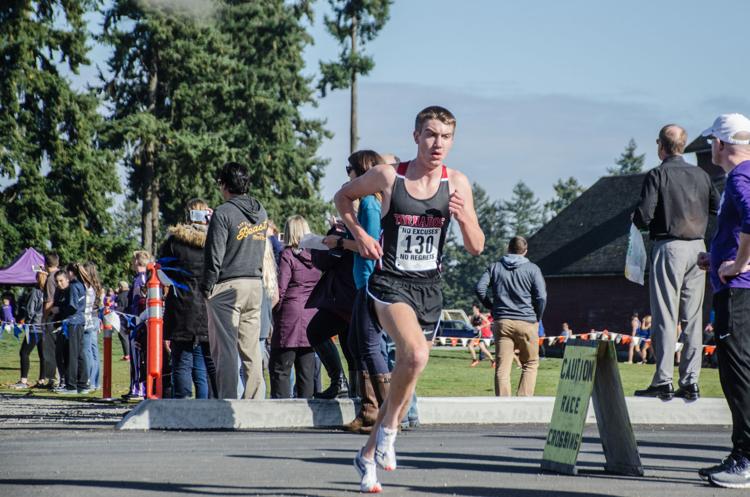 Cerkowniak's 15:30 finish, roughly 30 seconds faster than North Thurston's Samir Amin, was about 8 seconds off his personal record. He's currently competing for the state championship title. 
The team's success was for more than glory though. Both the boys and girls teams wore temporary tattoos at the league event honoring Army Sgt. 1st Class Jeremy Griffin, who was recently killed while serving in Afghanistan. Griffin's son, Charles, is a sophomore who runs for Yelm.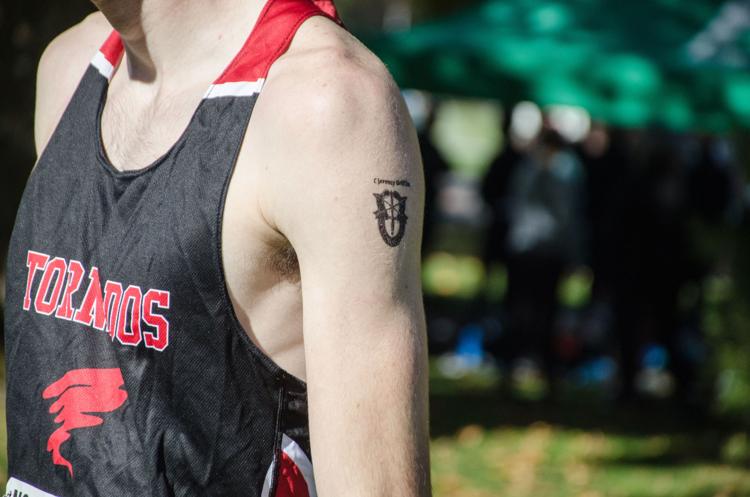 The boys from the Pride of the Prairie also clinched four spots in the top 10; junior Kelan Herness finished fourth (16:29.30), first-year runner and sophomore Ryan Lange finished sixth (16:44.60), and senior Jacob Barnert finished eighth (16:46.90). All three runners bested their personal records. 
"Everybody stepped up today, which is good," head boys coach Alex McIntire said following the race. 
As a team, Yelm finished first with 33 points, North Thurston finished second with 73 points and Peninsula placed third with 88 points.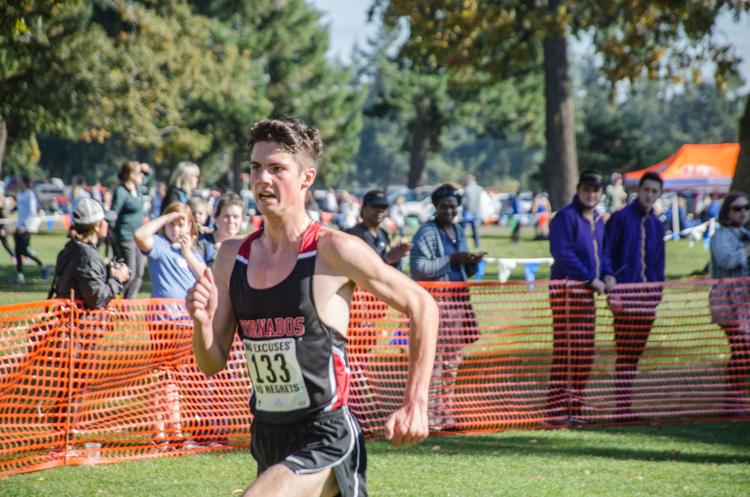 Yelm were the favorites going into Thursday's league matchup to take the title, but nerves were high as the Tornados took to the start of the twisty 5-kilometer course at Fort Steilacoom. 
"There's a lot of opportunities to make moves. We make moves on the hill," McIntire said of the course. 
While the boys were confident going into their race, the girls were at somewhat of a disadvantage running for the day. Without their No. 4 runner, junior Lenna Miskimens, head girls coach Dan Baker knew it was going to be an uphill battle for his team to secure a spot at districts.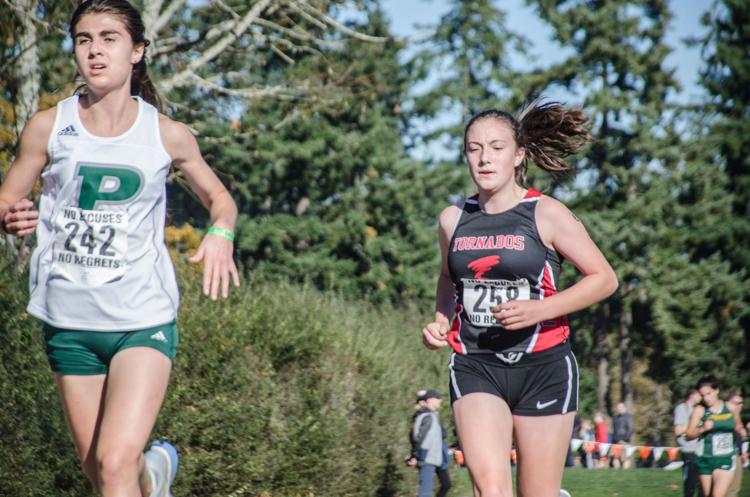 "If things get to the point where we can compete next week, great. If we fall short, we have a great base to work off of next year," Baker said as his girls lined up for the race. 
Because of a top-46 finish, junior Kya Ramirez, freshman Gabriella Willadsen and sophomore Kaylee Faber will compete individually at November's district meet at Chambers Bay. 
Ramirez and Willadsen, per usual, led the pack for Yelm and finished 25th and 26th, respectively. 
Ramirez's 21:40.40 finish was a personal record for the second-year Yelm junior. 
Willadsen told Baker taking leads going into the second mile turned into an elbow fight.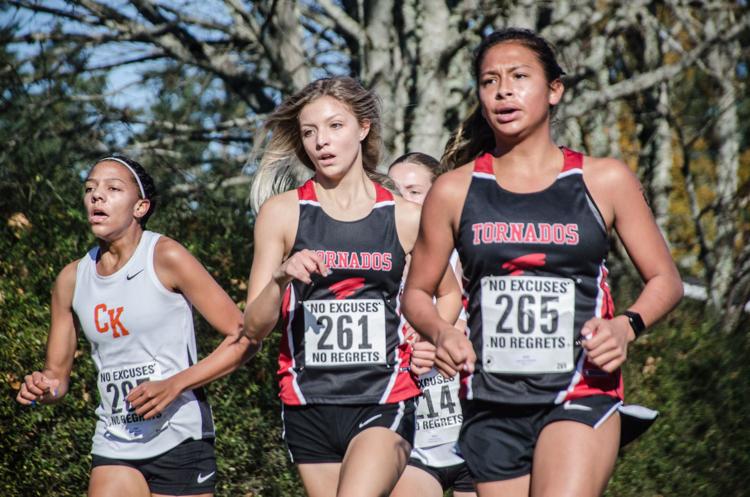 Faber, who finished 40th with a 23-minute personal record, ran a strong race, Baker said. 
At the mile mark, Faber trailed behind a group of North Thurston runners. Baker said he noticed a break in their pack and eyed at Faber to overtake the group of girls at the hill. 
Baker said when Faber came out at the final stretch, he was beyond pleased to see her in front of North Thurston. 
"The way they ran, it's got me excited," Baker said. "I couldn't have scripted it any better." 
But despite the Yelm girls' strong effort, North Thurston would best them as a team, taking the highly-sought sixth-place finish and yanking the lady Tornados' chance at a district appearance. 
"I knew by the way they were running that we were gonna be short. Unfortunately, I was right," Baker said, recounting the finish. 
North Thurston finished with 177 points. Yelm clocked in four-points short at 180. 
Zach Walsh, a Yelm freshman who's had a remarkable season with the boys' varsity squad, suffered from a fall early in the race and was pulled. McIntire said Walsh, who was Yelm's No. 6 runner going into the league race, is a hard worker and he looks forward to seeing him step up next season. 
Yelm athletes will compete in the West Central District Cross Country Championships Saturday, Nov. 2 at Chambers Bay. 
1st — junior Bryce Cerkowniak — 15:30.60
4th — junior Kelan Herness — 16:29.30 PR
6th — sophomore Ryan Lange — 16:44.60 PR
8th — senior Jacob Barnert — 16:46.90 PR
14th — sophomore Ethan Coon — 16:53.30 PR
55th — senior Logan Faber — 18:38.40 PR
62nd — sophomore Calum Thornhill — 19:04.40
25th — junior Kya Ramirez — 21:40.40 PR
26th — freshman Gabriella Willadsen — 21:44.00
40th — sophomore Kaylee Faber — 23:00.30 PR
47th — freshman Natalie Webster — 23:57.20 PR
50th — senior Elizabeth Unruh — 24:16.30
56th — senior Anna Thaler — 25:34.10 
59th — sophomore Clare Lawlor — 26:06.90 PR
61st — senior Eleonora Casarin — 26:18.00 PR