On an intermittently rainy Thursday afternoon last January, more than 10 volunteers took to the streets of Yelm in an effort to count the number of people experiencing homelessness. 
The effort was part of the annual Thurston County Point in Time Homeless Census, which is required through the U.S. Department of Housing and Urban Development.  
Deb Larson, the Yelm Point in Time volunteer coordinator, voiced her concern about her team getting an accurate count on that day. 
"It's a huge risk," she said of people leaving their transitional housing units, tents and vehicles in poor weather to be counted. "People can get hypothermia in 45 degrees. It just depends on how dry you stay." 
But the county's report, which was released on Friday, Oct. 2, showed something volunteers in the community have known for a long time: counting the homeless on a single day is a difficult, and sometimes inaccurate, task — and even more so in rural areas.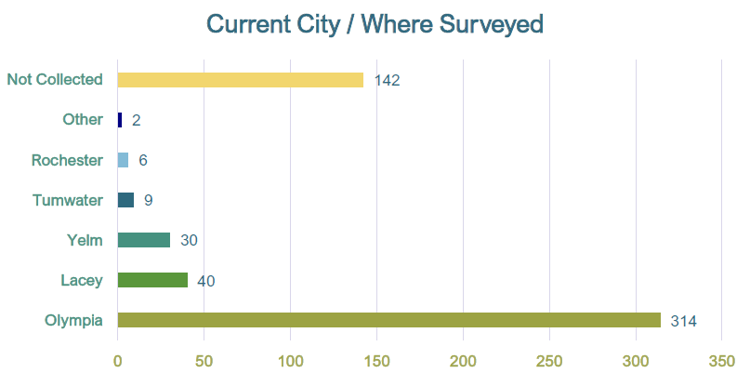 Thurston County volunteers this year counted a total of 995 homeless individuals, which is about a 24 percent increase from last year's census that counted 800 people.  
This year's effort saw a fairly large expansion compared with last year's, and some adjustment in methodology likely contributed to the increased count of unsheltered individuals and families, according to the county. Some of those adjustments included offering gift cards to increase participation, increasing participation from local jurisdictions and adding "magnet events" that offer services to draw individuals to a singular focal location. 
"It is encouraging that the 2020 PIT census offered an expanded regional effort to understand what homelessness looks like in our county," Keylee Marineau, county homeless prevention and affordable housing coordinator, said in a prepared statement. "Although the data is not 100 percent representative of all people experiencing homelessness, it is a vital tool to create strategic and meaningful responses to this humanitarian crisis as a region. 
"Regional momentum is crucial moving forward, especially as we continue to respond to homelessness during a pandemic and anticipate thousands of people losing their housing due to potential evictions," she added. 
Yelm was one of those jurisdictions this year that offered a magnet event, hosted at Emanuel Lutheran Church. While the event was largely able to get a steady stream of needy individuals through the door, it didn't show in the hard data. 
According to the 2020 Point in Time report, Yelm's volunteers counted 30 unsheltered individuals throughout the day. That's a decrease of one when compared with last year's census. 
Larson said the data doesn't paint the whole picture, either. Her group originally turned in 34 census forms that were filled out by homeless individuals, though it's likely four of those didn't count due to requirements spelled out by HUD.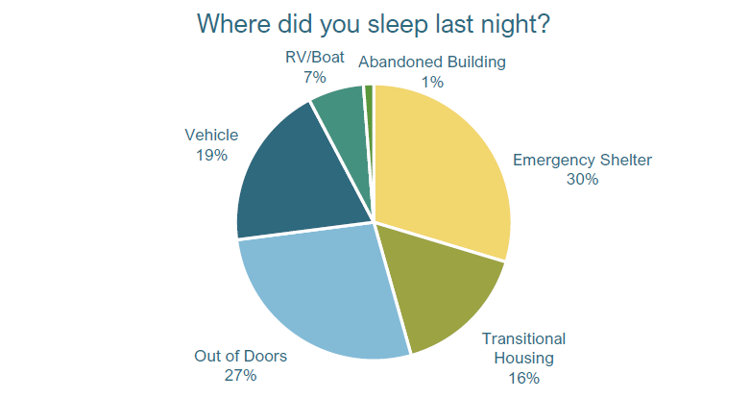 "The need is greater than what they're going to identify because they're being very particular about where you need to be on that night to be counted," she said. "There's a lot of fluidity."
An undercount is especially likely when taking into account other circumstances that hindered the census; six individuals living homeless in Yelm declined to jot down their information or be interviewed by volunteers, and Larson's team personally knew at least 10 other individuals who lived in the area who weren't surveyed. 
"A lot of the women here locally are with kids and they tend to be couch surfers, and not that definition of homeless through the HUD survey," she said. "Our population is probably close to 50 in the local area." 
Counting the rural homelessness also continues to be a challenge and particularly difficult, seeing as how camps aren't nearly as densely compacted as those seen in both Lacey and Olympia, as well as along the Interstate 5 corridor. 
"Thurston County has a lot of rural areas, and a complete coverage census is simply not feasible. Events were planned in Yelm and Lacey, providing meals and service connection to targeted homeless populations," the report read. 
Thurston County Statistics
Of the 995 individuals counted by the census in Thurston County, 541 were reportedly sleeping unsheltered, 295 last slept in a sheltered facility, and 159 were living in transitional living facilities. 
More than half of individuals living without shelter were located in Olympia, with 314 respondents from the city; Lacey counted 40, Yelm counted 30, Tumwater counted nine and Rochester counted six. 
Around 142 surveys did not collect a current location of where the unsheltered individual was staying. 
Most of those surveyed were also from the area. A total of 61 percent of all census takers said their last permanent address was located in Thurston County before they became homeless. Thirteen percent said they were from Lewis, Mason or Pierce counties, 11 percent said some other county in the state, and 14 percent said their last permanent address was outside of the state. 
The cause of homelessness continues to be largely economically and domestically driven, though the causes are often quite diverse.
The top five causes for homelessness reported were eviction/loss of housing (167 censused), job loss/unemployment (148), family rejection (131), substance dependency (95), and physical disability (90). 
For the last two years, job loss continued to be the top reason people reported homelessness, according to the report. Each respondent was also able to cross out all circumstances that applied when asked in order to get a more comprehensive view of the causes. 
Many people censused also reported living with disabilities, which can affect their ability to access social services, find work and stay housed, according to the report. 
A total 258 individuals reported mental health disabilities, 205 reported physical disabilities and 172 individuals reported substance abuse issues. 
Yelm volunteers counted a total 30 individuals during the 2020 Point in Time Homeless Census. 
A large majority of those surveyed reported to be of working age, which is unusual for what's generally seen in homelessness. A resounding majority said they were between the age of 25 and 65, and many reported eviction or loss of housing and family rejection as a cause of homelessness.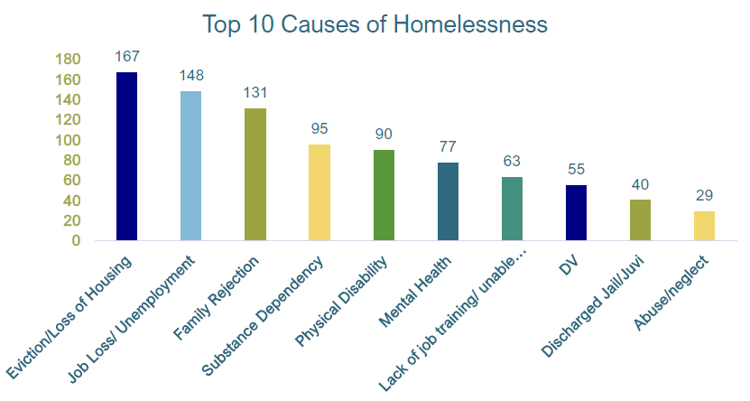 Homelessness for public school students also continues to be a challenge, according to supplemental data provided by the state Office of Superintendents of Public Schools. 
Yelm reported a 22 percent increase in the number of homeless students, from 119 in 2019 to 146 in 2020. A majority of those reported being doubled-up in housing with others. 
Contrasted to what's reported on the county level, a very distinct majority reported having last slept in their vehicle — 17 of 30 respondents had last slept in their vehicle, while seven reported last sleeping outdoors, three in abandoned buildings and three in either an RV or a boat. 
Nineteen of the 30 respondents reported as having their last permanent address in Thurston County, while nine reportedly last living in either Lewis, Mason or Pierce counties. Of those 19 that last lived in Thurston County, 16 said they had an address in Yelm. 
Only one individual reported that they were from out of state. 
Larson said empirically that the average length people reported being homeless was between two and four years. 
"There were five people who said they were here for more than 20 years though, which I found surprising," she said.