KENNEWICK — No. 12 Yelm pushed No. 5 Kennewick into overtime with a touchdown with just 15 seconds to play here Saturday afternoon in the 3A State Playoffs, but ultimately fell 35-34 in an overtime heartbreaker that ends the season for the Tornados.
It was a back and forth battle up until the end.
Yelm was looking to return to the 3A state quarterfinals for the second time in two years. Kennewick was seeking its first quarterfinal appearance in four years.
Ultimately, Kennewick earned the win as the Tornados were unable to convert a point after attempt following senior running back Carson Amendt's 3-yard touchdown run to bring Yelm within one point of a tie in overtime.
Despite the loss, Tri-Cities football fans won't likely forget Yelm.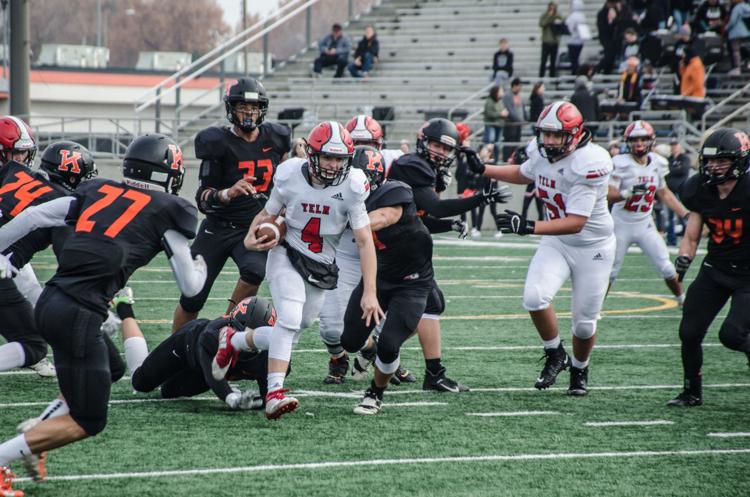 Kennewick was the first to swiftly take the first-quarter lead, capitalizing on a pair of interceptions thrown by Yelm quarterback Ben Hoffmann that both eventually led to touchdowns and a 14-0 lead for the Lions.
Yelm quickly mounted a comeback. The Tornados, down by two touchdowns, came back in the second quarter and clinched two rushing touchdowns by Hoffmann and senior running back Carson Amendt to tie it up 14-14 going into halftime.
Senior defensive back Austin Schaler collected his 10th interception of the season at the tail end of the second quarter, building on his school record and denying the Lions a first-half lead.
Coming into the third quarter, and after inching the ball up to Yelm's 35-yard line, a handoff by Kennewick quarterback Elijah Tanner to running back Miles Mayovsky led to a Lions touchdown to give the team a 21-14 lead.
The Tornados would continue to stay in the game, though.
On Kennewick's 39-yard line, on third and 1, Hoffmann connected on a 15-yard throw to George Packard, who rushed 25 yards into Kennewick's end zone to tie it up 21-21 to cap off the third quarter.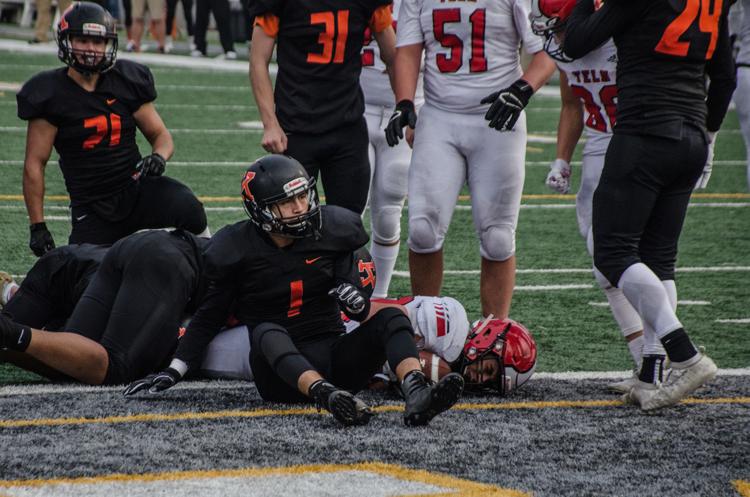 Kennewick soon regained the lead 28-21.
Then, on fourth down with 21 seconds left on the clock in the 4th quarter, Hoffmann hit Schaler with a pass from 20 yards out to tie the game after an extra point and send it to overtime.
"That was huge. That was the drive. That was like, 'If we don't score this drive, the game's going to be over,'" Jason Ronquillo recalled. "They handled it under pressure."
The Lions won the toss to take the first drive from 25 yards out in overtime.
On 3rd-and-9, Tanner found sophomore wide receiver Simeon Howard across field for his second touchdown. The subsequent kick was good, putting Kennewick ahead 25-28.
Yelm would answer back with their own touchdown, but the point after sailed wide of the uprights and Yelm fell 35-34.
"Kids played their hearts out today. They battled. Effort was there (and) I'm real proud of them," Ronquillo said.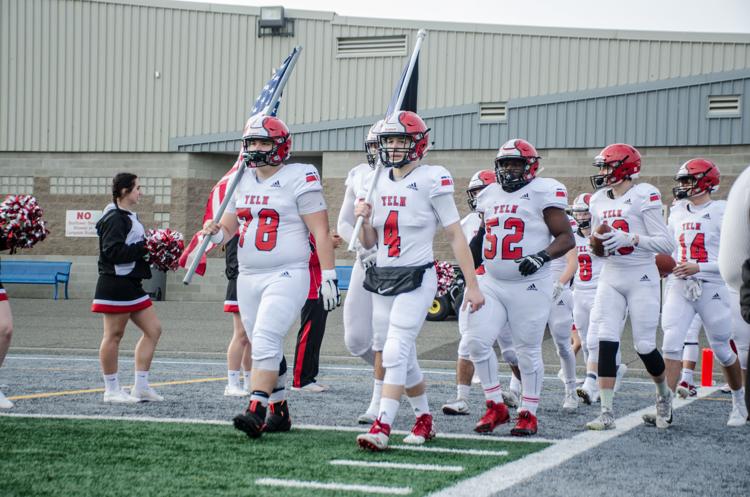 Kennewick will play either No. 13 Garfield or No. 4 Bethel in the quarterfinal round of the 3A state playoffs. The team is undefeated at home. Yelm will end their season with an overall record of 7-4.
This was Yelm's third state playoff appearance in the program's history, which says a lot about where this program has come from under the guidance of Ronquillo over the last six years.
"It was a good year," Ronquillo said, adding in a "thank you" for his coaching staff. "The kids had a good ride. It sucks to end like that because it hurts. It's not like when you get blown out ... It'll hurt (our players) for a little while."
Overall, Ronquillo said the two teams matched up pretty close. He wasn't sure whether or not the better team won.
"Unfortunately, we didn't get any turnovers," Ronquillo added. "We carried the ball better in the second half, but that's just the way the ball bounces. We did do a good job of weathering the storm and getting us back in the game, though."
Kicker Braden Hill went 4 for 5 on kicks. Hoffmann went 19 for 26 on passing, throwing more than 201 yards; he also rushed 15 times himself for 115 yards.
Franklin led in receiving, tallying 11 catches over 85 yards. Amendt had 21 carries for 78 yards.
Schaler and linebacker Charles Benbrook led the defense with seven tackles each. Senior defensive lineman Cameron Dubose and junior linebacker Sean Rohwedder tallied five tackles each.
Yelm Tornados — 0, 14, 7, 7. OT — 6 — 34
Kennewick Lions — 14, 0, 7, 7. OT — 7 — 35