Michelle Gilbreath is the "Stuff Chair" for this year's Relay for Life of Thurston County, which means if one of the other members of leadership has stuff that needs to get done, she does it.
The opening ceremony for this year's Relay begins at 6 p.m., June 21, at Komachin Middle School. The event continues until the closing ceremonies at 5:30 p.m., June 22.
All Gilbreath has to do is show up, be present and be willing to do the extra little things that simply need to be done.
That, and provide hope for everyone in attendance as a cancer survivor.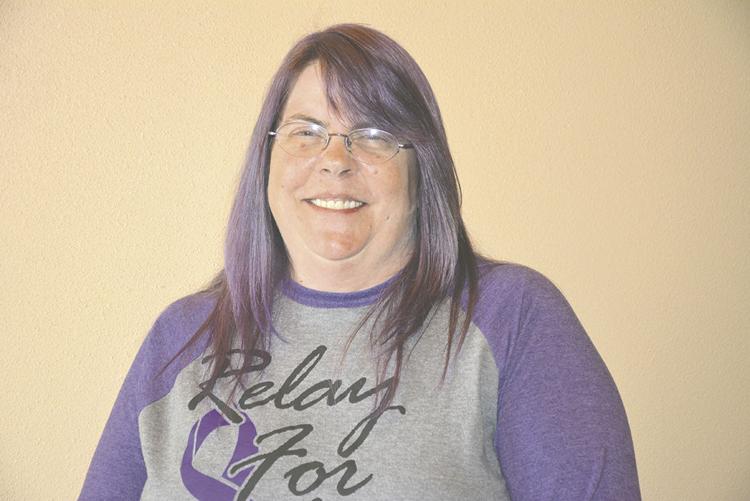 "In my way-back history, both on my mom's side and my dad's side, we died of some form of cancer," Gilbreath said… "We've got lung, brain, leukemia, bone, prostate, just all forms on both sides."
Cancer claimed her mother's life just a year and a half before she got her diagnosis — it was breast cancer.
"Something told me: 'Do your self exam,'" Gilbreath said. "It was just random. I wasn't strict with doing them every month or anything, and I felt the lump. I went to the doctor's the next day and he confirmed it. Two days later, MRI. A couple days after that, biopsy."
She said the experience was terrifying. She had grown up in fear of cancer, of the "C" word, and now she was living those fears.
Yet, she never lost the determination that made up her personality.
"It was really hard telling my kids, but I'm kind of a smart aleck so I sat them down on the couch," Gilbreath said. "I told them I had breast cancer, but that I was going to do whatever it takes to beat it, because I had too many embarrassing moments to put them through."
Understandably, they were scared because they had just lost their grandma the year before and their Uncle Bruce — Gilbreath's husband's best friend — from the same disease, she said.
"Unfortunately like me, all their lives they knew cancer," she said. "Unfortunately, it claimed people's lives."
Now those same kids are 22, 27 and 29, and they get to raise their kids in a world where cancer research funded in part by the American Cancer Society has saved lives that would have ended a decade ago, Gilbreath said.
"I am the first person in my family on either side that has 'survivor' after their cancer diagnosis," she said. "I want more of that in the world. I don't want my grandkids, who are 3 and 5, to ever be scared of the 'C' word."
For treatment, Gilbreath chose the one-two punch of a mastectomy, followed by six months of chemotherapy.
"I chose the mastectomy because, after my family history, I didn't want to play around with it," she said. "I was 36, and I was done having kids. It was just decoration."
So she underwent the surgery, and afterwards her doctor told her that she didn't have to go through chemo because she thought she had gotten all of the cancer cells.
While Gilbreath was contemplating whether or not to do chemotherapy, some friends came to visit her in the hospital. They were concerned for her, but Gilbreath would have none of it.
"I feel so much better now that I have gotten something off my chest," she told them.
After some thought, Gilbreath decided to do chemotherapy just in case the doctor hadn't actually gotten everything.
"I don't want to spend the rest of my life in fear of that one cell that you didn't get," Gilbreath said. "So I did six months of chemo. Every three weeks I had a dose of chemo."
Now, Gilbreath is 15 and a half years free of cancer and she gives back by running relay teams for the Relay for Life of Thurston County, an American Cancer Society event.
A particular healing aspect of the relay for her is the Luminaria Ceremony, where folks put candles in white paper bags in remembrance or support of loved ones who had or have cancer.
"All the lights go out," Gilbreath said. "The only things shining are the luminarias. It's just an amazing community. You are all there together, mourning, celebrating, remembering, hoping together in that one moment."