Editor's Note: Andrew Kollar is Yelm Community Schools' Community Relations Coordinator and former reporter at The Nisqually Valley News. He is a lifelong Yelmite who enjoys sharing his love for the outdoors with others. In 2018, Kollar chronicled his 130-day, 2,650-mile journey on the Pacific Crest Trail, which spans from Mexico to Canada. He's currently hiking the Colorado Trail. Look for updates on his journey at yelmonline.com in the coming weeks.
We start hiking at sunrise every day. No music, no podcasts, just the sounds of the forest waking up as the first rays of light bounce off the peaks above before casting light into the valley.
I can see my breath and hear the birds singing as I take my first steps. For those first moments, nothing else in the world matters. It's absolute serenity. Where I am in that moment is exactly where I need to be. 
At the time of this dispatch, I have been out here 22 days. We've walked 411 miles, watched the sunrise and sunset every day, met dozens of the world's best people, drank water from direct snow melt in the high alpine and drank from low-land sources consisting of a 50/50 mix of water and cow feces. 
On July 15, our group hiked out of Salida. We were excited to be leaving the Rocky Mountains and entering the highly anticipated San Juans. Two days of eating real food and two nights of rest in a real bed propelled us back up to 12,000 feet and 25 miles down the trail and into the cow pasture. 
The next morning, the trail traversed onto multiple dirt roads, winding their way through the high plains between the Rockies and the San Juans. I made a note to text my dad when I got service. The note read "High Plains Drifter," as the terrain reminded me of his favorite Clint Eastwood western flick. 
I lost track of how many miles we walked along the road but I would guess it was close to 50 miles between Silverton and Lake City. It was disheartening to see our water sources transition from clean water collected straight from snow melt to trickling water mixed with cow dung. I filled my bladder up with brown water and little floaties and filtered it into my sterile bottle. Even with the filter, I was nervous about drinking it. This was the start of a full day of drinking "nutrient rich" water.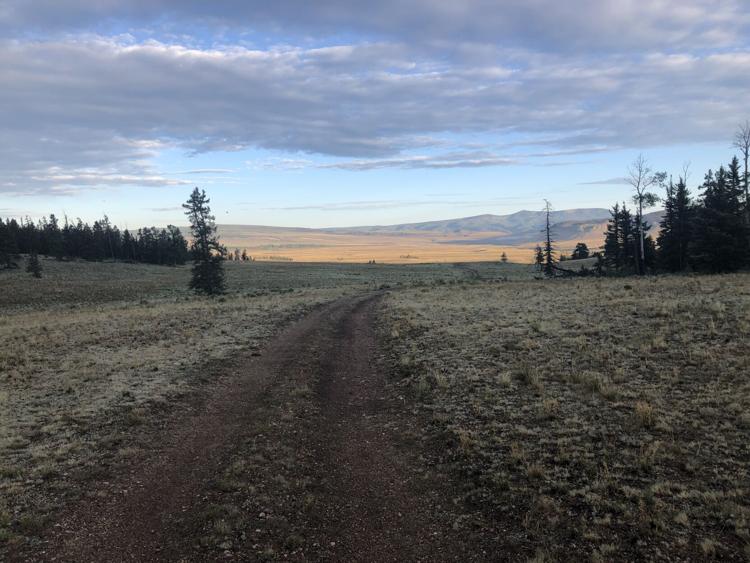 The day was now July 17. It was Happy Hermit's one year anniversary of suffering a stroke during his bike tour across the U.S. Hermit, known in the real world as "Gray," is a high school chemistry teacher from Raleigh with a big bushy beard and long hair. Paradise (Denver) and I describe him as looking like a ripped Jesus. He's spent the last decade building an outdoors club at his school, biked the Trans America route from coast to coast in 2017, hiked the Pacific Crest Trail from Mexico to Canada in 2018, and was entourage on a bike trip from Washington to Maine before the stroke ended his second tour across the U.S. in Michigan. 
If I were to describe his personality, I would just say he's the kind of teacher whose class you'd take even if you didn't like the subject. 
Knowing it was a special day for Hermit, Paradise and I secretly packed out three small bottles of his favorite drink, bourbon, to celebrate. 
We originally planned to break out the bourbon on top of San Luis Peak, one of Colorado's 58 fourteeners but an incoming thunderstorm kept us from making the attempt.. 
"I want to get up there," Hermit said. "I feel like I need to do something special today."
Paradise gave me the nod and I reached into the bottom of my pack. Sitting at the top of San Luis Pass, overlooking the San Juans for the first time wasn't a bad spot to celebrate.
"We know that today is kind of a special day for you," I said to Hermit as I handed him a small bottle of Bulleit bourbon. "We want to celebrate the long road of recovery by having a drink with you, right here."
For the next 15 minutes we sat on San Luis Pass, sipping the bourbon we'd just packed for 85 miles as we took in our first views of the San Juans as a thunderstorm rapidly approached. 
Reflecting back, this moment is like a Hollywood movie.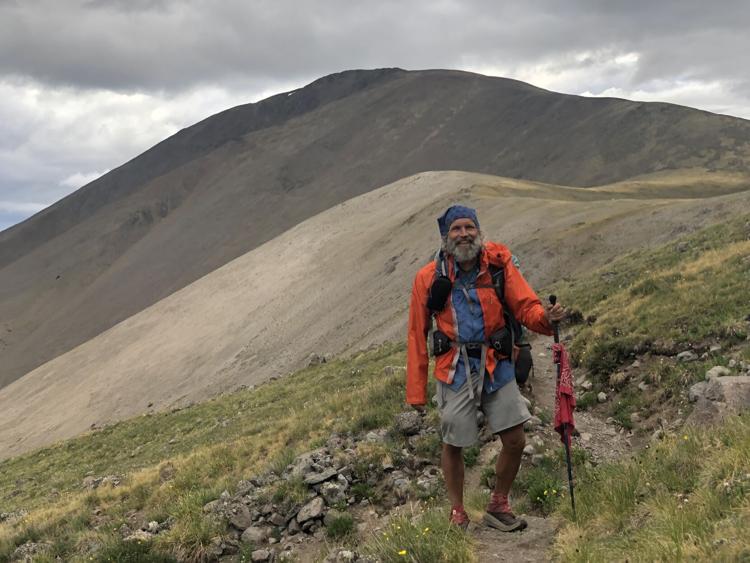 At the moment, you don't see the twist coming, but when it's revealed you can't believe you missed it, similar to Eastwood coming off as a savior and turning out to be a vengeful ghost in High Plains Drifter. 
This was our turning point or plot twist. Everything seemed well, even as the thunderstorm neared but the true storm wasn't even in sight. 
We began walking as the clouds grew darker. We decided that we'd camp at the first flat spot in an attempt to set up camp before the rain set in. Two and a half miles and 40 minutes later, we arrived at our home for the night as the first raindrops fell from the sky. The pitter-patter hit the top of my tent and pack as I eagerly staked and applied tension to hold up my tent. 
"It's up!" I shouted to myself as I quickly climbed in. I sat in my tent thinking "thank god we didn't try to force our way up San Luis Peak." 
The rain fell in buckets throughout the night with sporadic lightning strikes and thunder rumbling in the distance. It began raining at 5 p.m. and didn't stop until sometime between 2:30 or 4 a.m. 
The next day, July 18, provided the best sunrise on the trail. We began hiking at 5:15 a.m. and watched the sun crest over the San Juans. On the ridge, we saw three silhouettes of deer prancing along the ridge as the sun's first light began to illuminate the early morning sky.
We had three substantial climbs before making our way up to the Snow Mesa, a gigantic plain, covered in millions of wild flowers, towering above the valley below with the San Juans setting the backdrop. 
As we climbed, I noticed Gray having a difficult time. Something was wrong. He's usually full of energy and the one pushing us to go further and faster but he looked ill. 
We were less than 10 miles from Lake City, where a hot meal and a hotel room was waiting for us, usually motivating us to move at an even quicker pace, but Hermit and I trudged slowly. It was my turn to motivate him to keep moving. 
As we sit in our hotel room, we've discussed the illness and all believe it is giardia or another bug contracted through the cow poop water we skeptically drank during the last stretch. In the meantime, Hermit is hydrating and getting ready to push through. His stubbornness might be his saving grace. As he's said before, his white surrender flag is small and hard to find. 
We're not going to let this vengeful ghost burn our mission to finish this thing together. 
On to Silverton and Durango!