Look out, Binghamton Street, because Rainier has a new business moving to the main drag. 
Rainier Functional Training Center, a fitness center that in its four years of existence has garnered a committed pool of clientele, is moving from its current location on Centre Street to the old building that used to house the J&J Hideaway DVD rental store at 304 Binghampton St.
The opening date hasn't yet been set in stone, but Heidi Wakeman, owner of the gym, said she hopes to open within the next two weeks. 
It's not an easy task to move the shop in the middle of a global pandemic — let alone be a business leader as a single mother of four who has to teach her kids during remote learning — but Wakeman makes do. 
"I'm excited, probably ridiculously excited, and I've had so many people help support me through this," Wakeman said on a recent Wednesday afternoon. "The thing about this gym is it's a family … It's that community feel that sets us apart from other gyms. It's like I can't wait to have my family back."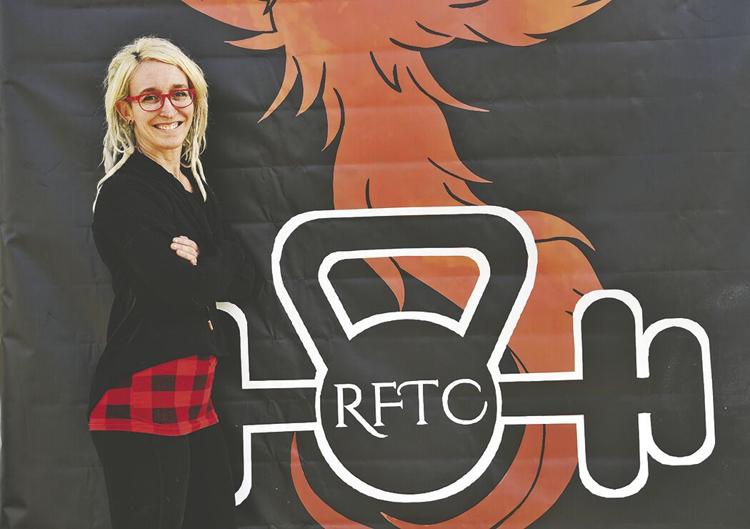 While the gym has largely been closed since the start of the COVID-19 pandemic and subsequent state-mandated business closures, the work hasn't stopped for Wakeman and her crew. Over the last six months, she and contractors have been busy giving the location a face lift to accommodate a different type of retail space. 
That includes adding new windows, ceiling work, adding a new concrete floor, adding new electric systems and painting the facility. The results, to put it simply, have been drastic. 
"It's like a brand new building at this point," she said, adding later that the expansion was "a no-brainer. It's been a lot of work, but I feel like anything that's worth it will be hard." 
The new space is ultimately a plus for Wakeman. It gives her business an additional 1,700 square feet of space to play with, and there's also a kiosk building they plan on eventually using as a to-go stand to sell espresso and protein drinks. 
Even her kids on their day off have been getting in on the work, she said. 
When it's all said and done, the new space will feature room for free weight lifting, indoor cycling, kickboxing, Olympic lifting, functional training, Muay Thai and a small massage studio. 
Rates at Rainier Functional Training Center start at $45 a month for basic use and $125 a month for use and unlimited access to classes held at the studio. 
Wakeman's career in the fitness industry started first with body building. 
Six years ago, as a mother to her fourth child, she decided that it was time to commit herself to a steady, more thorough fitness regiment. 
In Puyallup, she started with a biggest-gainer competition that her trainer, Bryant Howell, was hosting. The goal of the competition was for gym goers to gain the most amount of mass through strength training. 
Wakeman ultimately won that competition, gaining 17 pounds of mass in 100 days. 
From there, Wakeman heavily invested in the sport of bodybuilding. She began competing in competitions hosted by the National Physique Committee, one of the nation's largest amateur bodybuilding organizations, where she placed in many categories. 
She and Howell went on to open up Rainier Functional Training Center in 2016, and she would ultimately move to the area. In October 2018, Wakeman entered one of her last competitions (once her gym opens and her business is back on the ground running, Wakeman said she hopes to begin competing again next year when she turns 40). 
She originally got contact information from the owner of the 304 Binghamton building from staff at Turner Automotive, which is just down the street. Wakeman said they purchased the property for about $212,000 and received the keys on April 2. 
Wakeman said the move was motivated by a fork in the road. Howell, her business partner, was working on a separate company and had decided to sell the house they used during the first four years of their partnership. 
For local businesses looking to either expand or switch up their operations, the pandemic has been seen as an opportune time to shovel investments into their business and brand. That's also been the case with Rainier Functional. 
Wakeman said while the pandemic has been tough, it's ultimately been an opportunistic time for her business. 
"It's been a crazy adventure," Wakeman said. 
She added that her clients have been anxious to get back in the gym and get a sense of normalcy going. Wakeman said she's been getting positive comments from both her customers and the community about how the place is coming together. 
"I think it's going to be intense, the amount of people that'll stop by," she said. "I talk with people who say, 'I didn't know there was a gym in town.'"