Something familiar and fashionable is happening in a small suite at the Frontier Village outlets in Yelm. 
Between Sisters women's clothing boutique is opening a physical store located on First Street in Yelm, with a Yelm Area Chamber of Commerce grand opening and ribbon-cutting ceremony set for Friday, March 6. 
The store is co-owned by Heidi and Nanette Potter of Yelm. The family duo — Heidi is Nanette's mother-in-law — is looking to provide a chic sense of style to residents in the Nisqually Valley.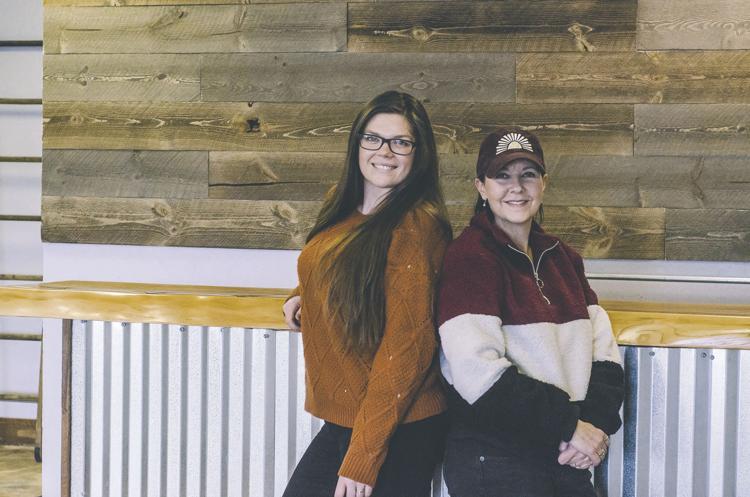 And while the kind of curated store they're aiming for is new for these two women, this isn't the first time Between Sisters has had a physical location. 
Almost four years ago, in the exact same 1,000-square-foot suite, Heidi Potter locked the doors to her store for what she thought was going to be the final time. Now she's back, and she's found some young talent in her daughter-in-law, Nanette, who will help her run the store. 
On a recent sunny February day, the two owners perused about their bare shop installing fixtures and getting things sorted for their eventual opening. The two leaned on a giant wooden customer service counter. 
"We want to give people an experience and get them excited to shop," Nanette Potter said, noting that they want to be at the crossroads of affordability and fashion. "We don't want to sell you $300 jeans." 
For Heidi, 57, retail is all she's known. When she and her family moved to the area nearly 20 years ago, picking up retail gigs was the first thing she did for money.
When Between Sisters originally opened in 2012, Heidi's sister, Jill, would share inventory from her consignment shop in Issaquah. The consignment shop is called Between Friends, which is how Heidi originally came up with the name for her store. 
"I used to say that I'd get her hand-me-downs," Heidi Porter said. 
Today, the vision for the store is much different. The Between Sisters of 2020 will be a curated collection of new fashionable accessories and clothes from brands such as Freepeople, UGG, Pura Vida, Brighton, Hem & Thread, Mikarose and plenty more. 
"I love working in a small town because your customers become your friends," Heidi said. "I'm young enough that I can work … and I know that if I'm going to do something, it has to be something I'm passionate about." 
For Nanette, the act of working in retail and opening a business is new territory. Up until just a week ago, the 28 year old was at the Yelm Espresso Stop, where she had worked for nine years. 
While she's not too nervous to step into business ownership, she said she was wary about leaving a job she had worked at for so long.
"It's a little scary. But with her strengths and my strengths, I think we can make it happen," Nanette said. 
Heidi said she's not worried at all. When it comes down to it, she said she's excited to be back in the business. 
"It's a comfort zone. You're taking a risk now," she said. "I love this community, and I've felt like I've always wanted to be more a part of it." 
It wasn't so much financial stress that led Heidi to close her store back in 2016 than it was burnout and the death of her husband, Wayne Potter, who was 58 years old. 
He was fighting Leukemia when he passed away due to a medical complication. Just a few months before his death, Heidi closed her store for what she thought would be the last time. 
She was operating the shop all by herself and was feeling a deep sense of burnout. 
"For three weeks, he fought really hard. And the doctors fought very hard for him," Heidi said. 
"I know he'd be proud of you, of what we're doing," Nanette chimed in. 
It wasn't easy. It took a few years for Heidi to gain a sense of normalcy, she said. She began doing quarterly boutiques out of one of her houses. 
Last spring, she began to connect with Nanette, who originally approached her with the idea of opening a shop. 
After a summer garage sale the two collaborated on, Heidi began to get the retail itch. 
"I started doing garage sales, making displays. I got the bug and thought 'I could do this,'" Heidi recalled. 
From there, it was off to the races. 
They started by looking at Heidi's former work space at Frontier Village back in November. The duo said they were ecstatic to see that it was going to be open for lease. 
"All I can say is that it was providence. Everything fell into place," Heidi said. 
Nanette added that it almost seemed too easy. 
The two just came back from a wholesale clothing trade show in Las Vegas, where they were able to pick up their spring line of clothing. 
Heidi said they're excited to open and noted that their online store should be open soon. In order to stand out, the two plan on running many promotions and events, and opening their venue up for collaboration with different businesses. 
The goal is to be community centric. 
For more information on Between Sisters, visit them on Facebook. The Yelm Chamber's ribbon cutting will take place Friday, March 6, at 11 a.m.