Manley Wilbur Goodwin eats one piece of chocolate a day.
That's it: One Whitman's Sampler delight per 24 hours.
The rural Thurston County resident could eat more, one would think. After all, the World War II veteran just reached 95 years old and fully retired just seven years ago after moving houses for a living the past 80 years.
At this point, he could darn well do just about anything legal his little heart wants. Such as gorging on chocolate.
But he doesn't. He instead feasts on vegetables such as corn and cauliflower and acorn squash from the massive garden he plants with his wife Janet Goodwin on their 8-acre spread near Rainier.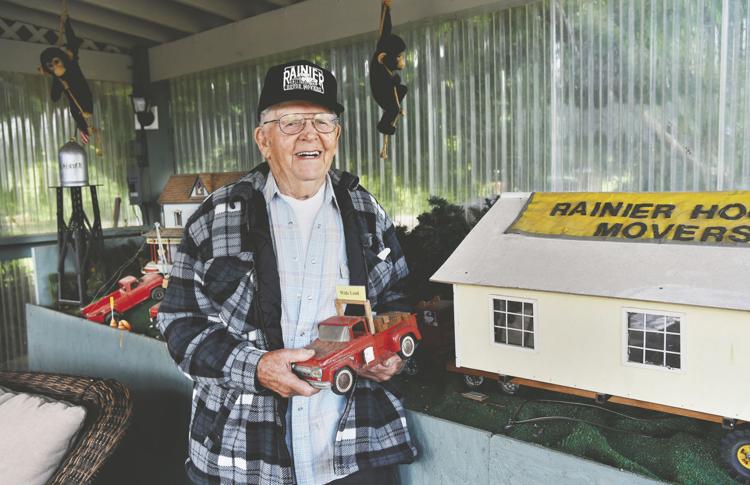 "They're just good food, and I like 'em," he said last week from a covered patio next to his one-story home.
Call it self discipline from a bonafide member of The Greatest Generation — a sweet-toothed metaphor, perhaps, for the elderly man's integrity.
"He doesn't drink or smoke, but he has to have his one piece of chocolate a day," says Janet, his wife of 39 years, with a laugh. 
Manley Goodwin grins at his wife's spoiler alert.
"Caramel chocolates have always been my favorite, I guess," he adds, nodding his head. 
Robert Schilt, who has known the former house mover for 29 years, probably wouldn't have a clue about Goodwin's eating habits, but he knows integrity when he sees it — and Goodwin embodies the trait.
Schilt, 74, who lives on State Route 507 S.E. in Rainier, shared a 600-foot property line with Goodwin's Rainier Moving Company until the company closed in 2005. Though they didn't socialize in the going-out-to-dinner sense of the word, "we did BS quite a bit across the fence line, so to speak," Schilt said.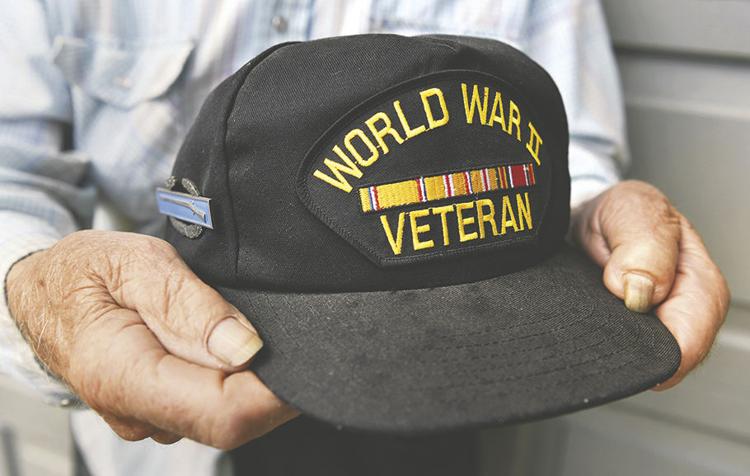 "Manley was level headed, a gentleman, and an asset to the community," he added. "He always went out of his way to do a good job for people and as a neighbor he was always willing to help me at a decent price."
Manley Wilbur Goodwin, the level-headed gentleman, is in an elite class, and not just because he's honing in on 100 years. According to the U.S. Department of Veterans Affairs, he is among a mere 299,124 World War II veterans still alive in 2020 — down from a total of 16 million U.S. men and women who fought in the war. 
The department's calculations reveal, moreover, that approximately 217 veterans will die every day this year, and it projects that by 2044 the last living American from the war will die.
If Goodwin knows these facts, they probably wouldn't phase him one way or the other. 
"The war was a long time ago," he said. "I kind of left it behind me. Some people dwell on it, but I never have."
Except, perhaps, in 2014, when he joined 28 other WWII veterans on an "Honor Flight" to Washington, D.C., to visit the city's many monuments and memorials. The Honor Flight Network is a non-profit organization "created solely to honor America's veterans for all of their sacrifices." The network offers top priority to WWII survivors and terminally ill veterans.
Goodwin, born in Centralia on June 24, 1925, joined the U.S. Army about a year after graduating from Rainier High School in 1943 and before long found himself in the Philippines — where the U.S. was fighting Japan.
It was a far cry from the life he had been living on his father's 180-acre rural Rainier farm his grandfather originally homesteaded in 1887. It wasn't easy by any means — just different.
"There was always plenty of work to do on the farm," he said, noting that the family's 60 milk cows and 12 beef cows routinely required 100 tons of hay per year. "I spent the mornings driving a truck and milking cows."
And then seemingly without much fanfare, Goodwin decided to join the Army in April 1944. By then, the Allies — principally the U.S., Great Britain, France, the Soviet Union and other smaller nations — were routinely defeating the Axis powers, primarily Germany, Italy and Japan, in a race to end the long war.
The German army would fall about a year later in May 1945, and Goodwin would end up spending much of his time mopping up Japanese positions even after their unconditional surrender on Sept. 2, 1945.
"There were a lot of Japanese stragglers who didn't surrender," Goodwin recalled. "We had to find them and take them prisoner."
But it didn't always work out quite that way.
Recalled Schilt: "Manley didn't talk about the war much, but I remember him telling me this one day about a time in the South Pacific: He said the company commander had ordered them to go through some almost impenetrable bamboo thicket to see if there were any Japanese hiding in there. He said it was a major waste of time, and there were no Japanese."
Other memories linger, though, that could mist the eyes of even the toughest combat veterans.  
The formal Japanese surrender on the Navy battleship USS Missouri in Tokyo Bay sticks in Goodwin's mind as though it was yesterday. The ship he was on at the time sidled close to the Missouri just as the surrender ceremony was taking place. He and his shipmates climbed as high as they could on their own ship, but still couldn't see the Missouri's deck where American and Japanese dignitaries had assembled. Loudspeakers announced what was happening, though.
"Everybody was laughing and happy," he said. "It was a big deal."     
For a year thereafter, Goodwin spent his time in the South Pacific locating and destroying Japanese military equipment. By then, he had been promoted to Heavy Equipment Sergeant for deactivation.
"The Japanese had to turn in all of their rifles at the fire station in one place, and we used their own tanks to smash every one of them," he said. "The Japanese tanks were smaller than ours, and they were a lot of fun to drive."
About six months after the Japanese surrender, Goodwin would travel on his own to observe perhaps the harshest reality of the war. It certainly wasn't fun, but was nevertheless historically mesmerizing.
By then, the military had deemed it safe to visit Hiroshima and Nagasaki, virtually destroyed by atomic bombs a few days apart in August 1945.
"It was quiet," Goodwin said, "nothing burning. Just piles of 5-foot-high concrete as far as you could see. Everyone was living far away from the blast site."
By the time Goodwin returned to the United States following his honorable discharge on Aug. 21, 1946, his father's occasional house-moving business he'd christened in 1932 had blossomed into a full-time, thriving enterprise, and his son was ready for the challenge.
Father and son had already proven their compatibility early on in the life of the company when Manley helped his dad relocate all 60 houses at the Vail, Washington Weyerhaeuser Company logging camp to Yelm, Rainier and Tenino. At a rate of four houses per year, the job took 15 years to complete.
In the years following Goodwin's military service, the company — called Rainier Contractors — added several other family members to the crew and moved everything from small houses to large churches, gyms, bunkhouses, ramblers, garages and sheds.
By 1959, Goodwin's father Wilbur "Pappy" Goodwin retired from the business and the remaining owners changed the name of the enterprise to Rainier House Movers. In the ensuing years, the haulers would accept jobs big and small.
One of their largest projects helped keep Rainier's teenagers and their educators learning and teaching.
When Rainier High School burned down at 2:45 p.m. on May 3, 1974, the moving company subsequently relocated 14 school portable buildings from Seattle to Rainier until the school was rebuilt about a year later. 
And there were the occasional super road trips, if you want to call them that. The company's longest haul, for instance, was a whopping 140-mile trip to relocate a house from Kosmos to Hood Canal.
Goodwin seems to have enjoyed every bit of it.   
"It surely wasn't boring, and every house was different," he said. "And I was able to make people's dreams come true by moving their houses for them."
Goodwin was also instrumental in moving the 159-foot right wing of one of the country's oddest and most intriguing machines — the Hughes H-4 Hercules, also known as the Spruce Goose — from a warehouse to the Evergreen Aviation & Space Museum in McMinnville, Oregon.    
Rainier House Movers finally closed in 2005 when permit costs escalated, building lots became scarce, and road landscaping and new street formations such as roundabouts made house-moving prohibitive. Goodwin, though, would continue occasionally helping move garages and other small structures up until his late 80s.
And lest one surmise the venerable World War II vet was content to just move houses his whole life, guess again. Not only did he volunteer for 41 years with the Rainier Fire Department — holding every position from mechanic to fire chief — but also helped design and build the Rainier Sportsman Club, stay involved for 25 years with the Rainier Rodeo Association, and spend another 12 years with the Rainier Motorcycle Club.
And to top it off, he makes pigs.
Cutting boards in the shape of pigs, to be exact. Two Christmas holidays ago, he made 21 of them to give as presents to family members.
"I sure keep busy," he said. "There's always something to do."
Most of Manley and Janet's doings these days, though, take them little farther than their property boundaries. And given the pervasiveness of the ongoing coronavirus pandemic, Janet figures it's just as well.