It's business as usual for staff at Thurston County, with just a small number of added precautionary measures. 
County staff members shook hands, tapped knuckles and elbow bumped shortly before noon on Thursday, March 5, gathering in a room at the courthouse complex for a public staff meeting to brief the government's management on the spread of the new novel coronavirus dubbed COVID-19. 
Thurston County had not recorded any cases of COVID-19 as of Tuesday, but department directors and public officials are preparing for when the county receives its first positive case.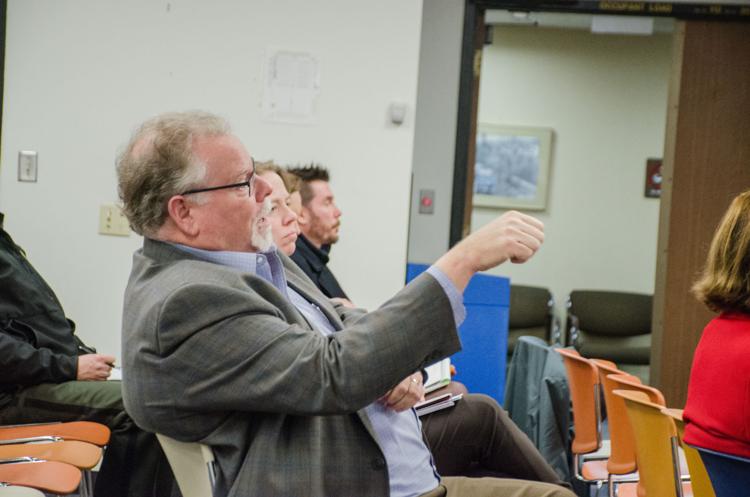 "The risk to Thurston County residents remains low. The risk to the general public remains low," Schelli Slaughter, director of Thurston County Public Health and Social Services, said to a room full of employees and elected officials. "I know everybody's been very alarmed by the developments in King County over the last couple days, and COVID-19 is of great concern to public health."
Public Health and Social Services is not recommending the cancellation of public meetings or large events at this time, Slaughter said. 
Kurt Hardin, director of Thurston County Emergency Services, Human Resources Director Maria Aponte and I.T. Director Dennis Osorio also spoke with staff about what to do in the event that Thurston County staff have to begin working from home and what measures the county is taking as the virus increases statewide. 
Hardin said in support of Public Health and to combat COVID-19 the county's emergency coordination center has been lifted to a level 2 partial activation.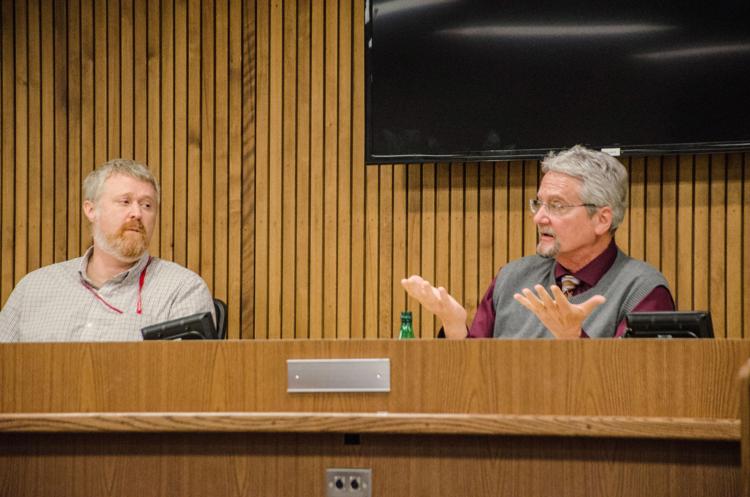 "What we're doing is coordinating activities in support of Public Health, logistics, (and) Emergency Management planning. We're also in there working with EMS and their requirements," Hardin said. "One of the things that I think is a good, positive message out of this whole incident is that people are now really concerned about being prepared for 14 days." 
Thurston County Emergency Management currently encourages residents to be supplied with nonperishable food, basic health and wellness supplies, and other necessities for a 14-day period in case of emergencies or other hazards. 
Hardin, as well as Slaughter, emphasized that people should be using proper sanitization methods. 
King County has become ground zero for the recent spread of COVID-19 in the U.S. More than 423 confirmed cases had been reported in the United States as of Tuesday, the Center for Disease Control and Prevention reported. Most of the coronavirus-related deaths have been recorded from a nursing home in Kirkland. 
On Friday, the day after Thurston County staff's meeting, Tacoma-Pierce County Health Department reported the first confirmed case of coronavirus in Pierce County. Four cases were confirmed in the county by Monday.
There had been 22 deaths associated with the virus in Washington by Tuesday.
Slaughter said health care authorities have told her that the vaccine for COVID-19 won't be produced for at least another 15 months, so basic sanitation and health habits from the public will play a crucial step in helping mitigate the spread of the disease. 
It has been reported that the elderly and those with underlying health issues are the most at risk. 
"The majority of people do just fine with COVID and they recover well." Slaughter said. "It's that small percentage of people we're worried about in public health because we don't have a cure yet for COVID-19." 
Slaughter said the county recommends people who are sick — regardless of their symptoms — stay home. For all residents, it's recommended to avoid people who are or appear sick, wash hands thoroughly and regularly with soap and water or hand sanitizer, coughing into the elbow and sanitize surfaces with sanitation wipes. 
The county is not recommending masks at this time, as widespread public use could lead to a shortage for medical workers and those with underlying health issues, Slaughter said. While masks provide more psychological comfort for the public, it isn't a complete safeguard and doesn't replace proper sanitization habits. 
Thurston County Assessor Steven Drew oversees a department of around 36 employees — half of whom perform field work and the other half of whom, as of recently, have been interacting with "thousands of seniors over the last couple weeks" due to an exemption program. 
Drew said the county's recommendations fall flat when they're not providing a safety mask for those who come into his office coughing or sniffling. It's all about providing a safe space for both the public and his employees. 
Jennifer Creighton, court executive officer of the Thurston County District Court, said district court would have to resume if the county were to shut its doors temporarily for the worsening crisis. 
The only way district court could shut its doors is if it receives an approval to suspend services, Creighton said. 
Creighton said she's not concerned about the spread of the coronavirus locally, but urged people to pay for fees, such as traffic tickets, online or over the phone if they're not feeling well. 
Reported illnesses have ranged from mild symptoms to severe and death for confirmed coronavirus disease 2019 (COVID-19) cases, the CDC's website states. 
The following symptoms may appear two to 14 days after exposure: fever, cough and/or shortness of breath. Call your doctor if you develop symptoms or have been in contact with a person known to have contracted COVID-19. 
The best way to prevent illness is to avoid being exposed, the CDC says. The following are preventive measures the public can take, per CDC: 
• Avoid close contact with people who are sick.
• Avoid touching your eyes, nose, and mouth.
• Stay home when you are sick.
• Cover your cough or sneeze with a tissue, then throw the tissue in the trash.
• Clean and disinfect frequently touched objects and surfaces using a regular household cleaning spray or wipe.
• Follow CDC's recommendations for using a face mask. CDC does not recommend that people who are well wear a facemask to protect themselves from respiratory diseases, including COVID-19. Face masks should be used by people who show symptoms of COVID-19 to help prevent the spread of the disease to others. The use of face masks is also crucial for health workers and people who are taking care of someone in close settings (at home or in a health care facility).
• Wash your hands often with soap and water for at least 20 seconds, especially after going to the bathroom; before eating; and after blowing your nose, coughing, or sneezing.  If soap and water are not readily available, use an alcohol-based hand sanitizer with at least 60% alcohol. Always wash hands with soap and water if hands are visibly dirty.