Pocket-sized U.S. Constitutions and blank sticky notes for questions were placed on every seat at the Roy Grange on Saturday as 2nd Legislative District House candidate Matt Marshall greeted supporters, friends and community members. 
Marshall wore a Navy blue blazer with the Constitution's preamble lined in white text on his tie as he prepared for his hour-and-a-half talk in the dimly lit main room of the grange. Outside, a yard sign advertised free coffee. 
Marshall is running for a seat in the Washington state Legislature, and he's challenging one of the most powerful Republican incumbents in the state.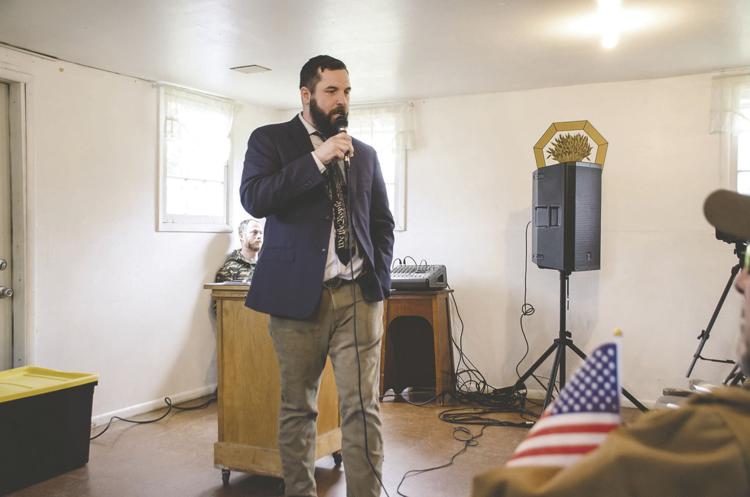 "I think turnout was great. There's statewide support, not just in the 2nd Legislative District. And I think that represents the frustration and having a candidate that is willing to stand up against the establishment," Marshall said following the kickoff and first fundraising event that garnered more than 100 people. "Not necessarily trying to upend a political system (or) cause problems, but just to represent the people." 
Marshall is running for Republican House Minority Leader J.T. Wilcox's seat, 2nd Legislative District's Position 2, which has been held by the Yelm lawmaker since 2010. 
As a candidate, Marshall believes Wilcox has overstayed his welcome as a career politician, adding that he doesn't see him as being conservative enough to represent his constituents or even the party. 
During his kickoff, he told attendees that he knows it's an unwritten rule to never challenge an incumbent Republican in blue Washington, but the stakes are too high. 
"It's almost a cliche for me to say it now, but we have a government that's become of the elite and for the special interests," Marshall said.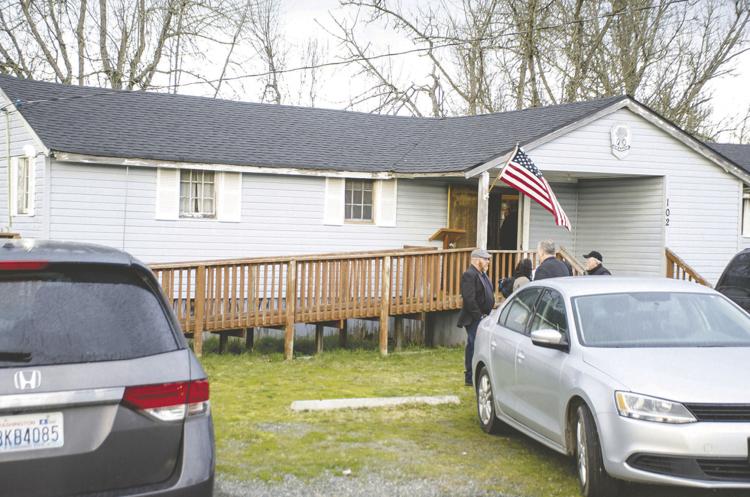 A founding member of the  Second Amendment nonprofit Washington Three Percenters and recently-elected director on the Eatonville School Board, Marshall announced his candidacy about a month ago during a gun rights rally at the state Capitol. 
During his announcement, he voiced support for state Rep. Matt Shea, R-Spokane Valley. In early December, Wilcox removed Shea from the caucus, took away all his committee assignments and called for his resignation following the publication of findings from an independent investigation by the Rampart Group that accused Shea of taking part in "domestic terrorism." The accusations were linked to his alleged involvement in three armed standoffs, including 2016's Malheur National Wildlife Refuge takeover. The investigation found that he was a leader in the Patriot Movement and has close ties to militia groups.
Shea has denied the allegations, though he didn't take part in the investigation. 
"I think that what you will see is that if we remove him as the House Minority Leader, you'll have other actual conservative leaders stand up to take that roll and we'll actually be able to have better representation of conservative values, which in turn will better represent what the 2nd Legislative District stands for rather than what they're getting," Marshall said. "We're losing a lot of ground as conservatives, even here in the 2nd by lost legislative seats." 
Last week, National Public Radio ran a nationally syndicated story on how Marshall plans to take his independent Three Percenters group away from the far-right labels they quite frequently receive from the public and the press. 
The national Three Percenters are often labeled as a far-right paramilitary group with anti-government viewpoints. Marshall is hoping to steer his own group away from those labels. 
"We're stuck in the middle. The true neo-Nazis hate us, which they should because we hate them too," Marshall told NPR. "And the far left, who we don't have any problems with, hate us because they believe that we're neo-Nazis." 
If elected to the 2nd Legislative seat, Marshall previously said he would not resign from his seat on the Eatonville School Board. 
"It's near and dear to my heart," he said. "Part of it is I want to be a part of my kids' education." 
Maureen Peltier, a Washington National Guard veteran and supporter of the patriot movement, was one of Marshall's most interactive supporters at the event. 
The 46-year-old is originally from Bonney Lake but now lives in Oregon. She was profiled by The Seattle Times in 2016 for supporting members of the Malheur National standoff, despite voicing that she did not support the actual occupation. 
"We're all running up against the same brick wall," Peltier said of representation in state legislatures. "What I'm seeing in Matt Marshall, I'm extremely proud of … He's starting out small, but I fully support that." 
Peltier said the tense political landscape in Washington definitely mirrors what's been going on in Oregon. She noted that conservatives and "patriots" need to back a grassroots movement to fix issues. 
"Our next step is to get behind them," Peltier said. 
Joseph Brumbles, a local Republican who Is running in the primary for lieutenant governor, was at Marshall's kickoff. 
"Him and I actually talked to get him to run against J.T. Wilcox, so I'm glad he's running," Brumbles said. 
In 2018, Brumbles mounted a failed campaign against Congressman Denny Heck for his seat representing the 10th Congressional District. This time, he's hoping to bring his conservative influence to the state Legislature
When Peltier asked Marshall during the question and answer session what they could do to support their movement, the 2nd District hopeful had a clear message. 
"The biggest thing any person could do that 65 percent of people don't do is vote. The second thing is to get your neighbors to vote," Marshall said.