Yelm turned 96 years old this year and, according to Mayor JW Foster, the growing southeast Thurston County city is thriving and more resilient than ever.
Foster gave his annual State of the City address Tuesday, Feb. 11, to a crowd of approximately 80 attendees at the monthly Yelm Chamber of Commerce member forum and luncheon.
During his 30-minute address, Foster touched on multiple aspects of the city's business and detailed a vision for the future of the city.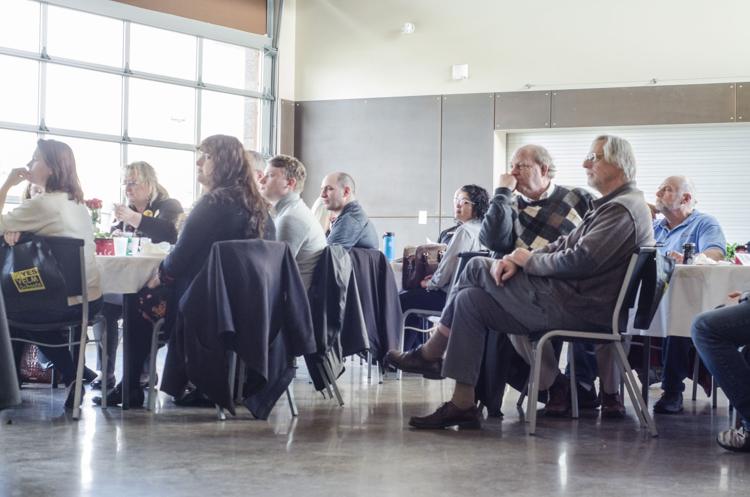 "We have adversity coming, but we're going to deal with it, keep our smiling faces on, work together and involve as many partners as we can — but we're going to stay happy right here in Yelm," Foster said at the end of his address. "And so we're going to face all the challenges that come our way in the future, and we'll continue to spread the pride of the prairie for at least another 96 years."
Foster began his speech discussing the stark 180-degree turn the city has experienced in its financial reporting. He attributed the success to a cultural shift — revising a small, dysfunctional financial department into an efficient machine.
"In just the last three years, we've made an incredible amount of progress. Three years ago, when I came into office in August of 2016, one of the first things I was presented with was audit findings from the state Auditor's Office," Foster said. "In just three years, not only do we have a clean audit for the first time in a very long time, but we've actually received two awards … That's a pretty impressive turnaround in three years."
The city currently employs a staff of 56 and continues to grow.
Foster also touted the city's dedication toward improving recreational facilities and noted the installation of the Yelm City Park splash pad and play area.
"We know that a strong community starts with a strong place to recreate in. So we spent a lot of time and energy on creating things like parks, and trails, and safe sidewalks to walk on so that we can become connected as a community," he said. "It used to be I joked that all roads lead through Yelm. I still say that when I'm talking to legislators. But now, all roads seem to lead to Yelm. We've become a destination in Thurston County and around the region."
The mayor also gave credit to a number of new events and traditions that have been established by residents over the last couple of years.
The city wouldn't be what it is without its police who work in and around the city in multiple aspects, Foster said.
"Our police officers are self starters. We have a very safe community because they don't just sit in their car and drive around. They get up. They have more self-dispatch calls than they have dispatch calls," Foster said. "They are connected to our community and they truly are constables on patrols, and we have a lot to be proud of with our police force."
The mayor also gave thanks to the city council and other members of the city staff, including public utility workers.
Business is also thriving in Yelm. Since 2016, the city has processed 116 new business licenses.
"That's an amazing number," Foster added.
He also said Yelm has had assistance from its regional partners, which include the Port of Olympia, the Thurston County Economic Development Council and the Thurston County Chamber of Commerce.
Over the next decade, the city will face a number of notable challenges. It will have to face escalating growth of population and find solutions to the issue of housing diversity and availability. The city will need to address a failing water reclamation facility and collaborate on long-term solutions. Yelm must also work with legislators and regional partners to improve the sensitive transportation corridor that runs through the city's streets and address issues related to limited water rights.
Foster said the city is on the forefront of water conservation and noted that it's currently working with the state to secure more water rights.
Despite being three times larger than it was 15 years ago, Foster said the city has drawn the same rate since then.
Foster said the council will work hard over the next year to determine a fix to the city's aging water reclamation facility.
"It's not something we'd like to do, it's something that we have to do and it's going to cost money. The council is going to have to work hard to provide us with a package that we can feel good about," Foster said.
The mayor also noted that WSDOT will have to fix the McKenna three-way intersection in addition to finishing the Yelm Loop in order to provide a comprehensive fix to the city's transportation issue.