It was a worst-case scenario for Darlene "Kaye" Ginter, her 15 chickens and her 9-year-old pitbull mix named Lacey.
The 64-year-old Nisqually woman woke up Thursday morning to a distressing sight. The Nisqually River had flooded a good majority of her street, Sixth Avenue, and was well within 500 feet from the doorstep of her rambler.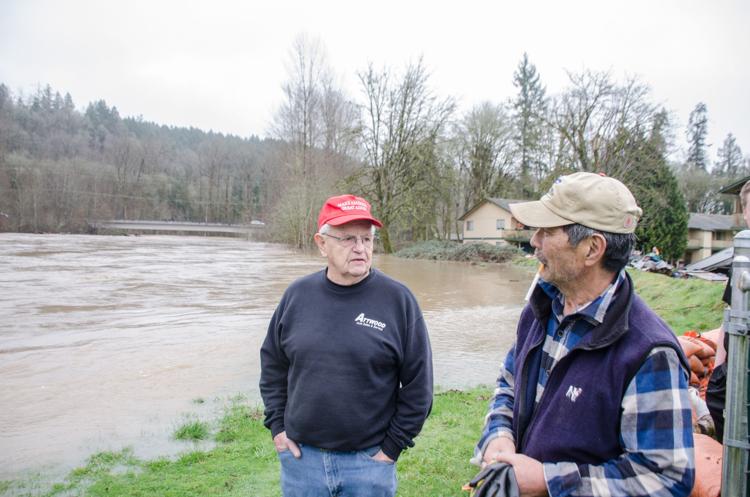 At around noon, deputies with the Thurston County Sheriff's Office began going door-to-door notifying residents of a level 3 evacuation, with the river just a stone's throw away from her house.
Ginter's daughter and brother began packing up her most prized belongings into a red Nissan pickup and her Chrysler PT Cruiser.
She didn't know where she'd go. Maybe she'd go stay with her son, she thought. But she knew she couldn't stay home.
"This is my home. I've seen some of my neighbors start packing up and going, and they've probably lived here longer than I have," the resident of eight years told the Nisqually Valley News. "There's nothing I can do."
Thurston County Emergency Management urged residents living around the Nisqually Delta to evacuate early Thursday morning following a decision by Tacoma Power to increase flow on the Nisqually River from LaGrande Dam due to heavy mountain rain.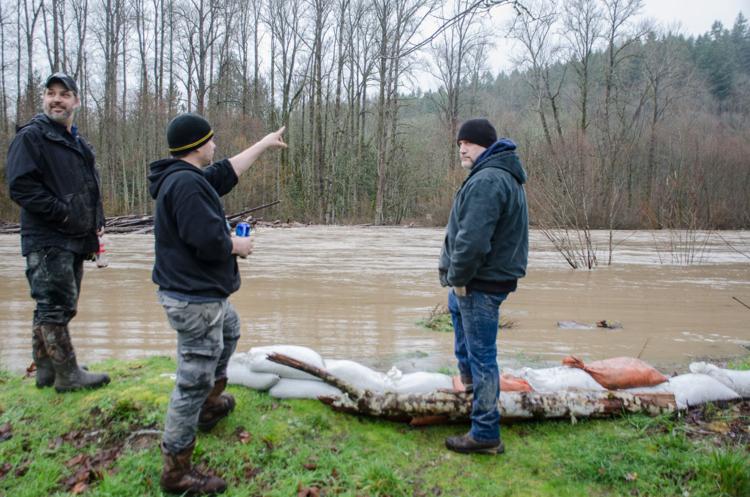 As the river raged and rain fell, large numbers of residents living by the river packed what they could into SUVs, cars, trailers and even moving trucks on Thursday afternoon.
Tacoma Power was expected to increase the flow from the dam to 17,000 cubic feet per second by 1 p.m. Thursday, according to a notice issued by Thurston County Emergency Management, prompting a call for residents around Nisqually Cut Off Road SE to evacuate the area by 4 p.m.
an estimated 700 to 1,000 people were expected to be impacted by the flood, according to a Thurston County press release.
In the early morning hours of Thursday, the Nisqually River entered into a minor flooding stage, according to the National Weather Service. The sudden influx of water influenced some comparisons by residents of the 1996 floods.
Larry Attwood, 83, and Jae W. Lee, 74, stood outside near the Riverside Manor Apartments as large trees floated by Thursday afternoon.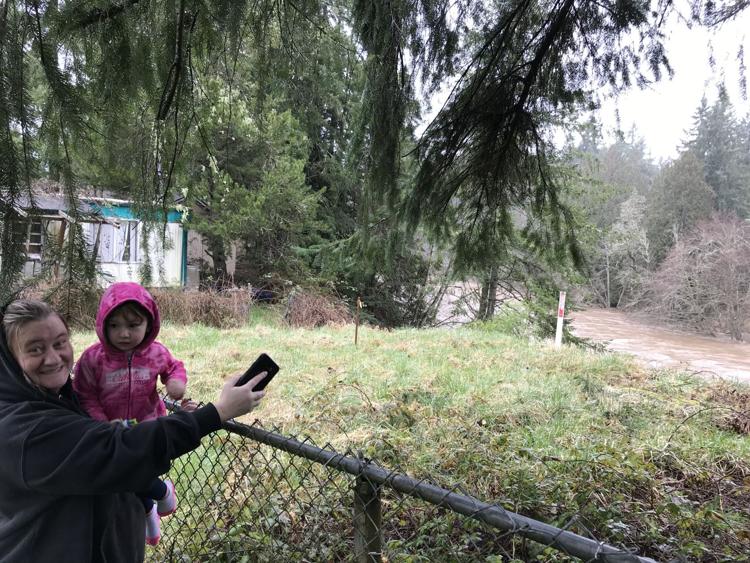 Attwood has lived at his residence near the river since 1966. Lee, who owns apartments nearby, and Attwood said they weren't worried about flooding too much this go around.
"We're used to it. It'll dry out, right?" Attwood said with a grin. "It gives us something to look at."
Sandbags were stacked in a neat row, about 3 feet high, around the area near the apartments. A couple dozen residents watched as large trees periodically floated by on the river.
"I live in a house just up the hill. I'm out of the way," said Emilio Corrado, 22, one of the onlookers. "The (logs) just keep coming. There's whole trees — roots and all — that come down every five, 10 minutes. I've lived down here my whole life. I've been fishing down here since I was little. Definitely the highest I've seen it."
Dennis Lohrengel, 74, of Yelm, came down to the delta to help one of his friends evacuate. He said he's been watching the river over the last couple of days and said the flow really began to escalate Wednesday going into Thursday.
"Today's the worst I've seen it," he said, pointing to the Sixth Avenue access site. "I was parked at the handicap where the railing is a day ago and the water was right at the bottom of the railing. Today, it's over the railing and probably 15 to 20 feet deep now."
Lohrengel said the situation was very concerning for nearby residents, especially those whose houses have been flooded.
Thurston County officials estimate the evacuation could last through Saturday.
A temporary shelter opened up for residents affected by the flood at Camp Gwinwood. The camp, established at 6015 30th Ave. SE in Lacey, was opened by the American Red Cross at 4 p.m. on Thursday.
North of Yelm, at Nisqually Pines, residents along the Nisqually River on Holly Street and Briar Street watched as the river roared.
Residents along the river living within the homeowners association were warned by the county to keep a watchful eye on the river and be prepared to evacuate at a moment's notice.
Carrie Baldwin, 43, a resident on Holly Street, said she was in the process of moving to a new residence when she learned the news of the river flooding.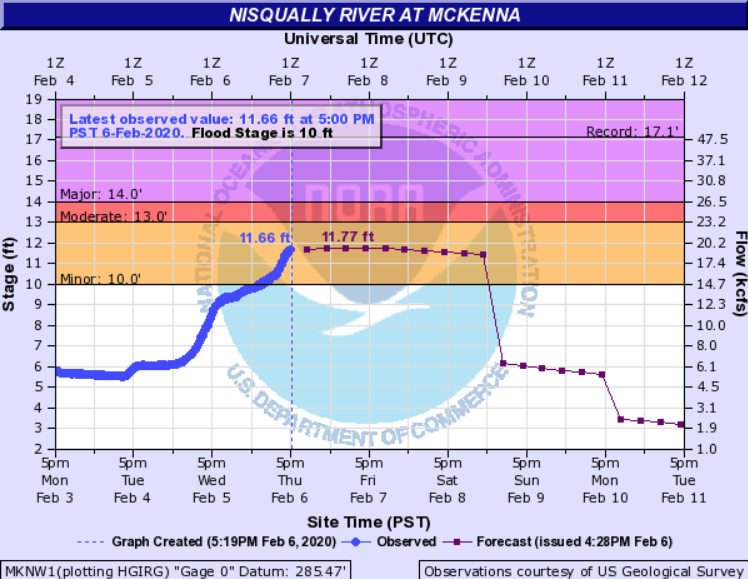 "We're so high up, but I'm just worried about how fast it's going. I've seen trees floating down," Baldwin said.
She said she's seen some neighbors come and go, but nobody's in a hurry to evacuate. As of Thursday afternoon, there were no orders for residents to evacuate.
Holding her 2-year-old daughter, Orion Bigby, by the river, she took a Facetime call from her husband.
"Do you see this? It's almost triple in size," she said, pointing the front-facing camera to the river.
Baldwin admits the flood scare has given her a sense of urgency.
"I'm revving it up. I'm going to go to rent a U-Haul truck. We're supposed to be moved out by Saturday," she added.