Only two names will show up on the general election ballot in the 10th Congressional District race — Beth Doglio and Marilyn Strickland, both of them Democrats. 
But, despite that detail, a former Republican candidate for lieutenant governor is launching a write-in campaign to rally right-leaning voters to send him to Washington, D.C. 
"People in the 10th have to have a choice … It's a contrast to the two candidates on the ballot," Marty McClendon, 53, said of his campaign. "It's still a high hurdle to get people to write in your name when you're not on the ballot."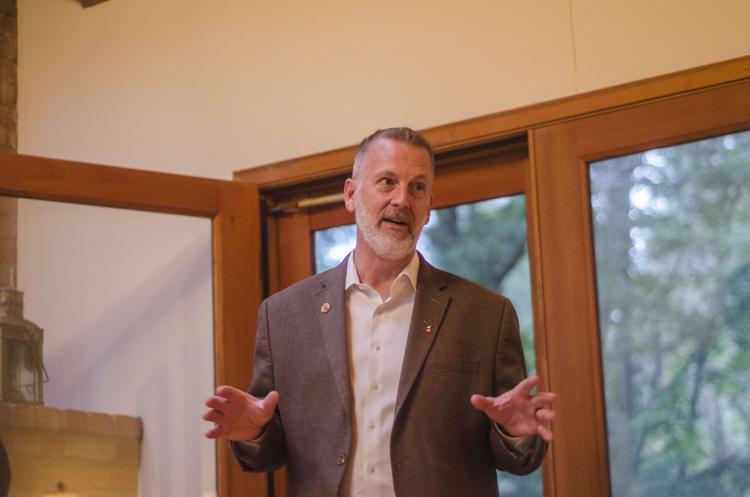 McClendon and local Republicans held a meet-and-greet Friday, Sept. 18, to spread the word about his campaign, discuss issues and round up a base of funding to compete against the two Democrat campaigns that have collectively raised more than $1.2 million, according to Federal Election Commission records. 
With the two candidates splitting the Democratic vote on Nov. 3, McClendon says the plan is to rally enough Republicans out to vote — at least 90,000, he says — in order to flip the moderately-blue district red. 
Republicans are also looking for a similar result in the race for lieutenant governor after Democrats Denny Heck, the current 10th Congressional District representative, and Marko Liias made it through to the November ballot. The party is throwing its weight behind a write-in campaign for Joshua Freed. 
Under Washington state election regulations, it's not guaranteed a candidate from each party moves on to the general election. Only the top two candidates from the primary move on to the finale. 
McClendon said his experience running as one of the 11 candidates in this year's primary has set him up for a running start in the race for the 10th Congressional District.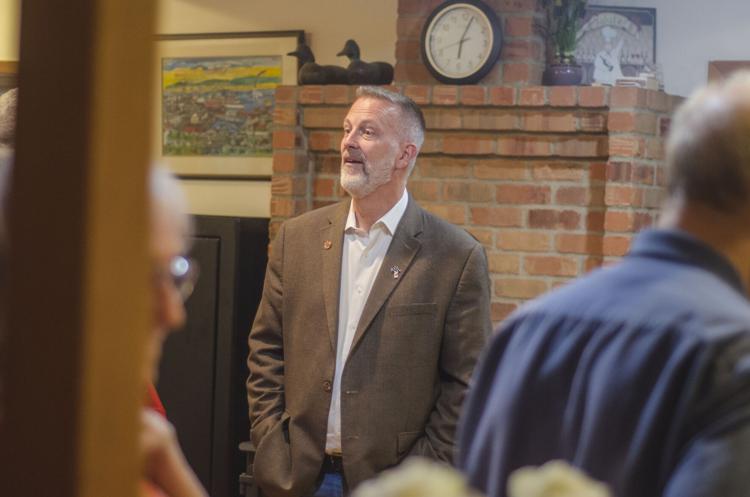 "When it comes down to this particular race, I would have not been ready to jump into and win a write-in race in a district like this if I had not already been running," he told voters, who were huddled over glasses of wine and hot, homemade chilli. 
McClendon is a relatively familiar face in Washington state politics, having been involved with the Republican Party in one way or another for about 20 years, though he has never served in public office. 
In 2010, McClendon mounted a campaign against Democratic incumbent Derek Kilmer for Washington state's 26th Legislative District Senate seat. He ultimately lost to Kilmer by about 17 percentage points. 
Kilmer and McClendon would face off again in 2014, this time for Kilmer's open seat representing the 6th Congressional District. 
McClendon also mounted an unsuccessful campaign in 2016 against Cyrus Habib for lieutenant governor and a campaign against Democrat Emily Randall for the 26th's Senate seat. McClendon came within striking distance against Randall in 2018, losing by 0.2 percentage points and 104 votes. 
In addition to serving as a precinct committee officer, McClendon has served as the Pierce County Republican Party's chairman from 2016 to 2018. Professionally, McClendon worked 13 years as an anesthesia technician, 21 years as a real estate broker and six years as a radio host (he currently hosts a program called "Doug and Marty Vs. The World."). 
Though McClendon currently lives on Fox Island, which is located in the 6th Congressional District, he said he would be willing to move to the 10th if he were to win. Candidates for the U.S. House of Representatives are not required to live within the district that they're running for. 
Describing McClendon as a statesman without the political career, Karen Larsen, 31st Legislative District chair and McClendon's campaign manager, said his campaign is about bringing forth common sense, constitutionally-sound ideals to government. 
"He's what represents American ideals and American values," she said. "Marty represents coming back to those constitutional values." 
Jim and Vivian Radach, of Rainier, were attendees at the event. They live across the street from where the event was happening and came out to learn more about McClendon's platform. 
"I believe in our Constitution, the way that it was written. And if we can get back to that, I think we'll be better off," said Jim Radach, 64, adding that they were not planning on voting for either Doglio or Strickland. "I really like the area. I would just like to see things get back to the way things used to be." 
Looking at McClendon's profile published in the August voters guide, the Radaches said McClendon's ideals fell in line with how they would traditionally vote. 
"I believe that we're in a spiritual war, a cultural war, and a war for America, for our values," McClendon said. "It's being played out in the political arena, and I think we have an opportunity we've never had before." 
Back in the August primary, candidates who preferred the Democrat party accumulated about 54.67 percent of the roughly 226,000 voters who cast ballots in the district. Republicans garnered about 41.47 percent, or 93,722 votes. 
Given a similar result, perhaps with an even larger voter turnout for the presidential election, McClendon says the situation looks promising. 
In the August primary, Doglio garnered about 15.16 percent and Strickland 20.35 percent in a crowded field looking to replace Heck. The ratio of voters will more than likely be higher for both Democrat candidates this November given their names will be the only two on the ballot. 
But that's not phasing McClendon, who's relying heavily on name recognition and the spread of word by 10th Congressional District Republicans, he said.