Todd Wernet, a longtime firefighter with deep roots in Kitsap County, was named earlier this month as the new fire chief of South Pierce Fire and Rescue. He replaces former chief Lloyd Galey, who reportedly took a position with the Washington State Fire Training Academy in North Bend. 
A second-generation firefighter, Wernet has been on the job for about three weeks now and is looking to deepen the trust the station has with its community and district. 
Wernet said he was originally drawn to the job by a desire to serve and go on exciting calls. As a fresh face out of high school, Wernet said he started out volunteering at Kitsap County Fire District 7, now known as South Kitsap Fire and Rescue, where his dad formerly worked as fire chief. 
"The day I turned 18, I moved into the fire station and I've been there ever since," said Wernet, 54, who stands about 6-foot-6 and sports a partial horseshoe moustache. 
As his love for the job increased, so did his understanding of the craft. Three years out of high school, Wernet recalled he was working several jobs — during the day he worked construction, at night he worked as a bouncer, and on the side he would put in anywhere from 40 to 60 hours volunteering intermittently at two different departments. His dream was to be a career firefighter.
Now, with more than three decades of experience under his belt, Wernet said he has realized that one of his favorite aspects about the field is teaching younger firefighters about how to do the job.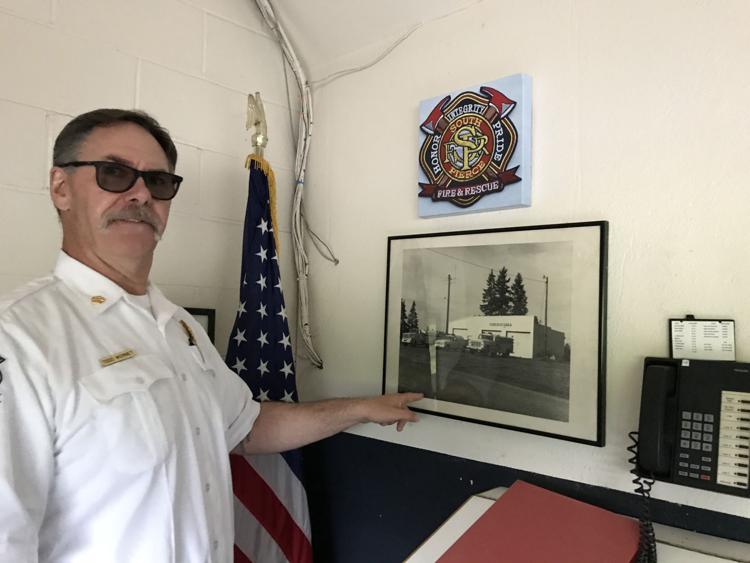 "The tradition of the fire service is what draws. It's romantic. You're a superhero, you're there to help people. But once you get past that, it's the craft. The fire department's changed. People don't just sit around and play cards and wash fire apparatus anymore," he said. 
After volunteering, Wernet's first career gig was as a firefighter at the Keyport shipyard in Kitsap County. 
He later accepted a position working with the Seattle Fire Department, the department where he would spend 22 years. He worked most of those years at the Belltown station, Ladder 4. 
Wernet and his wife later moved to California and worked at the Diablo Canyon Fire Department at one of the last nuclear plants in the state. His stint in the Golden State would prove to be only temporary though. After six years, his wife, who worked for Boeing's fire department, accepted a transfer back to the Pacific Northwest, and so he went along. 
He and his wife then moved to a half-acre plot in 2018 and were quickly able to build their one-story home in the northern Puyallup area. He then got a job with Boeing working for about a year and a half when he got tapped by recruitment for the job at South Pierce Fire and Rescue. 
Looking at the current operations at South Pierce, Wernet said it gave him something akin to a nostalgia kick.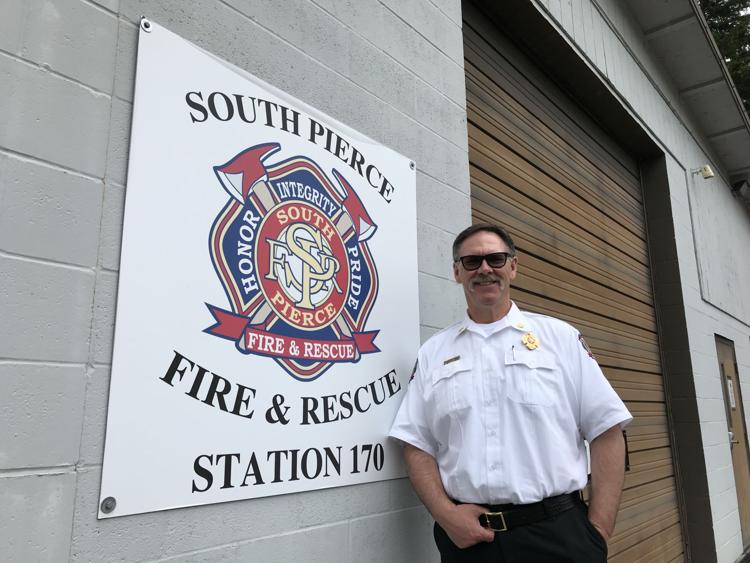 "When I started 37 years ago, Kitsap County was a two-person engine company, one paramedic, one lieutenant, cross staffing a medic unit and an engine — just like we are here today," Wernet said. "I've been so impressed with the firefighters and lieutenants here because they do so much more with less." 
The hiring for the chief position initially began in the fall of last year. The board of commissioners started a second round of searches in December after not finding what they were looking for. 
Wernet, who was one of two final candidates, underwent four rounds of online interviews with a number of stakeholders and professionals from the area. It was clear from the start that Wernet's background and leadership abilities would be a good fit for the community. 
"With his background, both in the fire service and in the private sector, he made a lot of sense," South Pierce Fire and Rescue Board of Commissioners Chair Kevin Kneeshaw said. "He's a great fit. He brings a lot of leadership qualities that we felt we wanted to embrace as a fire service." 
Outside of the department and on fire calls, you'll likely find Wernet either attending church at Edgewood Bible Church or riding one of his two Harley-Davidson motorcycles.