Following a Monday deluge and additional rain Tuesday, the Skookumchuck River in South Thurston County has risen to flood stage and is expected to continue to rise into Wednesday before receding.
A gauge at Bucoda showed the river at minor flood level as of Tuesday morning with projections showing it will continue to rise to moderate flood levels, according to the National Weather Service.
A flood warning will remain in place through Thursday.
Elsewhere, the Chehalis River at Grand Mound was also at minor flood level Tuesday morning. It's expected to rise just short of moderate flood level before receding.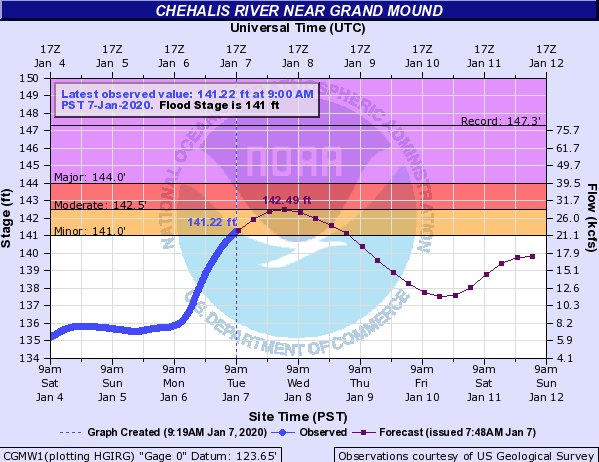 "Another 1 to 2 inches of precipitation is forecast for the southern Cascades and Willapa Hills until a cold front moves through the area late this afternoon and this evening," the weather service reported. "Snow levels will be near 5,000 feet ahead of the front. Precipitation rates and snow levels will lower behind the front. The Skookumchuck River near Bucoda will rise above flood stage this morning and remain above flood stage into Wednesday."
Floodwaters are expected to close area roads and might impact some residential areas in Bucoda.
Elsewhere, the Nisqually and Deschutes rivers are not expected to reach flood level.
The weather service reminds motorists to not drive through flooded areas.