The fishing was off and on but the skies were clear out on the Nisqually River Monday, Sept. 7, as dozens of anglers took to the waters near the Old Pacific Highway trestle. 
Anglers from all over the region took to the water for a relaxing Labor Day of casting and relaxing. While not everybody walked away with a fish, a number of anglers were able to reel in large salmon.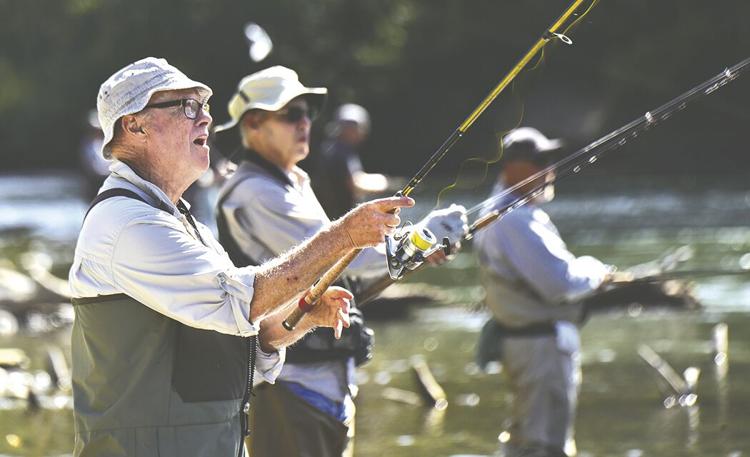 Mike Humphrey, 61, of Port Orchard, described the experience of fishing on the lower Nisqually River as "frustrating at times and rewarding at other times." 
"I'm hoping to take one home, but maybe not today," he said. 
The action was slow for Humphrey at around noon on Monday, he said, likely because he missed the morning rush due to the warming waters. Temperature readings were nearing 80 degrees — good for those anglers looking to add some color to their face, but not so much for the shy salmon and trout. 
Humphrey, who was located just north of the trestle and stood in line with at least 30 other fishermen, said he got out on the water around 7:30 a.m.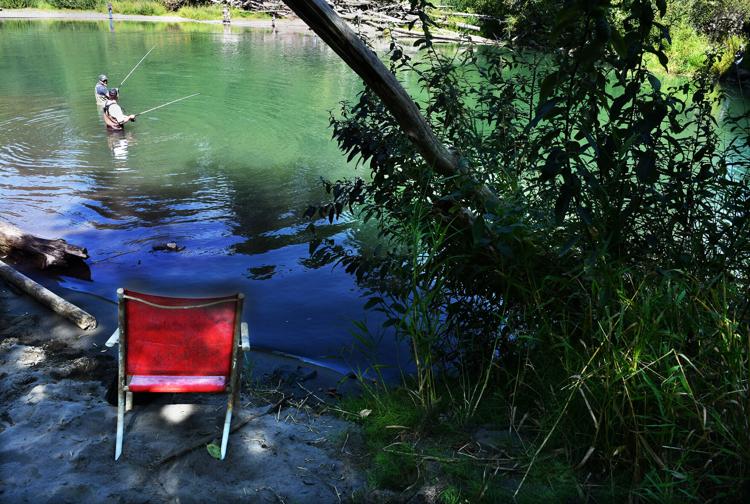 He snagged a line around 9 a.m., but at around 10 a.m. caught a Chinook salmon weighing an estimated 30 pounds. He was quick to release him as Chinook, wild coho and chum are required releases during the July 1 to Nov. 15 season, according to the Washington Department of Fish and Wildlife. 
Just down the stream from Humphrey was Bob Meyer, 76, and John Schmedake, 66, both who drove down from Olympia. 
It was also slow going for the duo, they said, with only one or two bites on Schmedake's line. For Meyer, it was his first time out on this section of the Nisqually River. 
"It's slow. Like, as in zero," he said, adding that it was about time for them to start packing up their bags. 
James Jones, 39, was just getting settled in though. He drove up from Centralia for a solo fishing trip, he said. He added that most of his choice spots down in Lewis County were closed. 
"I'll be here a while," he said with optimism. "They're jumping and stuff, there's just not that many in here."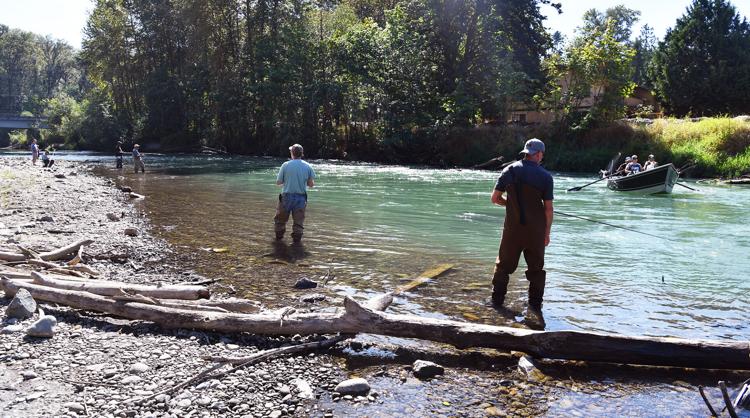 Jones added that he fished the Nisqually last Friday and didn't reel in a catch. 
According to Fish and Wildlife, salmon and trout fishing on the lower Nisqually River — between the delta mouth and the Mud Run Road Bridge — is open until Nov. 15. Double poling is not allowed.
Up to two adult salmon may be retained, and the minimum size to take home must be 12 inches. There are currently restrictions on retaining Chinook, wild coho and chum. 
Trout caught on the lower Nisqually, as well as other rivers and streams statewide, must be 8 inches in size, and the daily limit is two. There are currently restrictions on cutthroat trout and wild rainbow, according to Fish and Wildlife. 
Similar trout fishing regulations apply on the upper Nisqually River between the Mud Run Bridge and 400 feet from the Alder Lake Dam.