Editor's Note: This is the third in a four-story series profiling the Yelm High School students who were recently appointed to serve as student liaisons on the district's board of directors. An additional story will be published on junior representative-in-training Azariah Carter. Stories were already published on junior Skylar Myers and senior Natalie McLaughlin.
When Yelm High School Principal John Johnson approached student Kya Ramirez last year about applying for a student position that was being formed on the district's school board, she didn't think twice — she knew she wanted in.
"There was zero hesitation. I was so excited to get involved in something new," Ramirez, now a senior at Yelm High School, recalled.
At the start of this year, she started attending meetings as an onlooker, first in-person then, with the spread of COVID-19, by digital means.
Ramirez was excited to be in the thick of it, having served recently on the Thurston County Fair Board and also as ASB secretary, she knew the positive impact she could have on her fellow students by just reaching out and being part of something larger than herself.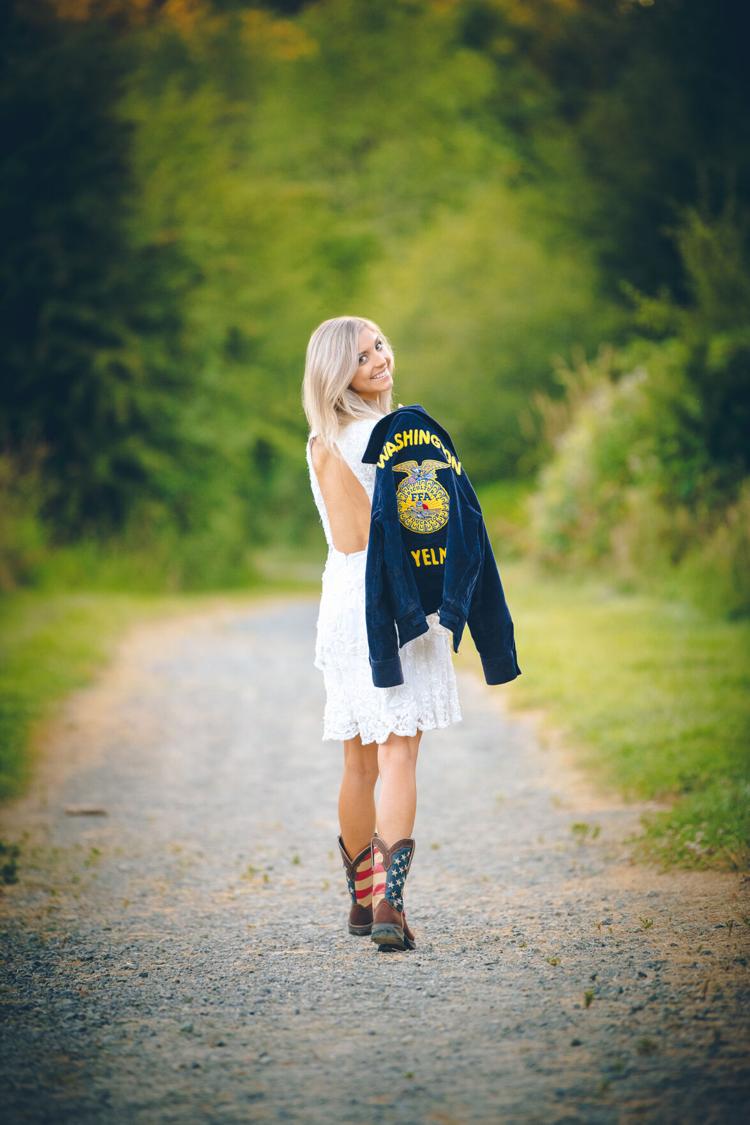 "Community is such an amazing and important aspect of my life," she said. "Having a lot more support like the community support is such an amazing aspect because I feel like I can drive myself to be better."
It turns out that Ramirez got that position. In September, she was sworn on to the Yelm Community Schools Board of Directors and serves alongside fellow senior Natalie McLaughlin.
Though they don't have a vote on the matters and policy decisions that come to the school board, they — as well as junior representative-in-training Azariah Carter and junior alternate Skylar Myers — have been busy giving the board their thoughts from a student's perspective.
Ramirez, the December 2019 Rotary Club's student of the month, also serves as vice president of both Yelm chapters of FFA and National Honor Society. In addition to her club service, she also runs cross country and track and field.
To teachers, Ramirez is seen as an asset in the classroom who brings forward a team-building attitude.
"For Kya, the cool thing about her is she is not a student who comes in with the attitude of 'I know it all.' She comes in ready to learn. And it's nice to have a student whose mindset is like a clean slate," said Matt Mounts, science teacher and FFA advisor.
No matter the task, Mounts said she makes it a memorable experience for all involved and helps boost morale, especially when it comes to helping lead her FFA chapter.
"On the FFA side of things, she's probably been the most activite student we have on animal SAE (supervised agricultural experience) projects," Mounts said. "Kya tends to be active year round … She really just wants to see kids succeed, and she goes out of her way to tell them they did a good job."
She is also very active in youth market sales, and has been involved in showing at the Thurston County Fair the past two years it's taken place.
Looking back at her freshman year and what started her involvement in school extracurriculars, Ramirez said she made an effort to get involved in anything and everything she had time for.
"I started as freshman class secretary, and everything just kind of flew from there," she said.
She was introduced to FFA her freshman year by one of her science teachers and her neighbor, Bella Burke, who graduated in 2019. She was never involved in FFA, she said.
Then came the task of selling her parents on FFA. Ramirez recalled that she tried to sell them on the public speaking and employment skills she'd learn, all while learning about the agricultural industry.
Ramirez's family bought into it, and were excited to learn that she could house any animals she wanted to raise at the YHS barn.
"When I told them there was a barn at high school, they were so for it and I feel like they're the reason that I've won grand champion three years in a row now and won grand champion pig," said Ramirez, who notes that she's looking at a career as a nurse practitioner.
When it comes to COVID-19 and the social distancing restriction put on the students and their learning, Ramirez said she hasn't experienced many learning challenges though she knows that many of her peers are likely struggling.
She's enjoyed the time with her 12-year-old brother though, she said, noting that "brothers are sometimes really hard, but I've been trying to be the best roll model I can be for my brother. He's also really supportive of me … I always try to be there with him."