Note: This is the second in a two-part series on a local woman celebrating her 105th birthday. See the first installment at the link below.
After their honeymoon at a Chehalis hotel in early 1931, Reece and Lola Bowen settled into a little house on the south Thurston County property of Conrad Chancy "Con" Bowen, Reece's father.
They paid $5 a month in rent.
"He had you pay for everything, even if it was only five dollars a month," Lola (Ritter) Bowen Stancil, who on Jan. 31 will turn 105, recalled of her father-in-law, who worked at Mutual Lumber Co. in Tenino.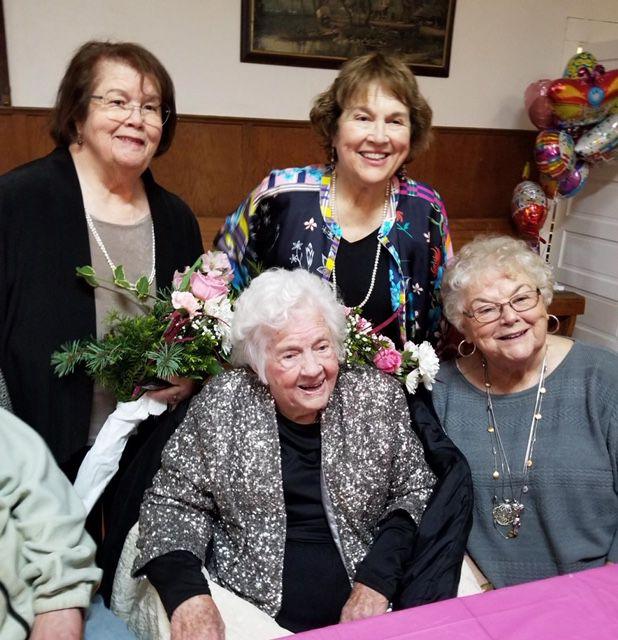 While Reece worked in the woods, Lola found a seasonal job at an Olympia cannery, peeling pears, peaches, and apples. She was so fast, they promoted her.
"They put me in a little room," she recalled. "They called it the bughouse because you took the bugs out of the apples after they were all peeled and everything was all ready to go into the can, then I took over. I was mad because they called it that. But that's all right. I made more money than anybody."
She gave the money to her husband, who was building a log cabin on property adjacent to his father's land.
"My father-in-law wanted Reece to buy that log house property, and we did. It wasn't very much."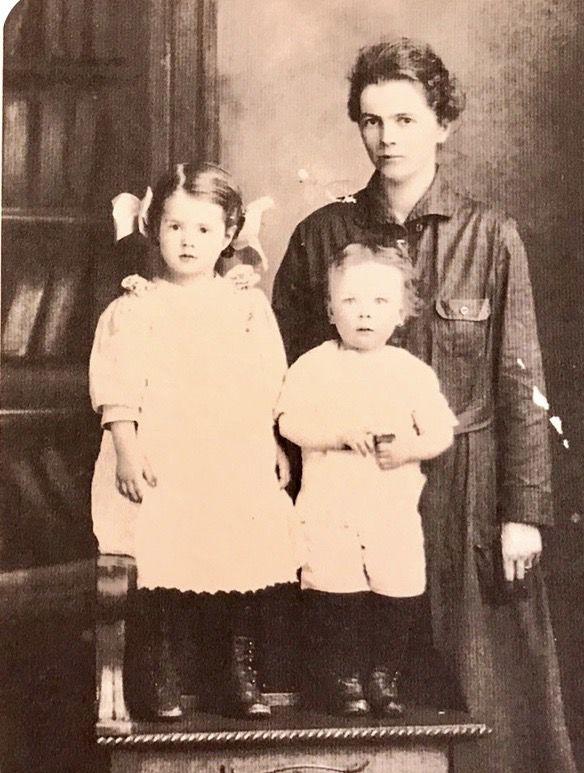 The land had gone into foreclosure during the Depression, so they simply paid the taxes on the two lots — $7 each. They later bought four more lots. They paid for the log house as they built it over a period of two years and lived off the land — a large garden, berries, nuts, and venison, although Reece never hunted out of season.
"Reece was a good provider," Stancil recalled.
When they married, Reece worked four horses, but they sold two. They also owned a blue Essex Coupe with a rumble seat in the back.
"They had food and love —" said their daughter, Reneé Corcoran of Olympia.
"Lots of love," Stancil added.
"He was a good, strong, honest, ethical man," Corcoran said of her father.
While they were building their log cabin, Lola's parents left the Davis family homestead in the Skookumchuck Valley after fire destroyed their home and moved into Tenino. Lola's mother, Clara Lenora "Nora" (Davis) Ritter, had been born in that house. They had earlier sold the land to the Tono Coal Company.
Reece and Lola started their family in 1937 with the birth of twin daughters, Reola Lee and Leola Dee. But at Easter in 1938, only a year and three months after her birth, Leola became sick.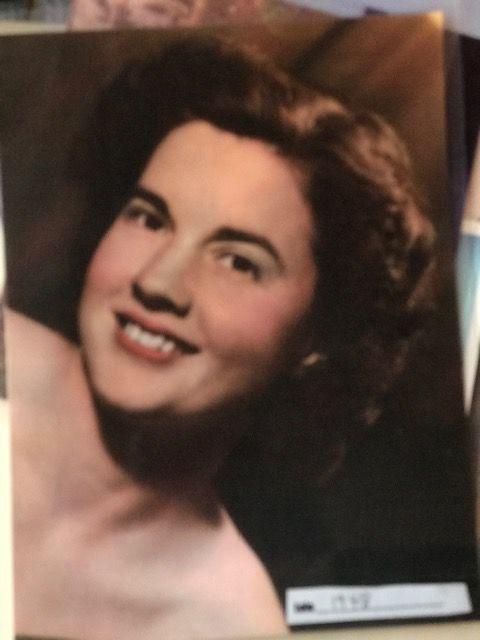 "We took her straight to the hospital, but there wasn't anything they could do," Stancil said.
Leola died of pneumococcal meningitis April 17, 1938, at the age of one year and three months. She's buried at Forest Grove Cemetery in Tenino. Their daughter Connie was born in 1940, and Renée arrived in 1942. Lola was a tough disciplinarian.
"I remember wondering when I was a kid, wondered if I'd ever go a day without getting a spanking," Corcoran said.
"I wanted everybody to do exactly what I wanted," Stancil said with a shrug.
During World War II, Reece was a gyppo logger operating Bowen Arrow Mill, which moved from one job to another. He employed five men. His wife did his bookkeeping.
"He did all right," Stancil said. "He was a fine businessman."
Although he wanted to serve in the military, his job was considered essential to the war effort.
After the war, during a logging boom, the Bowens moved to Humboldt County in California, where their daughters attended school. A dozen years later, when the lumber industry floundered, they returned to Washington in the early 1960s. By then, their girls were grown, so they began a career working with troubled boys through the Washington Youth Development and Conservation Corps, a state program started in 1961 to provide jobs and vocational training to young men 16 to 21. They required the boys to drop knives and any other weapons into a pillowcase upon arrival, initially at Fort Flagler State Park near Oak Harbor, Washington, and later at camps near Sun Lakes in Eastern Washington and near Beacon Rock alongside the Columbia River east of Portland.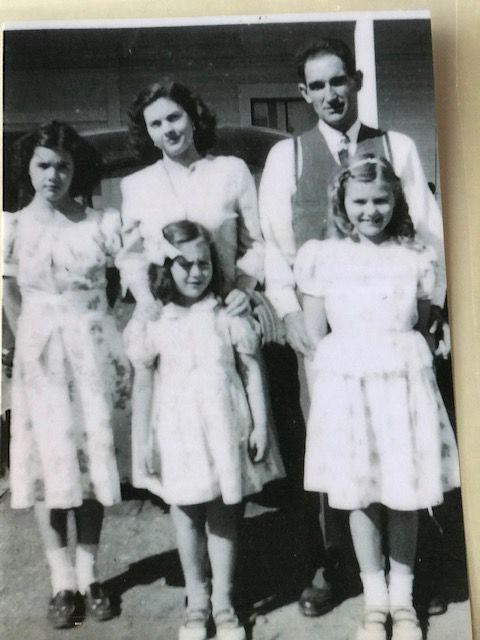 "It sounded like something I wanted to do because we had been loggers and I had been cooking for the loggers," she said.
"Mother did the cooking and the lecturing, and Daddy showed them how to work, cutting trees down, building trails, making log bridges," Corcoran said.
Her mother was a great cook, and many of the parents of the 650 boys they mentored offered them thanks. One young man called them before he shipped overseas to fight with the Navy in the Vietnam War.
"He said he was heading for Vietnam and Mother was the only one that he could call to tell goodbye," Corcoran said.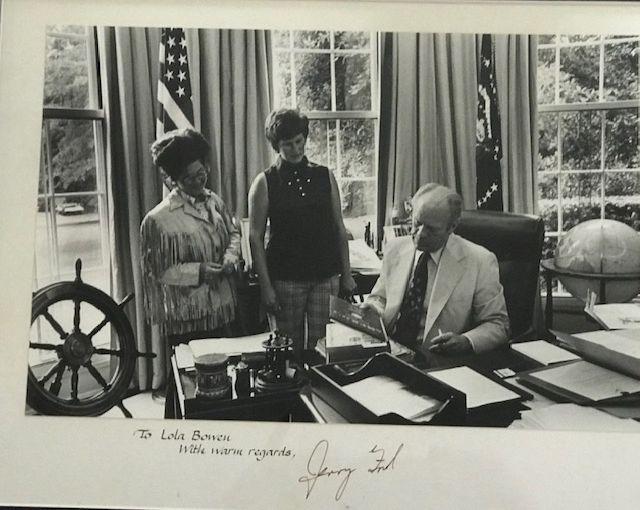 After nearly seven years, though, Reece and Lola had to quit. Reece became sick with emphysema and died March 12, 1971, at the age of 63. They had been married 40 years.
Two years later, when diagnosed with breast cancer, she initially refused treatment. Then Corcoran asked, "If any of your daughters were in that situation, what would you want them to do?"
She underwent surgery for a mastectomy, but she wasn't happy about it.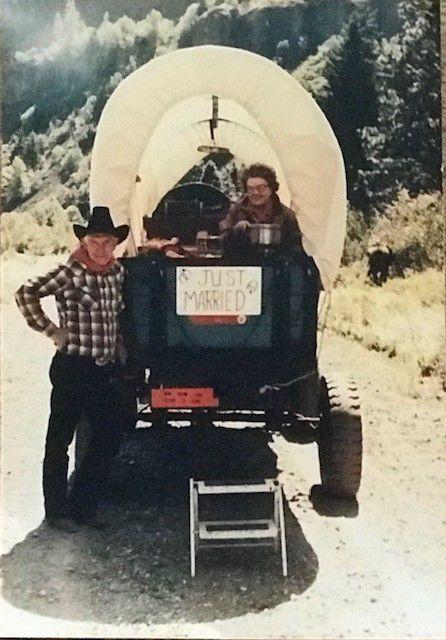 Then, in 1975, she saw a wagon train touting the nation's bicentennial rumble through Tenino and asked for a ride.
"I got on the wagon train in Tenino, took my suitcase, and I was only going to go for a day or two, and then I got involved, and the next thing I knew I was in Washington, D.C."
She dressed like Betsy Ross in a blue long-sleeved pioneer dress with a white underskirt and carried a book that people signed along the cross-country route. She collected 5,000 signatures in her book, including President Gerald R. Ford's.
"Governor [Dan] Evans appointed her official representative for the state of Washington for the Bicentennial Wagon Train," Corcoran said. He signed her book too.
"I had a ball," Stancil added.
She met President Ford in Kansas, Mrs. Ford in another state, and then the president again in the Oval Office.
"The president came out and said, 'You didn't come in. So you come in here now, and you sit down, and when you leave here you can go out and tell everybody I was in the White House and I visited with the president."
She returned to Tenino in her van accompanied by her daughter and grandson.
"When they finished in Valley Forge, then my son and I flew back there and spent the last days there and then we came back across the United States with Mother," Corcoran said.
Among those who saw her dressed as Betsy Ross were Clarence and Eva Stancil of Tenino. When Eva fell ill with cancer, she told her husband to find Lola Bowen and marry her. She died in 1980, leaving her husband and four grown sons.
Five years later, Clarence Stancil and Lola Bowen married. They were wagon masters for the Washington State Centennial Wagon Train in 1989 that traveled from Fort Vancouver to Tumwater. They had been married nearly 30 years when he died in 2014 at 94.
But his widow isn't through living. What's the key to her longevity?
Stay happy and keep going.
Stancil never smoked, although Reece did. When someone offered her candy, she'd eat one bite and throw away the rest. She weighed 105 most of her life, except during her pregnancies and in later years. She didn't drink.
"I had a smidgeon once in a while when he did," Stancil said.
"I saw her have her first full drink when she was 98." Renee said. "My niece bought her a margarita."
And it helps to have good genes. She descends from a line of long-lived women.
Her mother, Nora (Davis) Ritter, died at 91.
Her grandmother, Emma A. "Nettie" (Ticknor) Davis, lived to be 99.
Her great-grandmother, Elizabeth Anne "Lizzie" (Ford) Ticknor, died at 76.
And her great-great-grandmother, Nancy (Shaw) Ford, who settled on the Centralia prairie that bears her surname, died at 91, just 15 days shy of her 92nd birthday.