A new mural featuring Mount Rainier and the local landscape has taken shape in the heart of Yelm.
It all started with Steve Craig imagining a bright mural on the Wolf building, home to The Triad Theater.
"It took about five years to get approval from the city of Yelm, especially because the building is on the historic register," Craig said. "The history of Yelm is important to me. Mount Rainier is the backdrop to our community."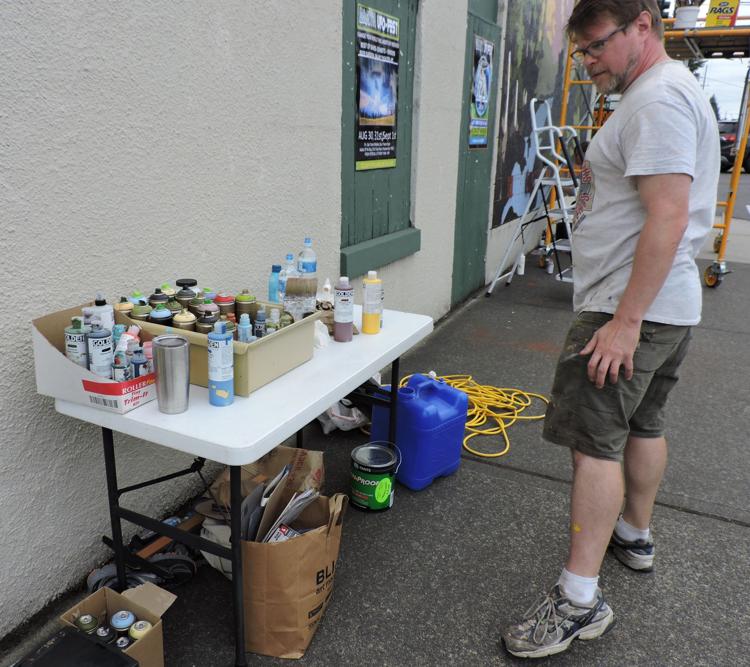 He especially likes that Director of Arts Cameron Cassidy Jayne named the theater The Triad.
"Mount Rainier has three peaks, so it's fitting," he said.
Craig noted that "Yelm was a jump off point for early mountain climbers."
The first man to climb Mount Rainier was P.B. Van Trump, along with General Hazard Stevens, in 1870. Van Trump then coaxed his friend John Muir to come see Mount Rainier. Muir arrived on horseback and Van Trump guided Muir to the summit in1888.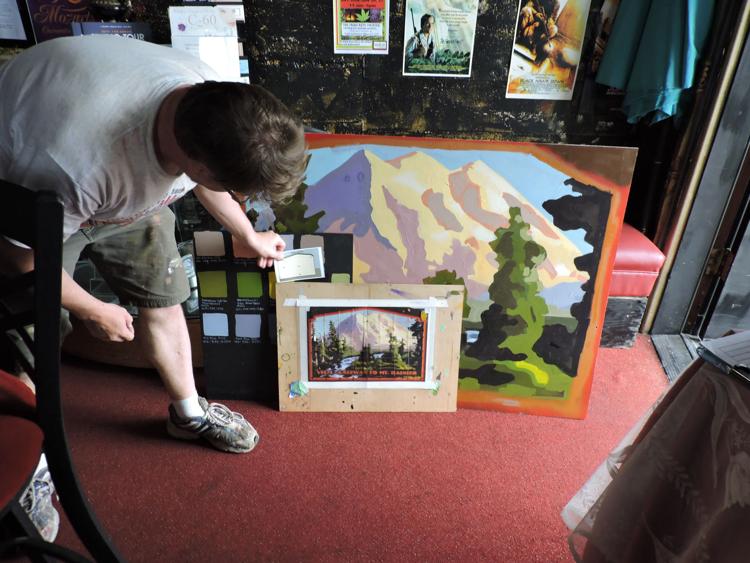 When Craig was searching for an artist to paint the mural, Seth Leamer's work caught his eye, and he ultimately asked him to paint it.
Leamer explained some of his thoughts behind the creation of the Mount Rainier mural.
"I like to think of my murals as big paintings because I focus on light, color and atmosphere to expand the sense of depth," he said.
He was inspired by the Work Projects Administration (WPA) National Parks posters.
When Leamer was a kid, he never planned to be an artist.
"Some of my relatives are artists, but I just never thought of myself that way," he said.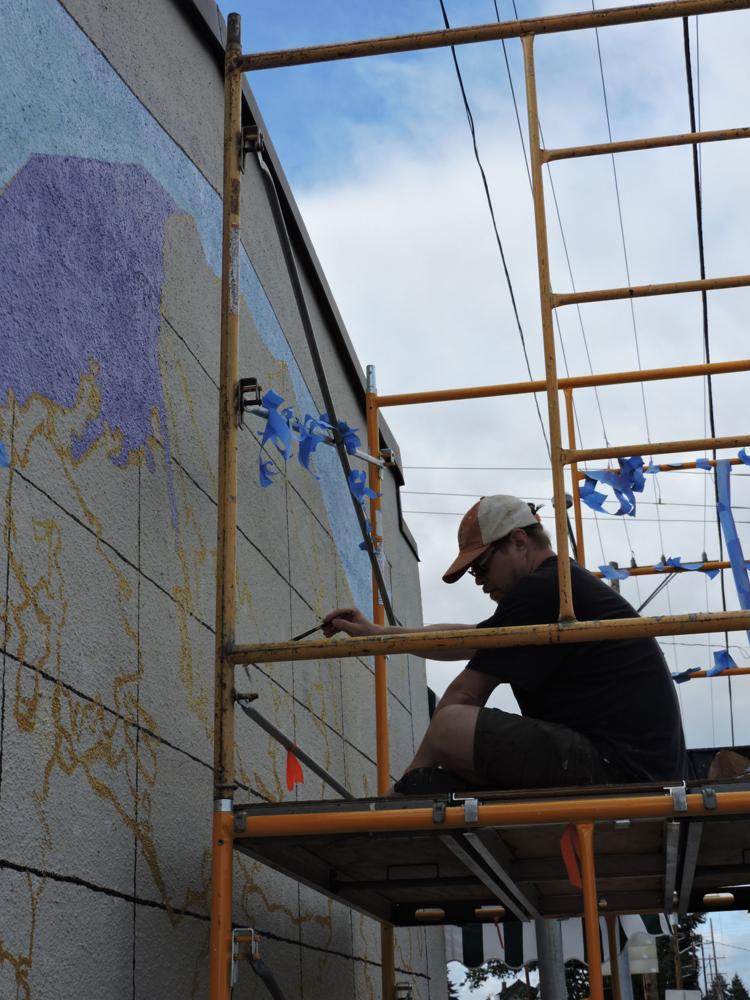 He grew up in rural Pennsylvania and got a scholarship to the University of Rochester in New York. He concurrently got bachelor's degrees in history as well as ecology and evolution. After school, he moved to Boston to work at a company focusing on web development. He had a desire to create art, so while working, he took continuing education art classes at the School of the Museum of Fine Arts in Massachusetts for a couple years.
"Then the dot com bubble burst and I didn't have a job anymore," he said. "I applied at Trader Joe's and that job kind of morphed into an art position."
He created multiple murals for 11 Trader Joe's stores in Washington and Oregon with the goal of invoking neighborhood-focused themes that customers would immediately recognize.
Finally, art snared him for good and he went back to school at the Pacific Northwest College of Art in Portland, getting his bachelor's degree of fine arts in painting. He still works with websites today as an accountant to support his art.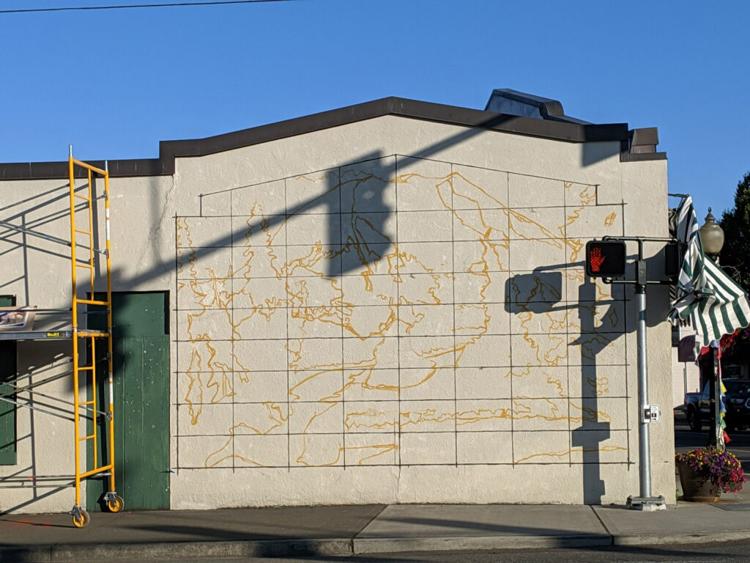 "But every weekend I'm at the studio," Leamer said.
Kirsten Brady, from Portland, assisted him with the mural by painting the lettering. She and Leamer met at Trader Joe's where she also worked. She has also attended the Pacific Northwest College of Arts.
"I have a drafting background," she said.
"I just can't do letters," said Leamer. "She's my co-conspirator. I'm so thankful she's helping me."
"I don't want to even think about how many hours went into planning this mural," Leamer added.
The original painting was done digitally on a computer.
Then, Leamer had to go to the Wolf building and measure the wall and figure out how to proportion the painting to neatly fit on the side. He drew a grid over the original painting, then came to Yelm and drew a proportional grid on the building. That's how he enlarged the painting to fit the wall.
"The real mitigating factor was the texture of the outside wall. It's very bumpy and is hard to paint," Leamer said.
He had to experiment with various paints to figure out how to best get the colors he wanted. House paint didn't work. There wasn't enough color variety. Plus, using paint brushes over the vast, bumpy area wouldn't do the job.
What seemed best, and had a lot of colors, was acrylic spray paint.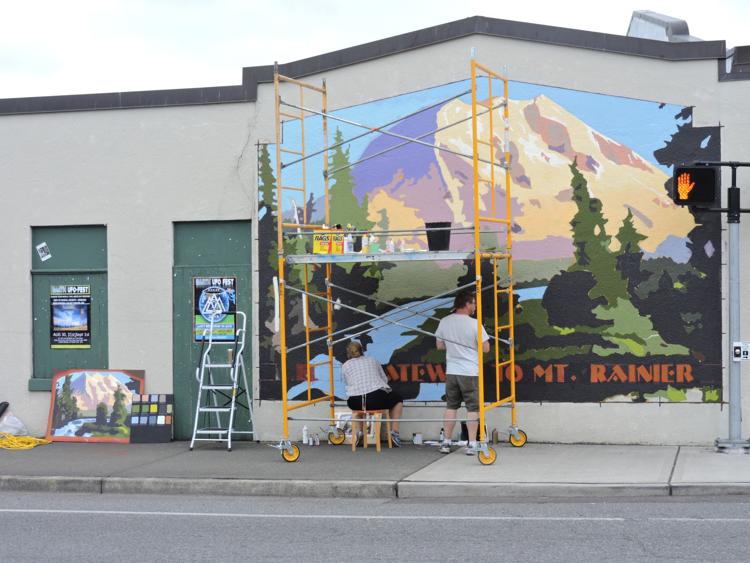 "I've never used spray paint before," he said.
The spray paint covered the large areas. To paint the details with brushes, he used acrylic paints, hand mixing as he needed.
One of the best things about painting the mural?
"Meeting all the people who walked past and stopped to talk," Leamer said. "People in cars slowed and honked and shouted encouragement. I loved the interaction."