Tenino Young-At-Heart Theatre artistic director Isaac McKenzieSullivan said he knew when they made the decision to cancel this year's performance because of COVID-19 that it was the right decision to keep people safe. 
It was a heartbreaking decision because it was the first time in 30 years the community theater has canceled a performance.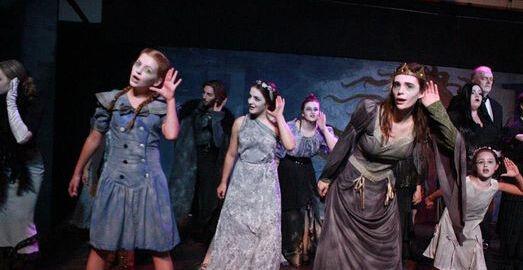 But instead of dwelling on the negative side of the experience, he prefers to point out the tremendous opportunity they received: the time to plan a true celebration of 30 years as a theater, which will debut online this weekend. 
"This 30-year celebration, we wouldn't have thought to do it if this hadn't happened," he said.
"COVID has forced people to think outside the box," said Isaac's wife, Theresa McKenzieSullivan.
Tenino Young-At-Heart Theatre was begun by Isaac's father, Bob McKenzieSullivan, as a way to give Isaac and his brothers and friends something to do during the summer. Bob had done work on theater projects in his job as a middle school teacher and noticed that there might be need for such a creative outlet for Tenino youth.
"The neighbor kids and I would put on skits for our parents like 'Robin Hood' which kind of ended up being one hour of sword fighting with very little plot aside from that," Isaac said.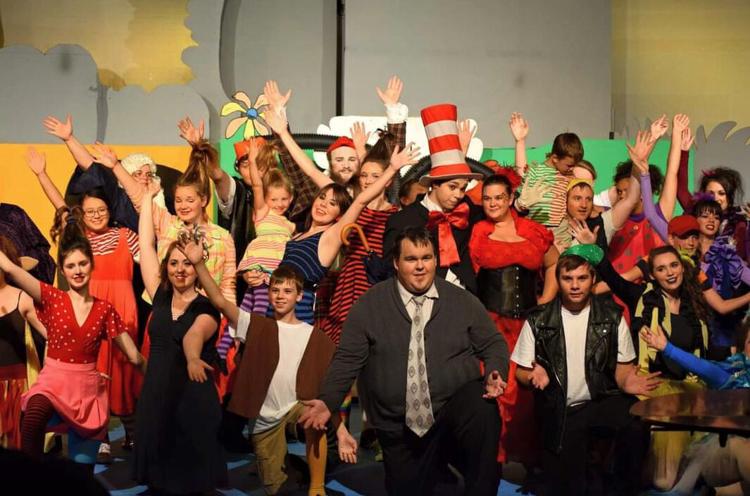 The first show of what was initially called the Tenino Youth Theatre took place in the summer of 1990 at St. Peter's Catholic mission in Tenino. The very first show was "Johnny Appleseed" and it featured a cast of 20 local kids. The intention was never for the experience to be a one-off, said Bob's wife, Eileen McKenzieSullivan.
"There was this feeling we've got to keep doing this to give the kids something to do," she recalled.
The Catholic church hosted the summer theater for three years and then Tenino High School has provided their space each summer since. Isaac said one of his goals for the future of Tenino Young-At-Heart is to eventually find a permanent space for the theater. He noted that while the school has been a very gracious host, it is difficult to have to pack all of the equipment, props, costumes and other necessities in and out every summer. Isaac and Theresa said they envision having a place where they can have a shop and storage for their theater items as well as a space they can share with the community.
"And it would be cool to work with other theaters in the area to create seasons that fit together," Isaac said.
When Tenino Young-At-Heart began, Tenino hadn't had a theatre program before. For the first few years, the program and its youth casts grew and so did the popularity of their annual production. Eventually, more of the community wanted to get involved so the name was changed in 1994 to Tenino Young-at-Heart Theatre to encompass actors and actresses of all ages.
"The adults wanted to play, too," Theresa said.
Theresa grew up performing in a circus but had never acted on stage when she and Isaac met during college. She said she first became acquainted with Tenino Young-at-Heart Theatre when she was a percussionist for "Guys and Dolls" in around 1999. Her first role as an actress would come in 2008 in "Cinderella" and she was hooked on acting. She recalled first hearing about her husband to-be's family's theater and being intrigued.
"I just thought it was really cool that it was a family thing," she recalled of getting involved in the theater. "And they're great teachers and directors. I didn't know anything about stage right, stage left but they were very patient."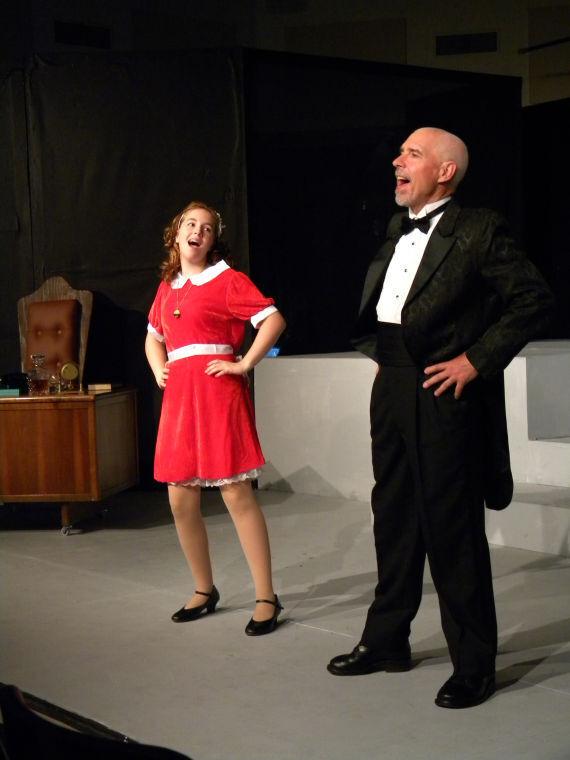 Theresa and Isaac's son, Nathaniel, 10, is now the third generation of their family to be part of Tenino Young-at-Heart Theater and the acting life. He was in his first production at the age of 2 and the parents say they try not to push too hard, letting him choose when he does and does not want to be part of it. But they said they hope the theater will continue to be part of his life as it has been for them.
"I like to think he'll be a part of the legacy of father to son, which is pretty cool," Theresa said.
"What I'm hoping happens for him is that he really develops a family outside his family through it," Isaac added.  
In thinking back on the legacy of Tenino Young-At-Heart's 30 years, Isaac said the theater has created a place for people to come together. Lasting friendships have begun on their stage. They've even had a few marriage proposals there. Long-time actors have thrived and more than a few first-timers have tried their hand at the craft. 
"I think it really fills a need in the community, not just Tenino but Thurston County, Lewis County," Isaac McKenzieSullivan said. "There's people who need that outlet that wouldn't get it otherwise because we work in the summer, we open it to everyone and it's free."
After "Hunchback of Notre Dame" was canceled, the McKenzieSullivans said they began thinking of what they could do to celebrate 30 years on a virtual platform. They began earlier in the summer with weekend watch parties of some of their favorite past shows. For this coming weekend, they put together a program featuring past and present cast members performing medleys of songs from past shows. The original program was recorded, socially distanced, at the community park in Tenino. The program is free, though the McKenzieSullivans said supporters can donate to the non-profit theater through a button on their Web site and there and also plans to have an online auction as part of the weekend's festivities.
"We just wanted to be able to share it with the community," Theresa said.
In the near future, the McKenzieSullivans say there will likely be a Tenino Young-At-Heart Theatre production in the summer of 2021 but for now, they are reserving "Hunchback of Notre Dame" for the summer of 2022 because it is a show with a large cast. Not knowing what COVID-19 restrictions may still be in place this summer, they said they do not yet know what that show will be but they predicted it might be a smaller show with a smaller cast, which could accommodate social distancing if it is needed.
"We have back up plan after back up plan after back up plan and it all involves sharing theater with this community," Theresa said.
Tenino Young-At-Heart Theatre 30th Year Celebration
7 p.m. Nov. 20 to 10 p.m. Nov. 22 on Tenino Young-At-Heart Theatre's YouTube channel or from the link at teninoyoungathearttheatre.org or @teninoyoungathearttheatre on Facebook