In the three years Kevin and Kathy Farley have lived in Yelm, they have really lit up the place. Literally. 
Each year for Halloween, as well as Christmas, their house and 1 ½ yard blaze with color and light displays that are becoming an attraction in the city. 

"We started out with about 30 items," said Kevin. 
"I'm always keeping an eye out for more and different items," he said. 
His garage and storage building are packed full of decorations when they are not out in the yard.
As a child growing up in Alabama, he remembered families decorating their houses for Christmas. He told himself that if he ever had property, he would decorate for other people to enjoy.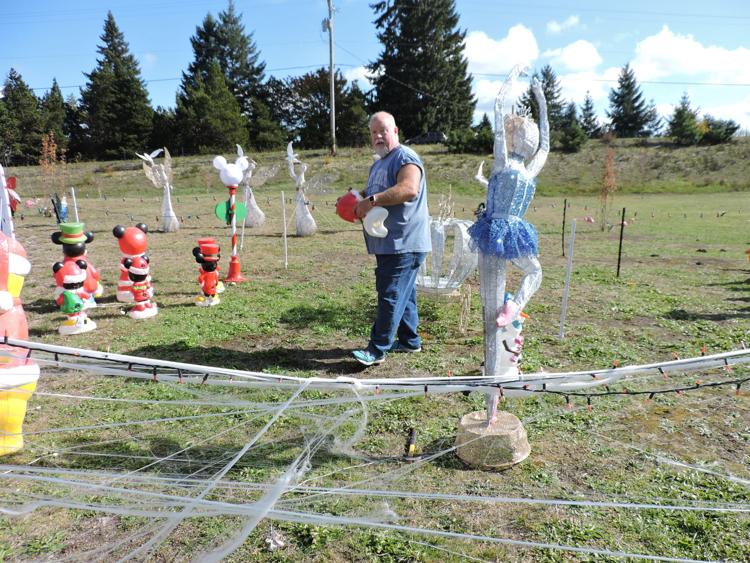 "My wife wanted to decorate for Halloween," Kevin said. "I was mostly thinking of Christmas, but she convinced me to put things up for Halloween."
Last year on Halloween, 642 people visited, he said.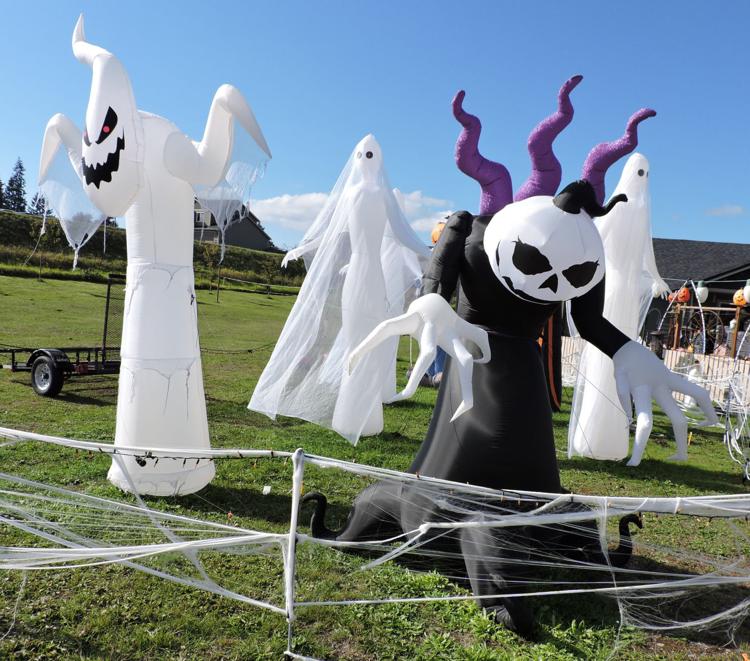 "I stood outside and counted them," he said. "My wife handed out the candy at the door." 
This year he might be the one handing out the candy.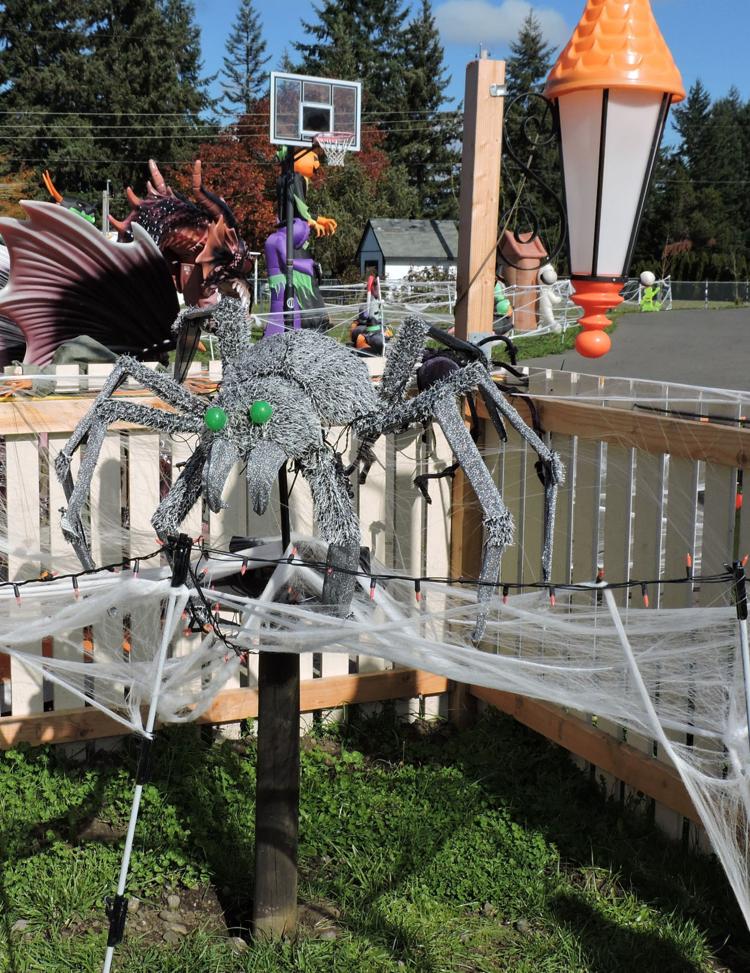 "My wife's father lives with us and she is his caregiver, so she was running back and forth between handing out candy and helping her father," he said. "It was hard on her."
He slowly begins preparing for Halloween each year. 
"I started at the end of September," he said. "I'm disabled. I have nerve damage so I can work only so many hours a day."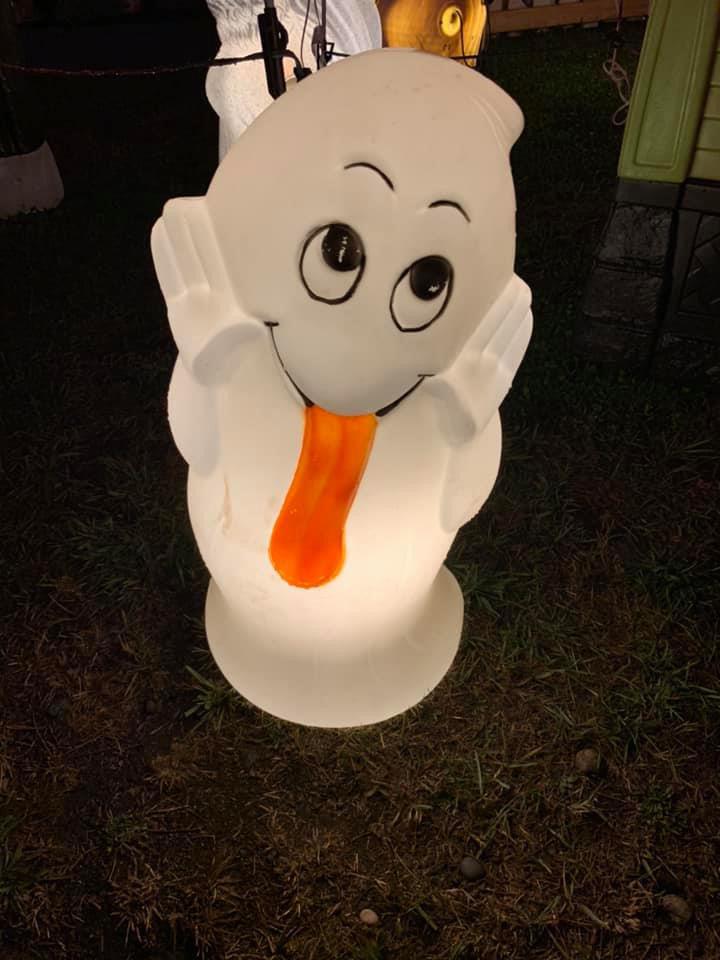 He has created a spider-webbed, light-gleaming maze. He's fashioned creations titled Graveyard, Creepville, Spider Land, Dragon World and more. When the gate on the road is open, people can drive into his yard, park and walk through his creation. 
"I was in retail for 30 years," Kevin said. "I did designs for companies."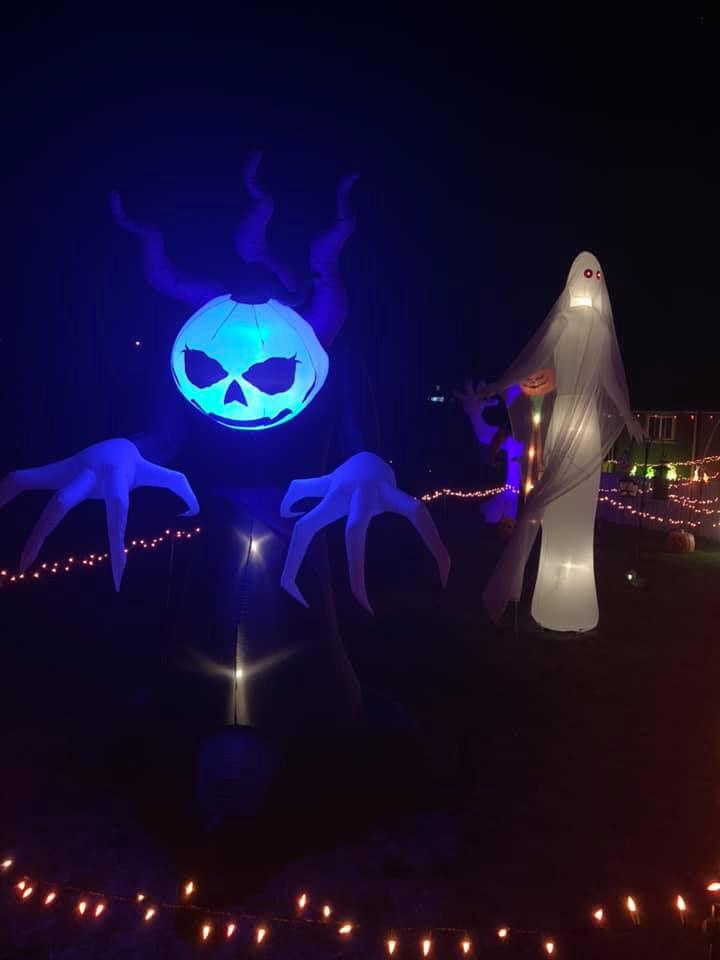 Now he uses his creativity as a way of pleasing people, especially children, with his yard displays. 
"People really like the blowups," he said. "Like the big ghosts." 
Where does he get all this stuff? 
"Most are from Walmart, Lowe's, Home Depot, places like that," he said.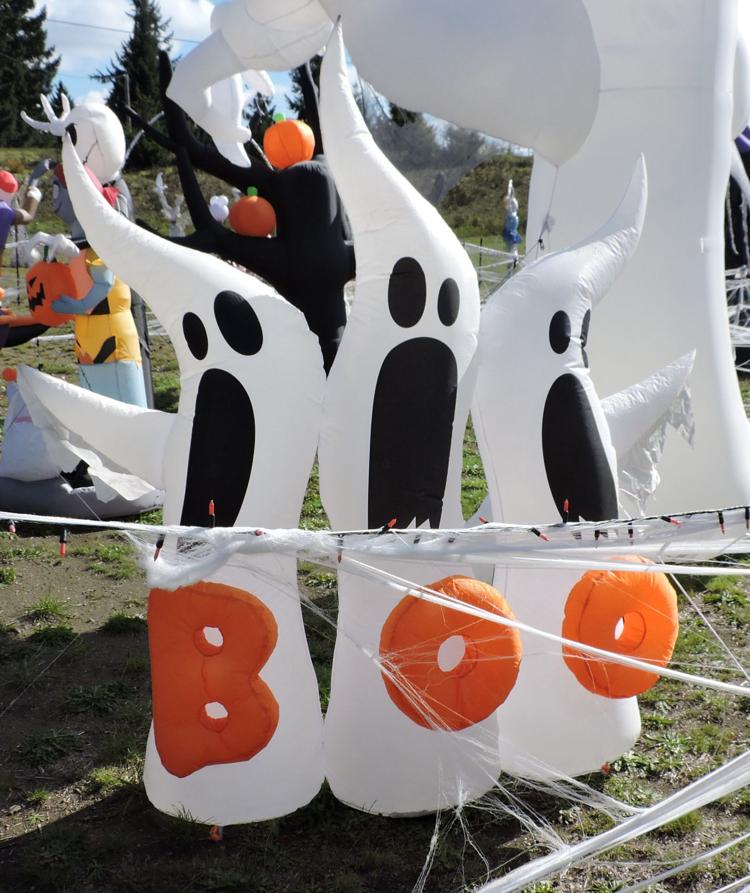 Once a year he goes to Port Orchard to a friend's huge decorations swap meet. 
"People come from all over the US to swap, sell and buy decorations there," he said. 
One of Kevin's favorite displays is the plastic blow molds from decades ago. Blow molding processes have been used for over 100 years. In the early 1960s, manufacturers began to produce blow mold Christmas decorations, then companies went on to producing other holiday decorations. Kevin has many pumpkins and streetlights that are old blow molds. 
The question many people want to ask Kevin is, how big is the electric bill? 
"It's high," he admitted, laughing. "More than $3,000 for the holiday period." 
For little kids who may be afraid of some of the Halloween monsters and ghosts, Kevin will light up some of the early Christmas decorations he's already started putting out. 
"Parents can take their babies and little kids to see Christmas stuff while bigger siblings can brave through monsters and ghosts," he said. 
Three of Kevin and Kathy's grandchildren live nearby and can walk through the lit-up wonderland and listen to the silly and somewhat scary voices. 
"Most of the grandkids are in Alabama and the south," he said, "but they get to see it on Facetime." 
He has wisely put out a donation box for those looking to support his endeavors. 
"If everyone who comes by puts one dollar, that would help with the electric bill. But we do this because we've kind of adopted the neighborhood. We really like doing this for everyone's enjoyment," he said. 
Not surprisingly, he runs into a few problems. 
"Sometimes neighbors complain," he said. 
Another issue arose when the horse of the headless kept falling off. Then one of the fogging machines didn't want to work. 
"Last year we started getting low on candy about 7 p.m.," he said. "We have a huge caldron filled with candy."  
However, he patiently keeps working to fix things and then to tinker some more, creating fantastic worlds for visitors to enjoy. 
The home is located at 8949 Wilkensen Road SE, Yelm.