Prairie Days is going back to days gone by, and the parade is no exception.
The theme this year reflects a trip back into the event's history.
"I think the theme is the perfect fit with all the changes that they are making to the event (Prairie Days) itself," said Angie Evans, Yelm Area Chamber of Commerce president. "They are bringing it back to its roots, and so having it be 'Pride of the Prairie Through the Decades' is just a perfect fit. I love it."
Line Critchfield, executive director of the Yelm Area Chamber of Commerce, worked with the chamber board to select this year's theme.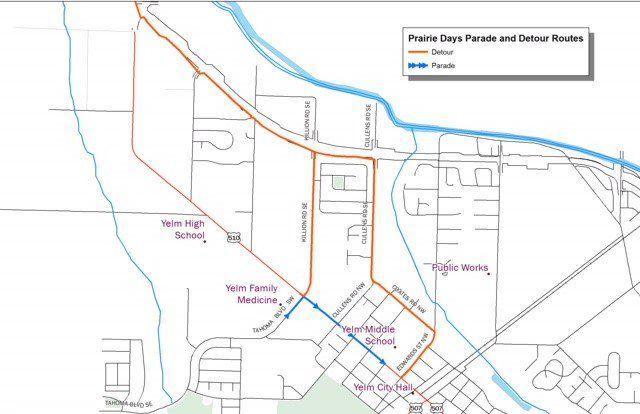 "Because we're going back to basics with Prairie Days, we wanted a theme that would encompass all the changes that have happened through the decades in Yelm," she said. "The parade allows the community to come together to celebrate its beginnings, celebrate where we've come, and celebrate the people that make this city so great."
Critchfield added that when people are working in the same direction, it brings the community together. 
The parade is huge for the community, uniting it, Evans said.
"The parade gives the businesses a marketing opportunity, but also allows the people that are coming to really see unity, and that's one thing that I love about Yelm — it brings the community together," Evans said. "We still do some of those small-town things. Not a lot of cities do parades any more and I think it is really important that we keep ours going."
The parade itself will begin at 9:30 a.m. Saturday, June 29, on Tornado Alley. It will take a left turn onto Tahoma, then a right turn onto State Route 510 (Yelm Highway) and will end at Yelm Middle School.
As for how to incorporate the theme into a float or presentation during the parade, Critchfield said folks should choose a decade and fashion their entry around that style. 
"The cool thing about this theme is how easy it is to incorporate into a float," she said. "We're hoping that parade entrants pick a decade and roll with it."
The floats could even take on an old wagon theme, or resemble elements of classic television shows, Evans said.
"I picture Laura Ingalls," she said. "You know, 'Little House of the Prairie?' That's what I picture, because I remember hearing that in the early days of Prairie Days they actually had a princess, and this Prairie Days Princess dressed in the Laura Ingalls garb. That's what I picture automatically — going back to those roots."