The Yelm Police Department officer who was hospitalized after a head-on crash with a suspect fleeing from law enforcement Sunday afternoon has been identified as 52-year-old Reserve Officer Joe Rivera.
Yelm Assistant Police Chief Rob Carlson said Rivera, who has been with the department as a volunteer or reserve officer for about five years, was released from Providence St. Peter Hospital Monday afternoon.
His hospitalization came after initial concerns of potential neck or back injuries, common results of similar head-on collisions.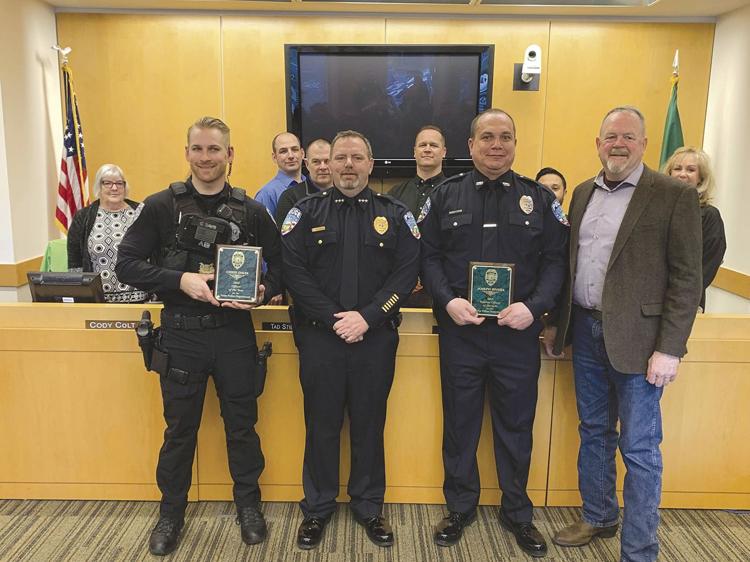 "All his tests came back good," Carlson said. "He's just sore and time will heal that."
Rivera has twice been named Reserve Officer of the Year by the department, once in 2016 and again in 2018.
Carlson and Police Chief Todd Stancil praised Rivera for his work with the police department, both describing a man who is dedicated to the job and always available despite being an unpaid member of the local police force.
"He literally does this because he loves it," Carlson said.
"I can't tell you how valuable he is," Stancil said.
As for the pursuit itself, it remains under investigation, with the Washington State Patrol planning to extract the computer from Rivera's totaled patrol vehicle on Tuesday, Stancil said.
Michael Wallace Schwabland, 38, of Snohomish, has been identified as the suspect in the two-county chase, which began near Roy when he rammed two Pierce County Sheriff's Office vehicles at about 2 p.m. He faces multiple felony charges.
The chase went down several Yelm streets and parking lots before coming to an end on Canal Road after spike strips were deployed and the collision with the Yelm officer's vehicle.
He was arrested after being shot with a bean bag shotgun and Tased several times, according to police records.
This story will be updated.