Ever since she was a little girl, Alexa Dunn knew she wanted to go into a career in aviation. She just didn't know what sector. 
That all changed when she was 12 years old at a family vacation in Florida where her parents spontaneously arranged for her first helicopter ride.  
Lessons ensued and, after that, she was hooked. 
"It kind of just happened," said Dunn, 17, now a senior at Rainier High School. 
In just a couple months, the senior will also have earned her private pilot's license after roughly five years of working toward it. 
"I think the most amazing thing is getting an entirely new perspective of the world," Dunn said of her passion for flying. "(My friends) think it's awesome, and I just surround myself with people who support what I'm doing and are understanding of it. And then I make lots of friends at the flight school itself." 
Growing up, Dunn said she was always near the world of aviation. Although neither of her parents were pilots, they both served in the United States Navy, so planes and helicopters always seemed to be nearby. 
"They were around aviation," Dunn said of her parents, Curtis and Amy Dunn.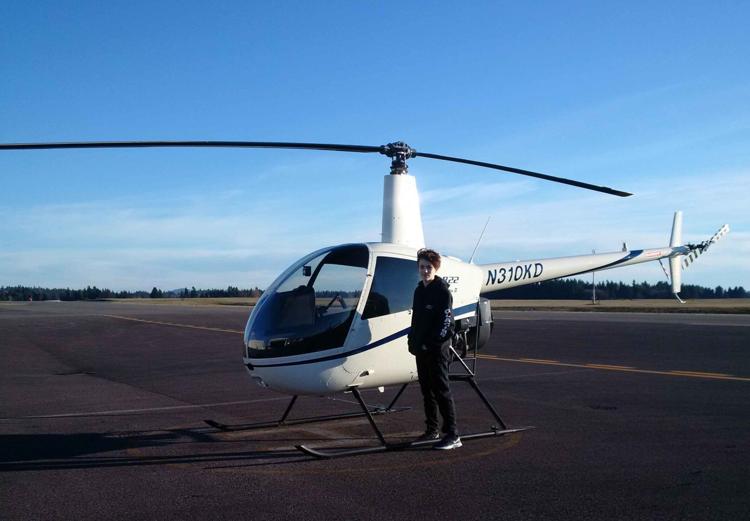 After enrolling in classes at Glacier Aviation at 12 years old, it wasn't long before her parents began nudging her to look at a career in the private sector. Although she's unsure what specifically she'd like to do with helicopters, she knows two things for sure: She wants to fly and she wants to attend Embry Riddle Aeronautical University in Arizona. 
To date, Dunn has amassed about 123 total hours flying helicopters, with about 6 of those hours dedicated to solo flights. 
Dunn said students at Glacier Aviation in Olympia usually finish with their license in about two years, but because she's still in high school, and because she wasn't able to begin flying solo until she was 16, she learned to take her time with the program. 
She hopes to be able to teach flying lessons part time when she gets to Embry. But of course, they're still in the process of finishing out her application. 
Her parents say it's been a very good investment. 
"Worth every penny," said Amy Dunn, her mother. "It's kind of like getting a jump start on college, because instead of all these hours of flight crammed into four years, we get to pay for it over the many years she's taken the flight. Then, when she gets to Embry Riddle, she'll have at least one license." 
Taking classes at a flight school isn't all fun and games, Amy and Alexa say. During her tenure at Glacier Aviation, Dunn has learned a lot about hangars, the mechanics of a helicopter, safety procedures and, on top of that, the science of maneuvering a helicopter. There's a lot that goes into training a new pilot. 
The Rainier senior — who has a 4.0 grade point average — is also getting a jumpstart on her college credits, too. Dunn said she's currently enrolled in the Running Start program at South Puget Sound Community College, where she works part time as an English tutor. 
Dunn said there was also a lot of maturing to do. 
"For the first couple years, it was more just building up hours and getting familiar and getting the basis down," she said. "Aviation is a very adult world. I was a 12-year-old among people of all ages and I learned very fast to be responsible about my flying and to really take things seriously." 
With a great deal of experience under her belt and a number of professional contacts made, Dunn said she feels really grateful to be where she's at. For her classmates, she said it's all about taking that first step and getting involved. 
"Nine times out of ten, people are incredibly happy to see young people interested in a field, and a great deal of my support is from other aviation professionals who want to see a young pilot succeed," Dunn later said in an email. 
But she's ultimately very excited to become further engaged in her passion, and her parents, while a tad bit worried about their young daughter maneuvering a twin-blade, 1,000-pound flying machine, say they're excited for her future. 
"I'm excited to see her fly," her mother said. 
"Both metaphorically and literally," Dunn added.